We earn money from clicks or purchases made via product links in this post.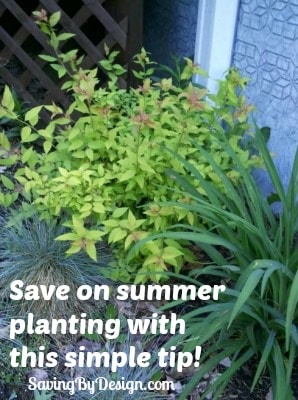 I wrote the post below last year right around the same time of the year…the beginning of June. Memorial Day weekend is when I start sprucing up the yard and planting my flowers so I just wanted to make sure you remembered (and all of our new readers knew) to check for clearance flowers whether shopping at your local nursery or big retailer.
The photo above is one of the perennial shrubs I got last year, a Magic Carpet Spirea. As you can see he's doing just fine, and is happy and healthy as can be, even though I bought him for only $3.50 on "clearance" 😉
Originally posted June 7, 2012…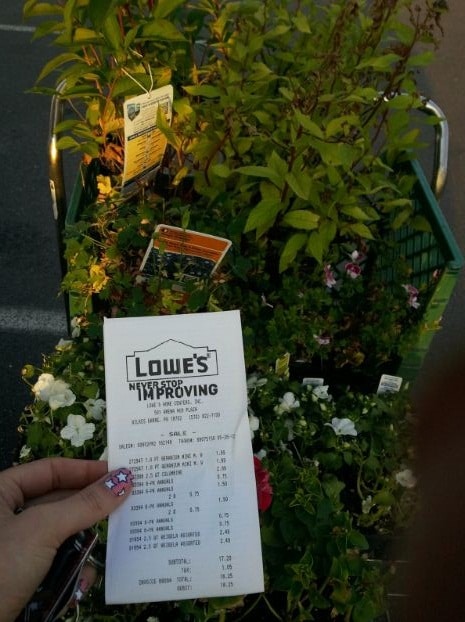 It seems as though yesterday was National Gardening Day…well while I may be a day late with my post, you won't be a dollar short with this tip!
Last year when I was getting my plants for the yard at Lowe's I stumbled upon a clearance rack of plants. Some were even marked 75% off! I couldn't believe it. They were exactly the type of flowers I was going to purchase for $2/6-pack and were on this wonderful rack for only $0.50/6-pack. So what makes them clearance? Well they're not as "pretty" as the full-price plants. Some have flowers missing and others are smaller than normal, but with a little TLC they grow up to be just as nice as the others. I mean we still have the entire season for them to become "pretty" 😉
This year, now that I knew what a great deal I could grab, I was sure to look for the clearance rack at Lowe's. It was loaded! There were perrenials, annuals, shrubs, decorative grass, hanging planters…everything! It wasn't 75% off, but hey, 50% off is still a good deal in my book! And they even had the impatiens I needed for my shady front yard!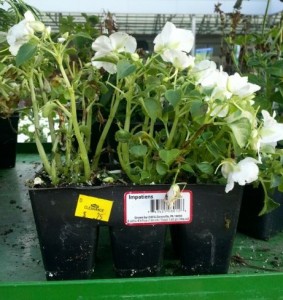 I ended up getting…
6 – 6pk Impatiens
1 – 6pk Petunias
2 – Perrenial Shrubs
1 – Perrenial Flower
2 – Martha Washington Geraniums
All for only $18.25! 🙂