We earn money from clicks or purchases made via product links in this post.
"The key is not to prioritize what's on your schedule,
but to schedule your priorities."
~ Stephen Covey
Now that we have our goals in mind, it's time to brainstorm about how to fit everything we would like to do (along with all the daily chores that we need to do) into our schedule. I thought the easiest way to do this would be to create a printable that allowed you to take a weekly glance at different areas of your life instead of heading right to a traditional planner.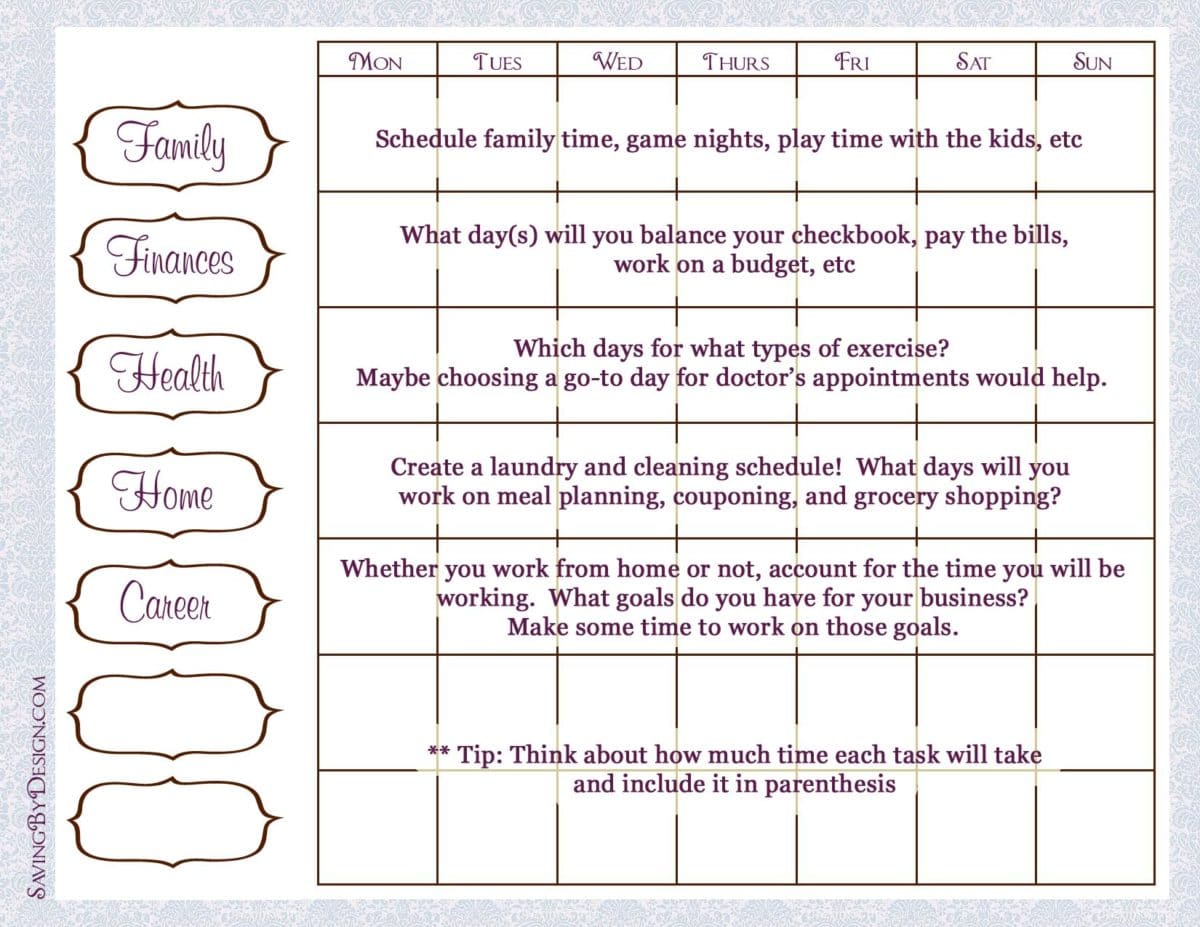 << Schedule Brainstorming Printable >>
<< Schedule Brainstorming Printable without categories >>
I'm using this printable to schedule EVERYTHING. It's my way of thinking about everything I would like to do, along with the amount of time I think the task will take to accomplish, while balancing my days so I'm not overwhelmed. It might seem silly, but if there is anything I want to fit into the day I'll be writing it down.
I'm also using colored pens for the different categories. That way when I do create my planner, whether on paper or electronically, I'll use those colors to differentiate my tasks for the day. If you're not sure where to start, I'm working on schedules and lists for things like laundry, cleaning, and more that you can just adjust to fit your family…so be on the lookout for those too 😉
~*~*~*~
I am not a professional organizer, life coach, or self-help expert. I am a mom, wife, and small business owner with way too many things to do and not nearly enough time to do them…which leaves me frazzled all the time and with little time to do what I actually WANT to do. Well that is going to end. Everyone makes New Year's resolutions and this year mine isn't going to be a simple task. I don't want to change one thing, I want to change many to give me the one thing I want back the most – MY life!
If your life has somehow become so busy and complicated that you no longer recognize it, or if you just have to figure out a way to get what needs to be accomplished done in order to spend more time with your loved ones, then I hope you'll join me on this adventure. We'll be talking goals, schedules, organizing, budgeting, saving, and anything else we need to get ourselves back on track!
Book mark >> this page << to see all the posts from this series and take back your life!