We earn money from clicks or purchases made via product links in this post.
What exactly is network marketing and can it help me make money from home?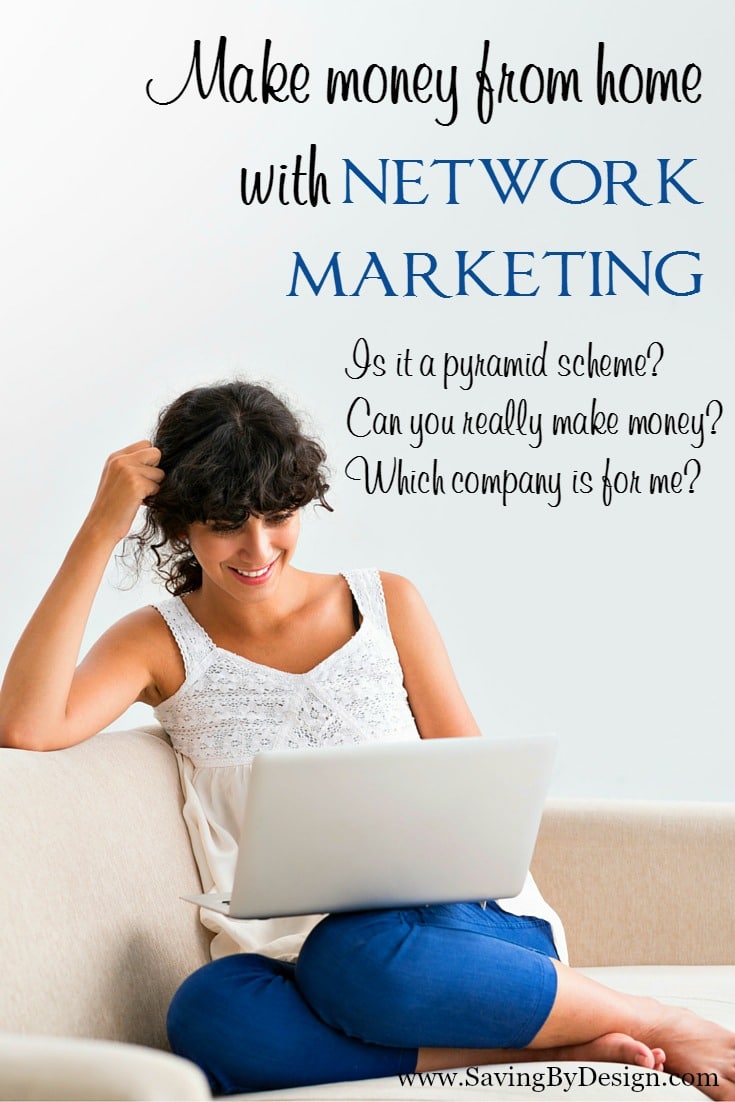 The following is a guest post by Tina McGovern, a health and prosperity coach, and founder of Breaking Boundaries Consulting. Enjoy!
Have you ever referred a great restaurant, movie, or salon to a friend? Have you taken the advice of a friend who said you just had to try this coffee shop as their lattes are out of this world? I'm sure you've both given and taken recommendations from friends and those you trust. Guess what – you are already network marketing. But, here's the million dollar question – has any of those places given you a referral thank you in the form of cash or free lattes? Probably not. But when you partner with a network marketing company, they do compensate you!! Maybe it's with products, maybe it's with cash, but regardless, you are already a network marketer and probably didn't realize it.
Now, I'm sure you've heard some "things" around the profession of network marketing and wondering if it's a scam or if it really does work. And those are totally legitimate questions. Now's the time to get educated!
Is network marketing a pyramid scheme?
Let's first talk about the elephant in the room, the big question I hear all the time – "Isn't that a pyramid scheme thing". I absolutely LOVE this question. My response is always, "What do you mean"? Nine times out of ten, the person assuming network marketing is a pyramid scheme doesn't even know what a pyramid scheme actually means. So, let me explain. A "pyramid scheme" is a business model that recruits members via a promise of payments or services for enrolling others into the scheme, rather than supplying investments or sale of products or services. As recruiting multiplies, recruiting becomes quickly impossible, and most members are unable to profit; as such, pyramid schemes are unsustainable and often illegal. So, simply put, in a true pyramid scheme, products or services are NOT exchanged.
Secondly, many people envision network marketing as a shape of a pyramid hence why the assumption "pyramid scheme" where the person at the top makes all the money and the people at the bottom don't make anything. But, think about corporate America and even potentially where you work. Will the maintenance staff ever make more than the President or CEO of the corporation. Chances are slim to none. But in network marketing, everyone has the same opportunity! In fact, this is the only industry where you could make MORE than the person who introduced you to the opportunity.
Can I really make money from home through network marketing?
Now, the next question – does this really work and can I really make money doing this, either part-time or full-time. Here's the honest truth – if you work at it and pick the right company at the right time this opportunity can truly be lucrative. But it's definitely not a get rich quick scenario. You need to work your butt off if you want to create enough income to pay some bills, replace your income, or become a millionaire within a company. If you dream big, anything is possible.
How do I choose which network marketing company is right for me?
But with so many "work-from-home" opportunities and it seems everyone is selling something these days so how do you even choose which company to look in to. Here are some tips to help you decide:
What's your passion? If you don't particularly love wearing make-up why would you partner with a company that distributes make-up? You need to LOVE what you do because people don't but the products, they buy your passion for it and the value it bring to their life.
Do you like home parties? While the top 1% of all network marketers making significant streams of income do not do home parties, it's a viable option if you are looking to get out of the house for a few hours a few nights a week. But, if you don't want to transport your products from point A to point B, stay away from your home for a few hours, then a company that relies heavily on home parties might not be a good choice for you.
What are you willing to invest? Like any business venture you need to invest in your business and yourself. Are you willing to buy seasonal products, attend events, maybe even purchase a "business builders" kit, and stay active in the company? Remember, what you put into this opportunity is what you will receive in return.
What tools does the company provide? Will you need to pay a monthly fee to keep your website active? Will the company provide coaching from their upline? Is there a proven system in place to help with duplication? All of the answers to these questions will help you determine the company that fits you best.
What does the compensation plan look like? This is HUGE and should be the second determining factor after figuring out your passion. Trust me when I tell you all comp plans are NOT created equal. I've spent a lot of time studying different comp plans and how they work. But the big thing here is to understand the type of income you want to make and if that company's comp plan will support it. Ask questions like, "How many legs do I need to build", "Is this multi-level where I stop receiving compensation at 5,6 or 7 levels deep or is this comp plan infinity deep", "Will I get paid monthly, weekly, or daily", "Will my volume ever flush"
With so many options out there it can be hard to decide what company to partner with. But here's the bottom line. Anyone who is out there in this industry, in my opinion, is a rock star!!! You see the value in creating another stream of income for your family. You have the vision to see that network marketing and direct selling is the future. So many people are purchasing what they need online. Capitalize on this trend! And know there is a company that is right for you. It just might take some time to figure it out, but you will find it.
You also may want to take a look at The Ultimate Work at Home Bundle!
This brand-new, limited-time bundle includes 30 eBooks, 14 full eCourses, 4 printables, and 1 audiobook, all carefully vetted to get you up to speed on finding real work-at-home opportunities (AND making your work + life balance better once you're working from home).
For six days only, everything you need (and then some) is in one fabulous package, for the most affordable price ever.
These top-quality resources cover everything you need to give you the skills and confidence to do fulfilling work, at your favorite place in the world 🙂
You'll get a complete library to help you…
Identify your marketable skills
Juggle your responsibilities and finally find work + life balance
Manage your time efficiently (and never let anything fall through the cracks again)
Avoid the most common pitfalls of the work-at-home lifestyle
Understand the legal and financial implications of your business
Discover the secrets to getting into the business that most appeals to you, whether it's a wholesale product, service-based, handmade, transcription, becoming a VA, or any other number of opportunities
and so much more…
Besides being so incredibly helpful, one of the things I like best about the bundle is the price. By offering it for a short time only, you'll get access to over $2,300 worth of amazing products for a whopping 98% off!
LEARN MORE OR GET YOUR BUNDLE HERE
Interested in working from home?
Subscribe to get the latest work from home
opportunities, information, and tips by email.
I am a mom of two beautiful, fun-loving children, Evan and Madelaine, an advocate and foster mom for bully breed dogs, and am living life by my own design. I am a health and prosperity coach, showing people the blueprint to better health and greater wealth. We all deserve the best in this world and life is too short to live with "what if's". I hold the mirror up to both organizations and individuals, allow them to dream big again, and show them how to make those dreams a reality. Because sometimes all it takes is another set of eyes or a different way of thinking about things to break through boundaries that are holding you back.