We earn money from clicks or purchases made via product links in this post.
One of my favorite places to decorate is my front porch! Here are 10 Frugal Fall Front Porch Ideas to inspire your creativity as the leaves start falling.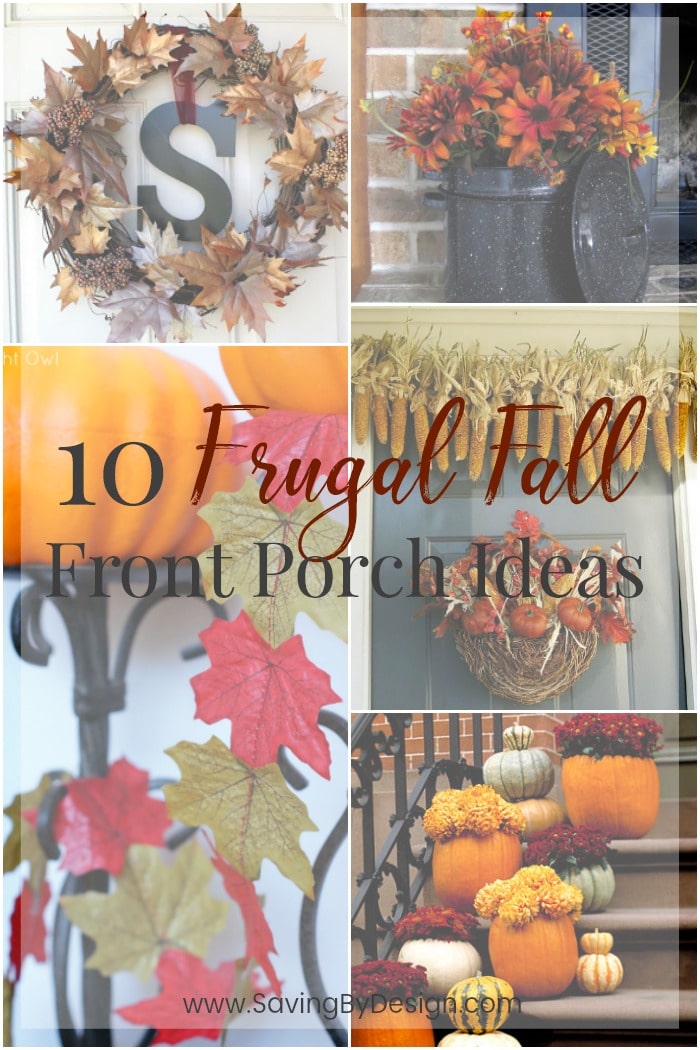 Can you believe it?!?! It's mid-August and getting ready to decorate for fall has jumped up on us out of nowhere!
I, however, absolutely LOVE fall and everything that comes with it! Apple-picking, pumpkin patch visits with the family, cooler temps, and yes… decorating!
That being said, it can get pricey when you run to the store to grab all of your must-have fall items. So we're going to walk you through some great frugal ideas on decorating your front porch this fall.
10 Frugal Fall Front Porch Ideas
You're going to want to get started right away when you see all of the fun that is coming your way!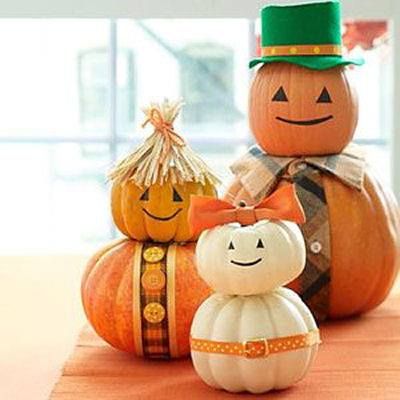 This is such a fun project that you could even get the kiddos involved in! Grab some decorative elements, washi tape, buttons, markers and whatever else you have in mind and decorate some pumpkins until your heart is content! These Pumpkin "snow"Men were found on Pinterest.com and after a trip to the dollar store, or in the Clearance racks of different craft stores, I'm positive you'll be able to decorate these little guys on a strict budget!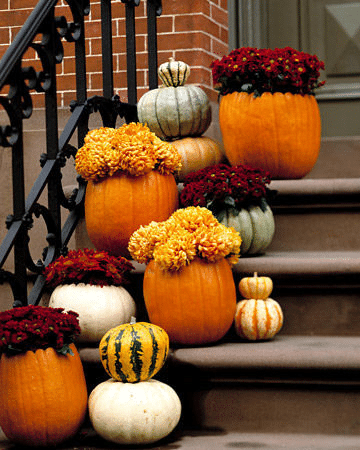 I saw this idea last year with putting mums right in carved out pumpkins, so I gave it a whirl, and it worked out GREAT! Check out this idea, along with many other awesome ways to use pumpkins in your décor at www.FrugalFlourish.BlogSpot.com. What a great way to not have to worry about finding pots to plan your flowers in and it's super cute to boot!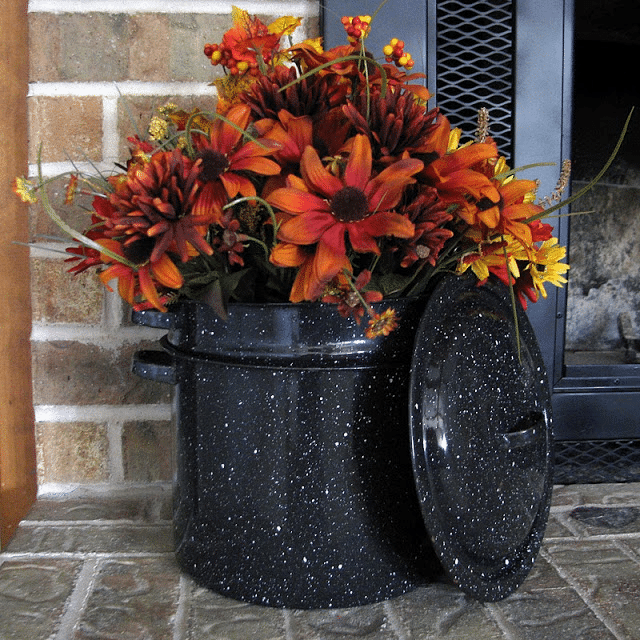 Do you know what kind of big pots or other large "planters" you may have sitting around collecting dust in your basement or attic? I bet you don't! Chances are you have some sort of large pot you already have that you can use for flowers. What a perfect reminder of the warm, cozy, and delicious soups and stews that might be cooking inside. I found this idea over at www.OurCloverHouse.BlogSpot.com and it's genius! And better yet… find some cheap fake flowers that will last all fall long in Clearance sections. Your front porch is going to be awesome this year!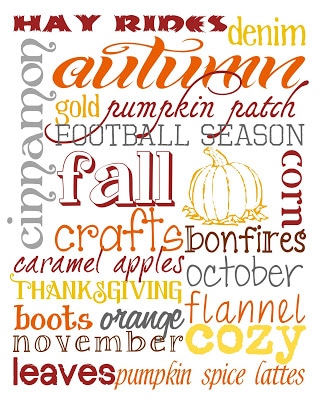 How can you beat this Free Fall Subway Art Printable, found over at www.DefrumpMe.com?!?! Print it out, and use a frame that won't be used in your house over the fall, and voila! A free idea you can hang on your front door or lean against some pumpkins. Easy!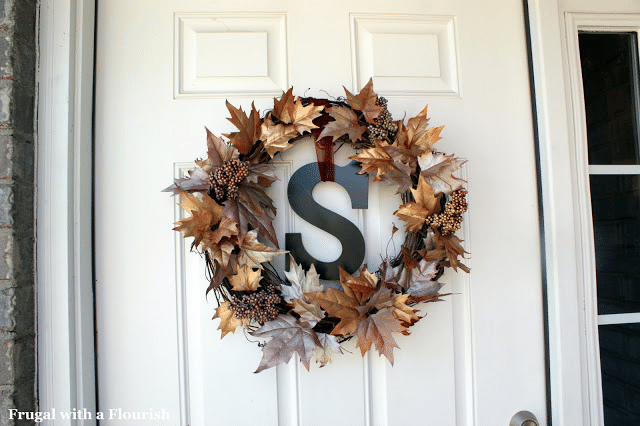 Now… you're going to have to do a little work with this one, but if you love DIY projects, this will be right up your alley! Check out the directions for this DIY Leaf Wreath over at www.FrugalFlourish.BlogSpot.com and it will walk you through the step-by-step directions. Time to get creative!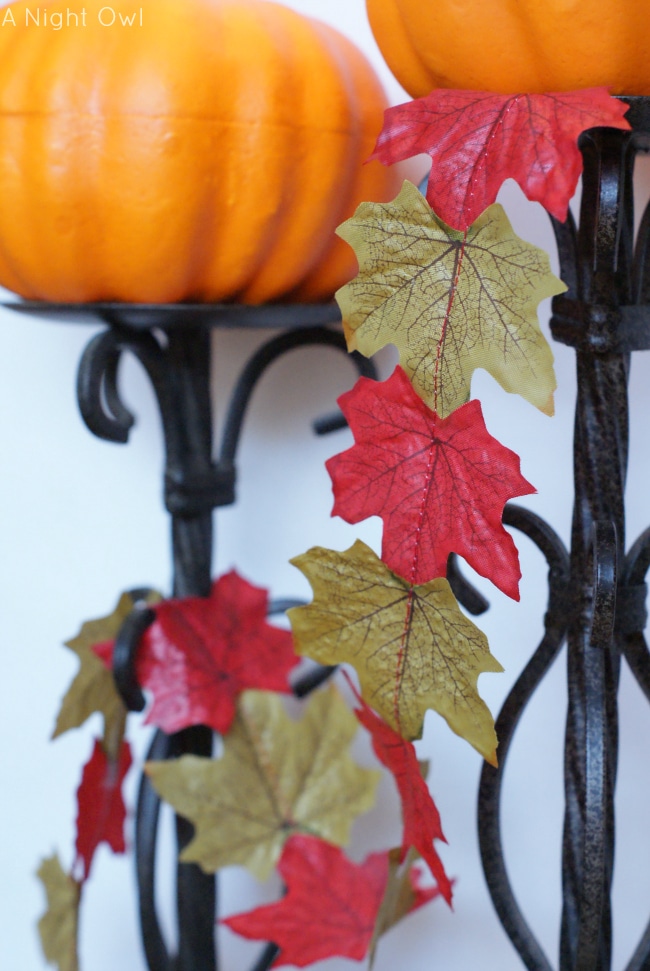 In addition to the awesome leaf wreath above, there is this spectacular DIY Fall Garland for you to get working on, too! Grab some of these leaves from the Dollar Store and follow the directions at www.ANightOwlBlog.com and you'll be on your way to hanging some great leaf garland on your front porch!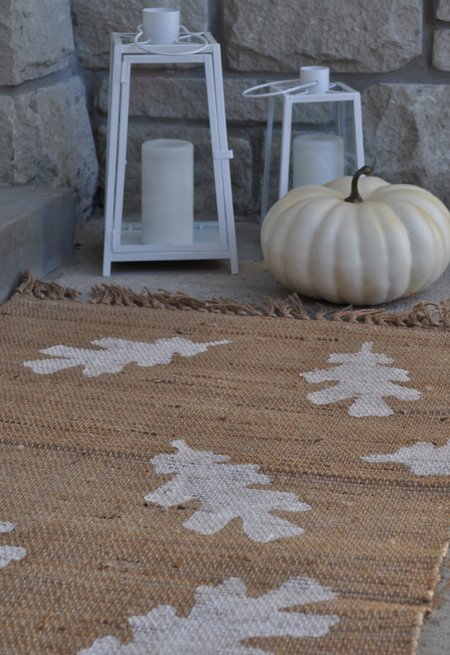 OK, now this is AWESOME! This DIY Fall Doormat, with directions found at www.LifeIsAParty.ca makes for such a cute entrance on a porch for this fall! This is for sure on my to-do list. I hope I can do it justice!

I don't know about where you live, but if possible, decorating with Pinecones is a great idea and completely free to get the main product if you're willing to go pinecone hunting in the woods for a day! www.TheFrugalHomemaker.com has great ideas on how to decorate with pinecones, along with how to make this awesome DIY Pinecone Garland! Fun!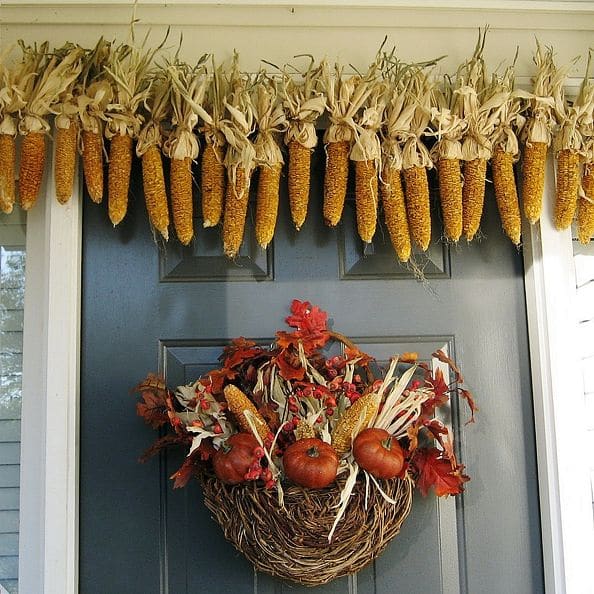 Fall is all about harvesting and what better way to reap the goodness from the earth than with some DIY Dried Corn Garland, which was found over at www.HomeTalk.com. Soon there will be lots of dried corn available and if not, you're sure to find it around you for a great deal! What a great way to decorate the front porch!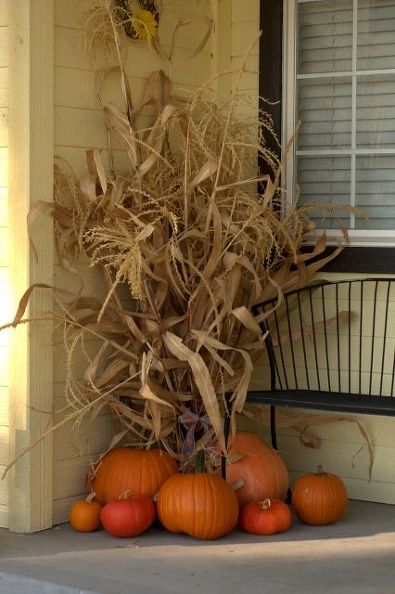 One of my favorite front porch decorating ideas in the fall is the simple tried and true cornstalks with pumpkins. Many places sell cornstalks for next to nothing and it always makes my home feel like fall has officially arrived! Check out more details and ideas at www.HomeTalk.com!
Don't forget to check out all of the great garage sales that are still going on during this time of the year. Or even keep it in the back of your mind when you're out early in the year next spring!
And always, always, always, remember the huge sales that go on right after a holiday. You'll find a lot of items to snatch up that you won't come close to paying retail prices for!
Hopefully you have a lot of great ideas to get started. I know I do and I definitely love me some awesome DIY projects! Enjoy!