We earn money from clicks or purchases made via product links in this post.
These fall mantel decor ideas are perfect to celebrate the beautiful autumn season. Rustic or modern, this fall fireplace decor complements any style!
I can't believe it's time to get out the fall mantel decor! Where has the summer gone?
While I have to admit summer is probably my favorite season, I'm not one for cold weather, fall definitely also holds a special place in my heart.
Comfy sweaters, hot chocolate, and a cozy crackling fireplace (I told you I like to be warm! Haha!), is sure to make almost anyone enjoy this time of the year.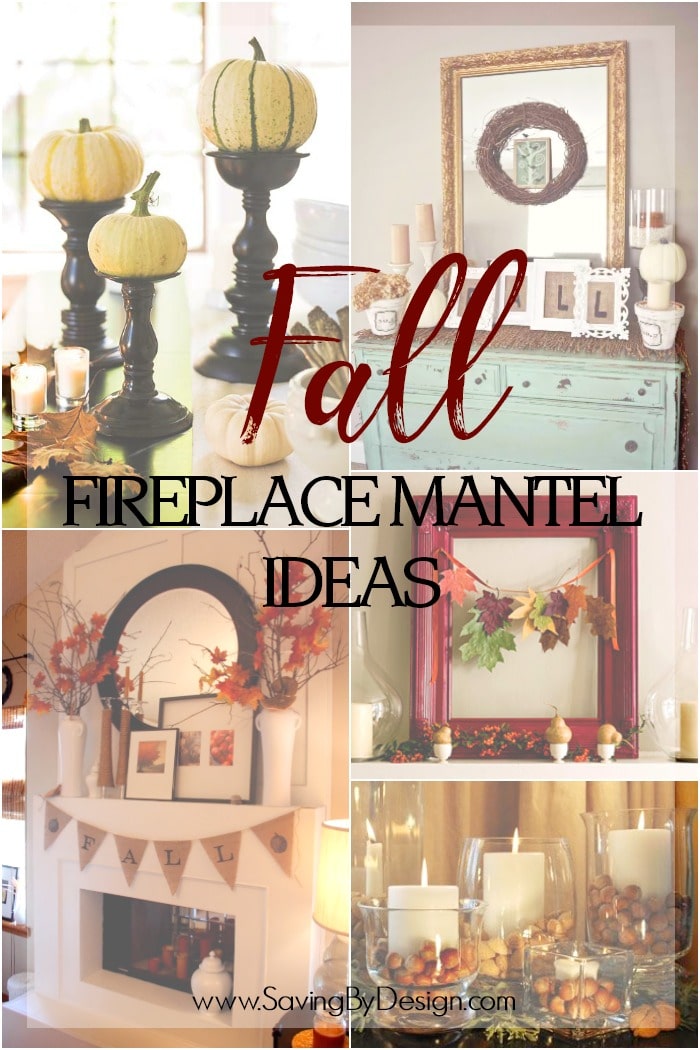 One thing that I'm always excited about for fall, Halloween, and Thanksgiving is decorating the house. So this week I'm specifically honing in on my fall mantel decor.
Tip – Wondering what elements you need to decorate the perfect mantel? Check out some "rules" on how to decorate a mantel in this post😉
Frugal Fall Mantel Decor Ideas for Your Fireplace
As sad as I am to see the summer slowly fade away, looking at ideas like this gets me pretty excited for the new season in front of us!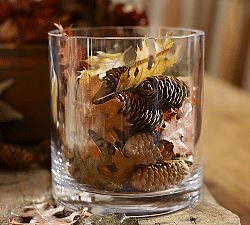 Let's start out with some easy and frugal DIY containers for your mantle.
How about these leaves and pinecones that you can gather up in the woods for…FREE! This was a quick find on Pinterest.com and it's easy to make this as regal or frugal as you want!
Find a nice jar at the dollar store or swap out a glass jar around the house that's not being used this fall. It's up to you!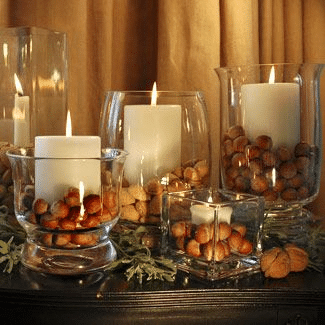 Here is another spin on the above idea. Also found at Pinterest.com, grab some cheap candles, use different vases you have around the house, and use acorns for decorating found in the local parks or woods! You could even dress it up even more with some ribbon!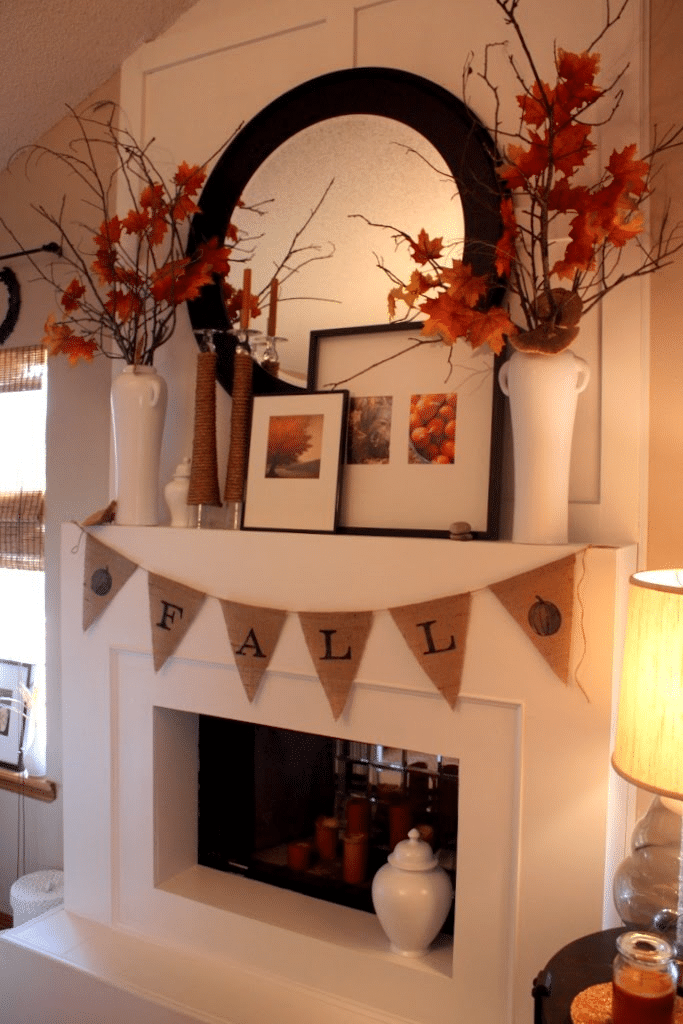 How about making a fun DIY Burlap Banner to drape across your mantel?
Check out HomeStoriesAToZ.com for other ideas and there are directions for doing it yourself at WeddingBee.com.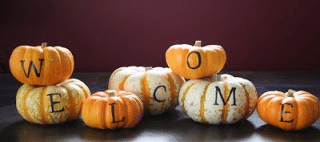 Once the pumpkins are out, grab some smaller versions and get out your stamping kits!
This idea was found over at TodaysCreativeBlog.net. Stamp a welcome message for pumpkins on your mantle or make any kind of message you'd like!
No stamps? Just grab a black sharpie and stencils and do your best work to make your message loud and clear for all to see when they walk into your home!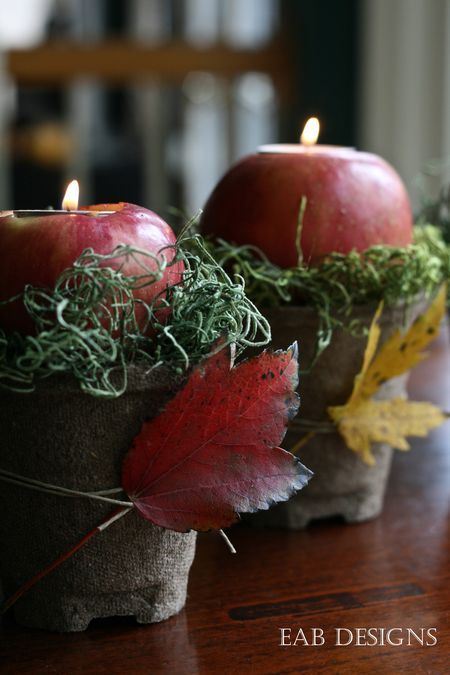 I'll admit… this is one of my favorites and I absolutely can't wait to try this one out myself!
TheKitchn.com inspired me with these Pumpkin and Apple votives that look like a breeze and what a great, frugal way to decorate your home!
Grab lots of votive candles at the dollar store (my favorite place to buy candles to begin with!), core out a small gourd or apple, and voila! Stick the votive in the hole and you have yourself a wonderful fall decoration for your mantle! Man… I love this one!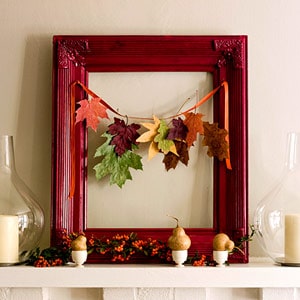 There are so many ways to decorate with colorful dried leaves and fruit once the colors change so go out and grab some of those gorgeous falling leaves!
Look at this easy and beautiful idea from Parents to make your own leaf streamer with ribbon! Shelterness.com has 20 great fall decorating ideas where this one came from, all centering around dried leaves and fruit.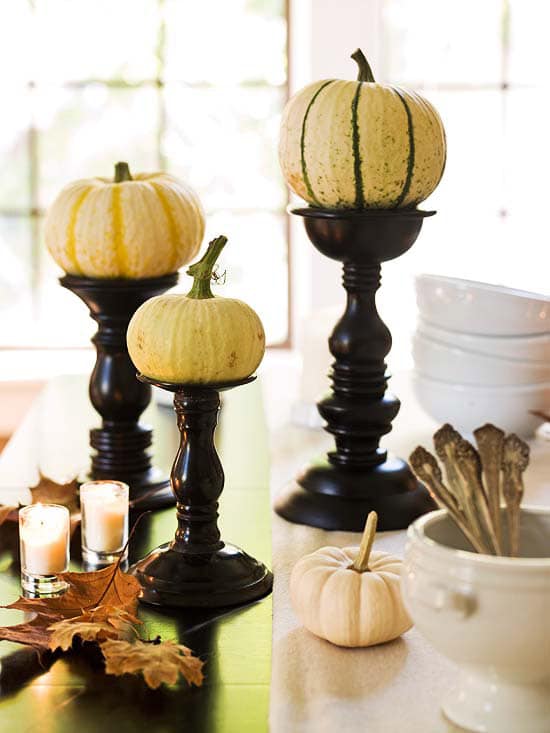 We all know that gourds and pumpkins tend to be the stars of the show when fall comes around.
This article at bhg.com shows lots of ways to use gourds and pumpkins, including this fun one for the mantle. I love this one because even if you find candle sticks that may not match, you can always paint them and repurpose them for your mantle!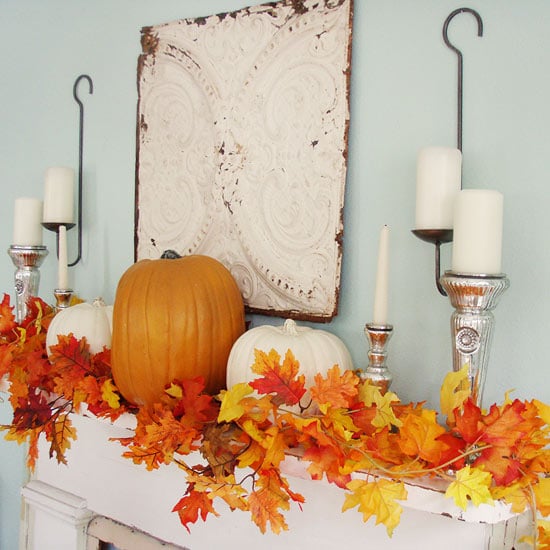 Here is a simple DIY Fall Mantle Idea, along with many other ideas, again at bhg.com.
I've seen leaf garland like this at many craft stores and even at the dollar store. If you keep your coupons handy and watch for deals, this is a wonderful way to decorate the mantle, along with some pumpkins, and be in the fall spirit.
Simple, yet festive 🙂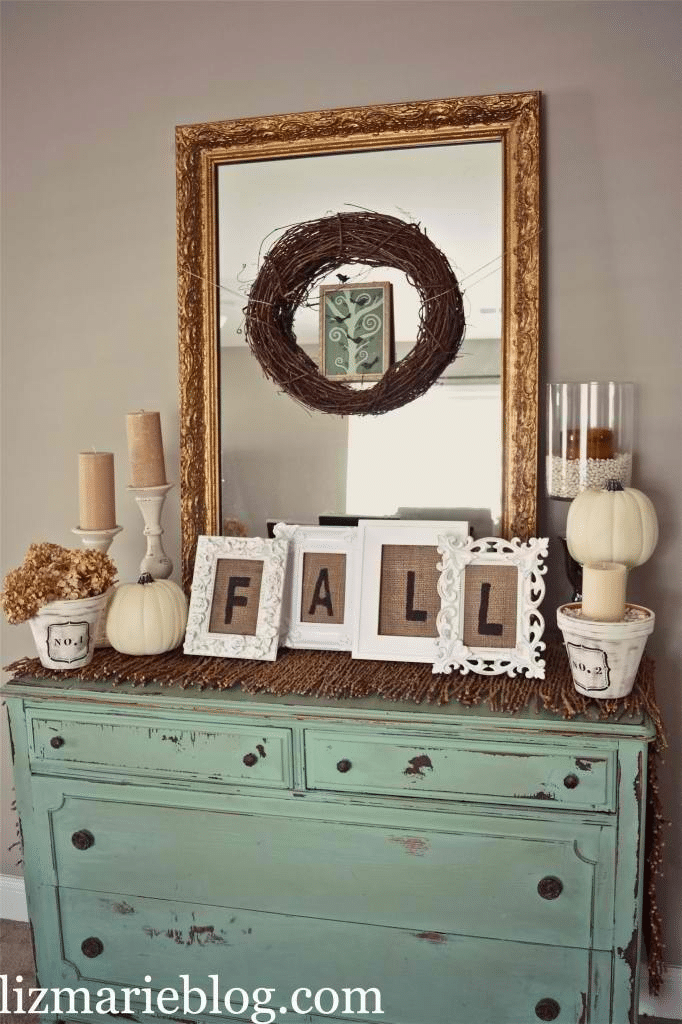 While the picture above, which was found at Liz Marie Blog, may not technically be on a mantle, this definitely would work for a mantle!
This is a different spin on the burlap banner above, but such a great DIY project, as well! These burlap letter framed signs would be great to make on your own, and no need to worry about matching the frames to spell out what you desire. Mix them up, paint them how you want, and feel free to really make this your own!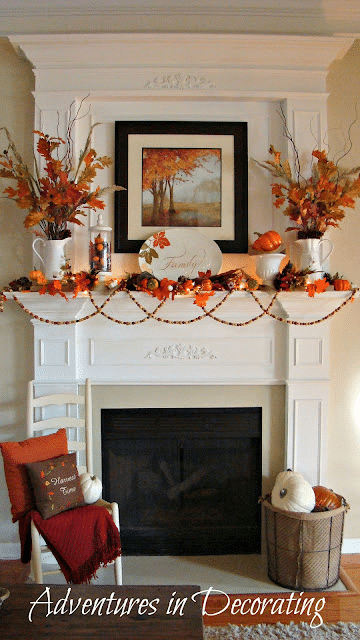 Finally, a great mantle to aspire to, that is the epitome of Fall! Check this out at AdventuresInDecorating1.Blogspot.com and go crazy replicating this, or taking some of the ideas for yourself.
I, personally, love that garland made out of acorns! Wow!


There were a few acorn ideas mentioned above, but there are oh so many more fun crafts to use these fall freebies in…Check out 10 Awesome Acorn Crafts for Fall!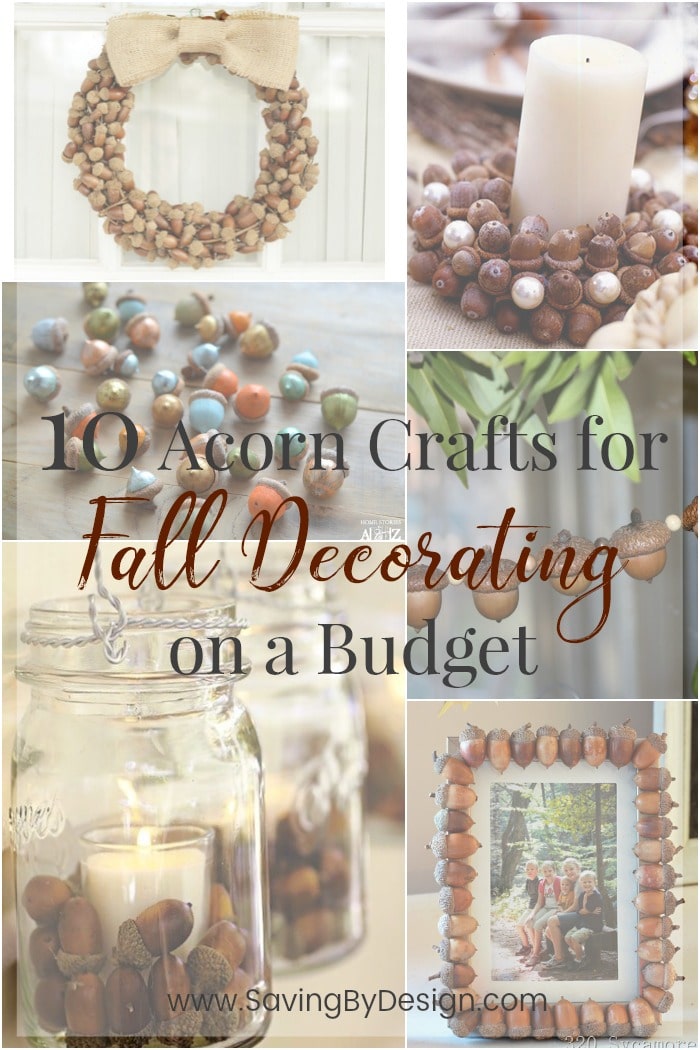 And there you have it! I'm so excited to get started on some of these DIY projects!
Soon the nights will get cooler, the days will get shorter, and the candles will start burning to complement all of these wonderful fall fireplace mantle ideas! 🙂
Don't miss these other great fall posts…
> 10 Frugal Fall Front Porch Ideas
> Fall Cleaning Hacks and To Do List – Get Your Home Ready for the Holidays!