We earn money from clicks or purchases made via product links in this post.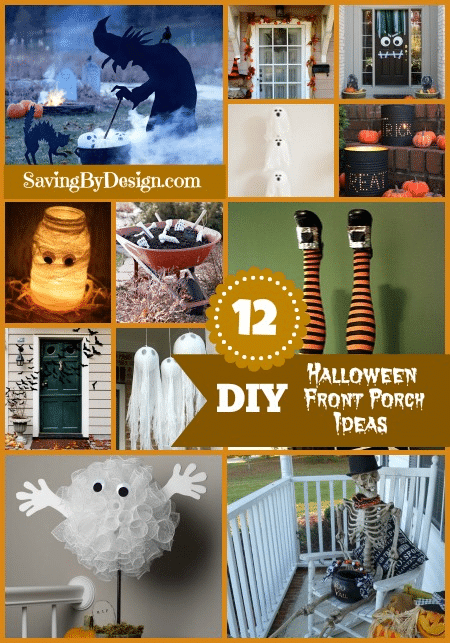 Most people love Christmas. And Easter is always a favorite, too. And while those holidays are wonderful for my family, as well, we REALLY get into Halloween! We are the ones who start planning our Halloween costumes months in advance (and yes, they have to be family coordinated). And decorations? While many try to hit up the after Christmas deals at stores, I am the one out the day after Halloween to stock up on the steals for the following year! So, it's only natural that I stock up on Halloween front porch DIY ideas. And I thought I would share the wealth for you, as well. Enjoy! And don't get too scared…
12 Ghoulish Halloween Front Porch DIY Ideas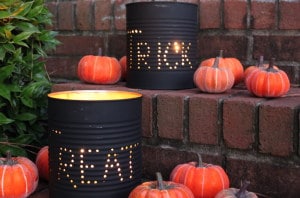 These Tin Can Luminaries are quick, easy, and… drumroll please… cheap! Found over at JollyMom.com, you'll find the great tutorial to put these together and you'll have them on your front porch in no time!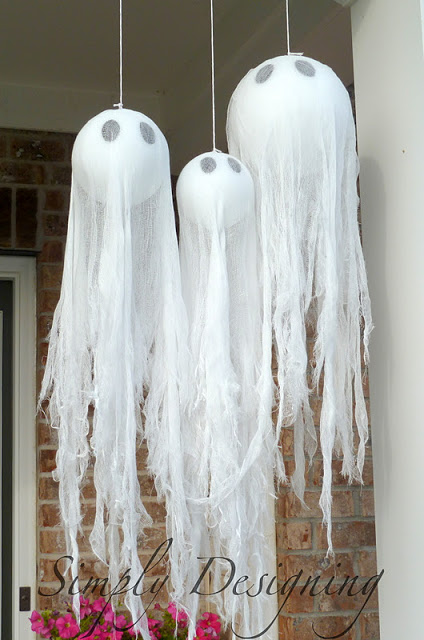 I love me some DIY Hanging Ghosts and I tend to make more and more every year! Check them out over at SimplyDesigning.net and believe me… you are going to be able to handle this great project with no problems! They are so great for so many places on the porch!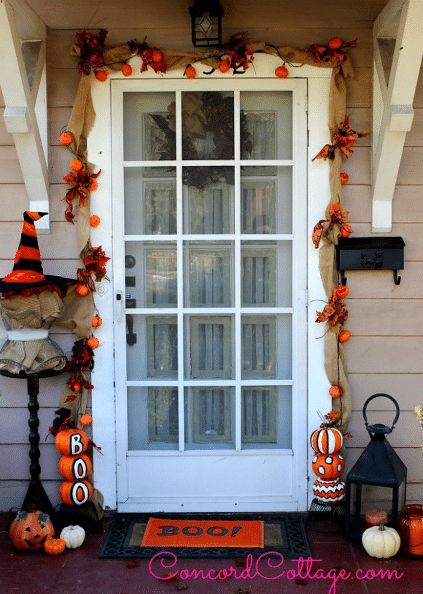 This Front Porch Garland made with burlap and brought together with some great things that you'll be able to find without much problem in dollar bins all over America will have your neighbors begging you to make one for them, too! HomeTalk.com gives you the down low on this great project in time for Halloween!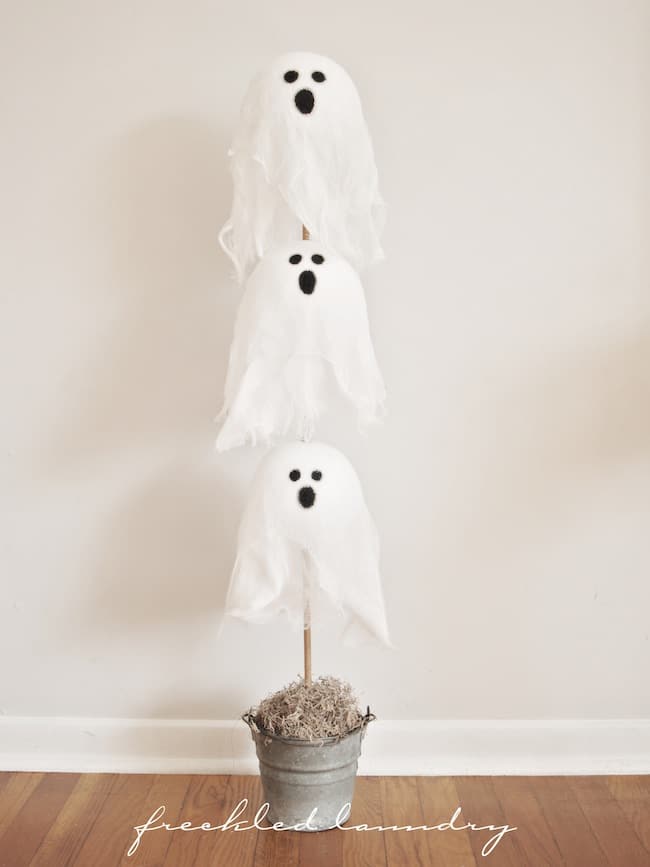 Ghostly Topiaries found over at FreckledLaundry.com will be the PERFECT cornerstone on your front porch! I personally am thinking about making TWO for each side of the stairs. Yay!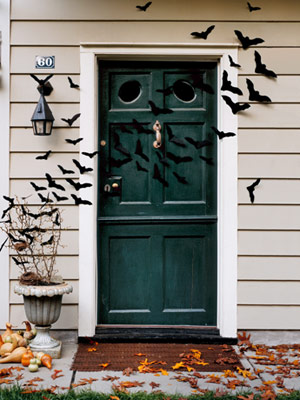 Who wouldn't be super scared of this Bat-Filled Porch found on CountryLiving.com come trick-or-treating night?! These are perfect accessories for your front porch and are a great project for the whole family to get involved with!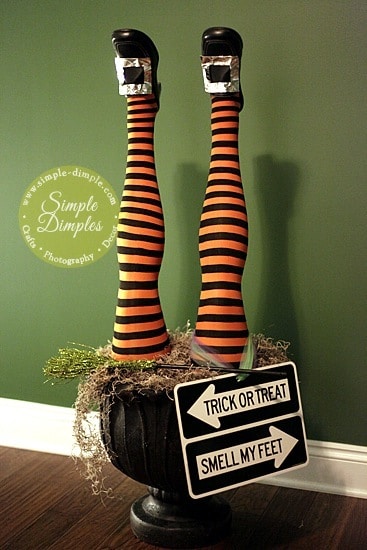 OK… now THESE are totally me! Start making your Witch Legs Planter TODAY, which was found over at Dimplicity.com. Don't think you have a planter like this to use? I'm sure you do… search hard and spray paint it black and voila! I'm going to have fun with this one, for sure!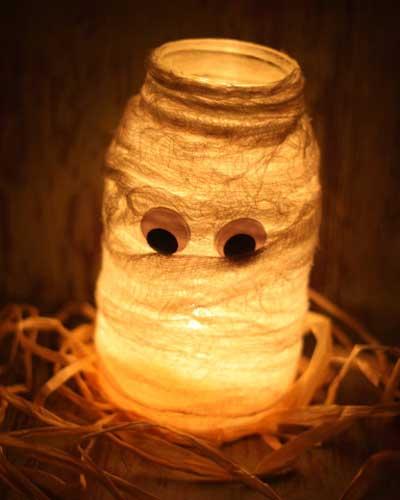 I'm pretty sure if you don't have any mason jars hanging around your house, you probably know someone who does that will let you borrow them through the Halloween season! Check out the instructions for these DIY Mummy Stair Luminaries over at Celebrations.com! So fun!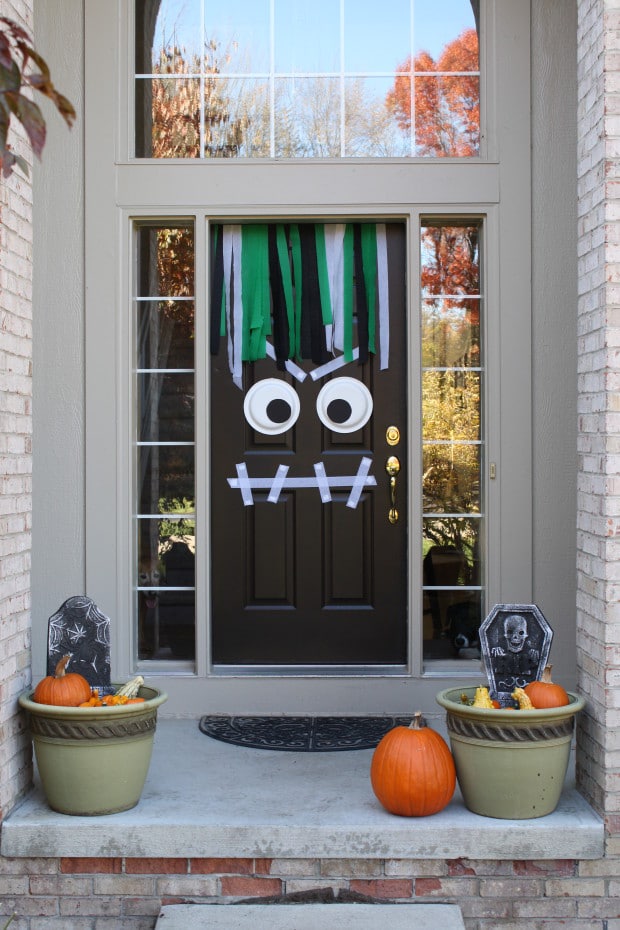 The kiddos are going to LOVE helping you out with this great DIY Front Door Monster! Found over at ModernDayMoms.com, you are really going to be able to use anything around the house that may inspire you and it will more than likely be one of your cheapest Halloween decorations around the house… if you can keep the kids in line!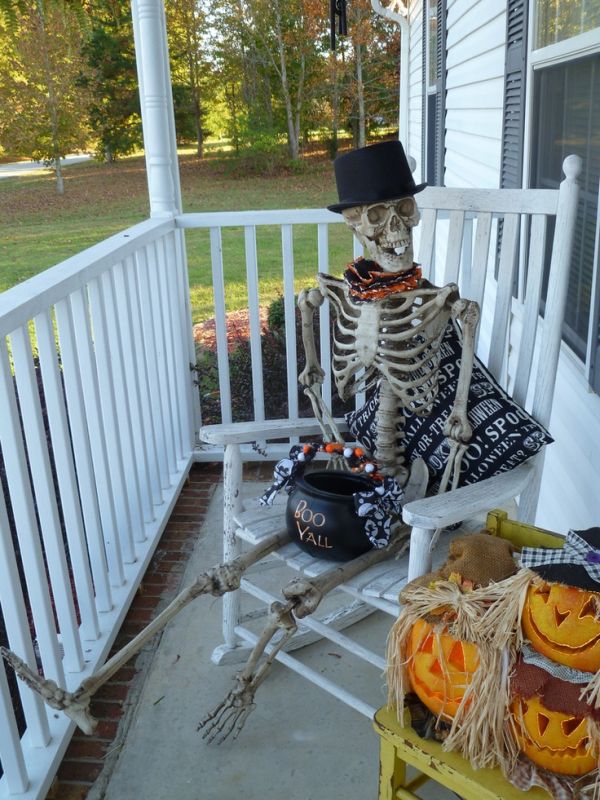 OK… this is one of those Halloween front porch DIY ideas that I scour sales at the end of the halloween season to use for the next year! Keep your eyes peeled for these awesome skeletons because they are going to be on super sale soon, and this Front Porch Skeleton set-up from HomedIt.com will be sitting on your porch soon!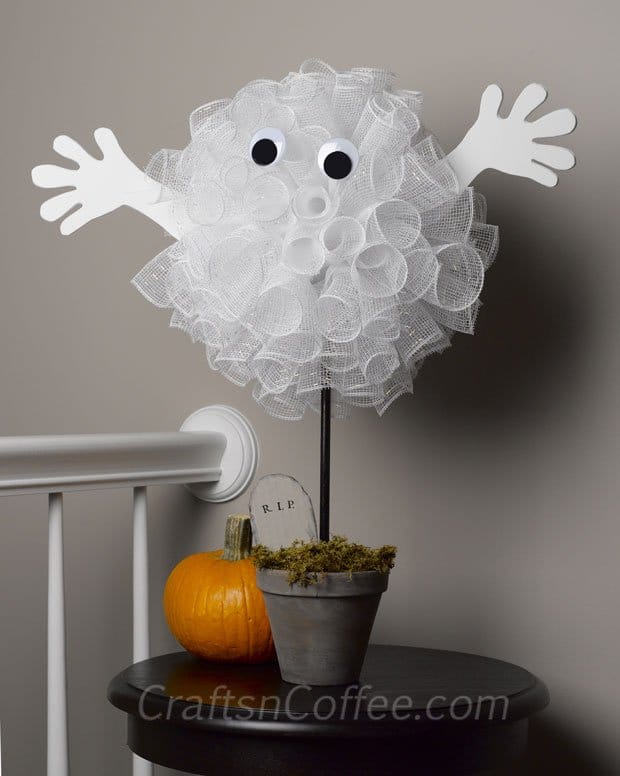 This DIY Deco Mesh Ghost found over at CraftsnCoffee.com is totally on my bucket list! What an awesome project to work on for an extra front porch accessory! Worried about it topping over? This would be a great project that could even be made into a wreath or held down on the porch with a heavy pot. Love, love, love!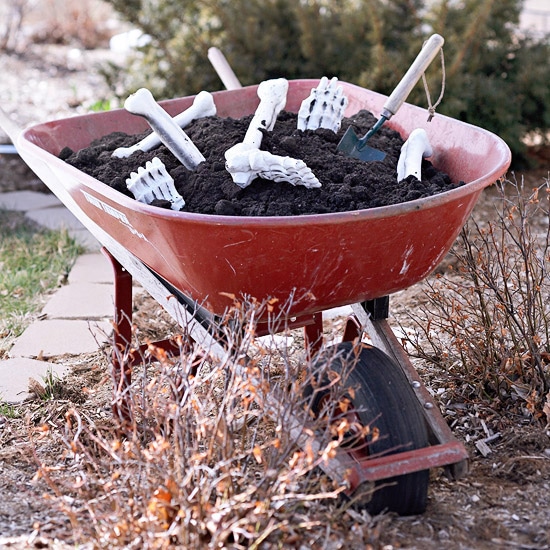 This Wheelbarrow of Bones found over at BHG.com is such a spoooooky halloween night set-up for the front porch! It doesn't get more DIY than this and as long as you can find or borrow a wheelbarrow, I think you're going to be in good shape!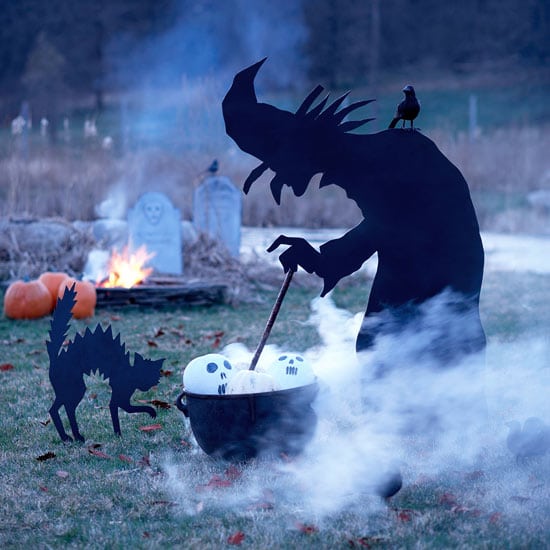 So… how serious are you about decorating the front of your house for Halloween?!?! Because when I saw this Wicked Witch Silhouette from BHG.com, I about died! I soooooo want to do this for all of the little trick-or-treaters that will make their way to our house soon. Find a silhouette to trace, cut it out, paint it, and put it on a sturdy piece of cardboard and you're good to go! This is right up my alley!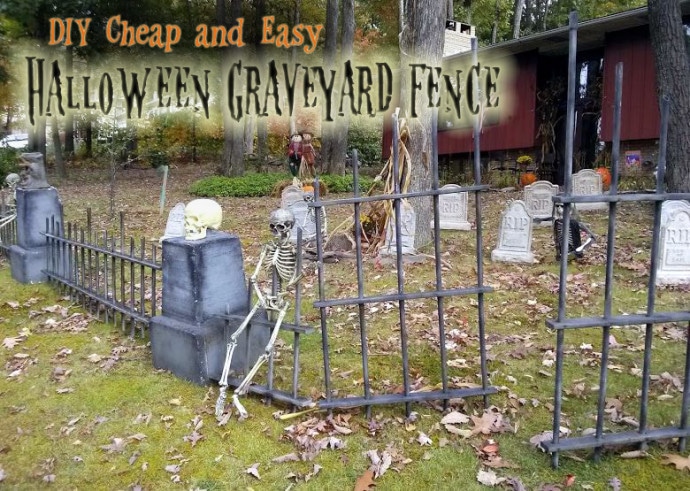 BONUS – Your silhouettes would look perfect in your DIY Halloween graveyard! You can find the details for how to create your own spooky front yard cemetery right here on Saving by Design 😉 And really, it's not too difficult at all!
Now… go out and start making some spooktacular front porch decorations before trick or treating gets here! You'll be sure to scare the pants off of everyone in the neighborhood with these super fun ideas. I definitely can't wait to try my hand at a few of them and hopefully they will be a success!
Do you have any other super scary DIY Halloween front porch ideas that save time and money?!?! Be sure to share in the comments below! 🙂