We earn money from clicks or purchases made via product links in this post.
This DIY Halloween graveyard fence is a must for your outdoor Halloween decorations! Create your very own spooky, cheap, and easy Halloween graveyard and be the talk of the neighborhood!
The kids absolutely love all of the fun, scary outdoor Halloween decoration ideas that we come across in our neighborhood, even if they act like they scare them in the beginning!
There are always so many outdoor Halloween decorations in our area so of course we had to show off our stuff and add our own to the mix 🙂
A Halloween graveyard!
It's so fun to set up our before our big night of trick-or-treating arrives.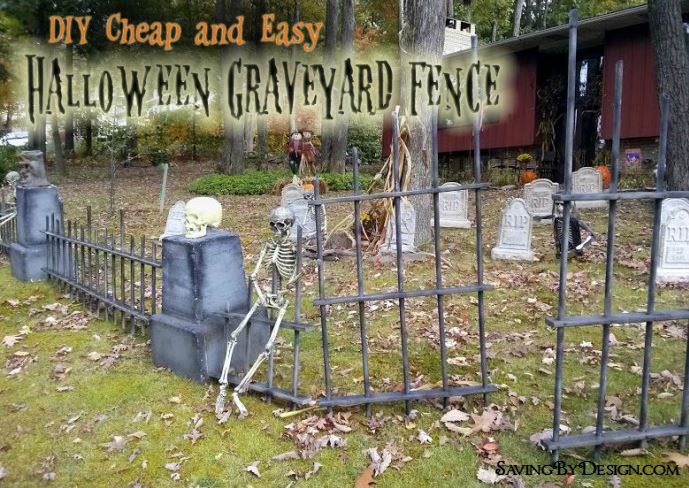 Outdoor Halloween decorations are the absolute most fun for my family to create!
Now before I even tell you about this totally awesome and frugal DIY Halloween graveyard, I have to give all the credit to my Dad.
He actually made this Halloween graveyard fence a few years ago and this year when he brought it over for us to use in our yard I just had to share! What an amazing creation and I have to admit, I'm pretty proud of our awesome homemade outdoor Halloween decorations.
Usually, I stick with the fun indoor decorations, like these Halloween Fireplace Mantels. But, when your family is willing to help you create some scary outdoor Halloween decorations, you never say no 😉
And I love that it's something that can easily be used over and over again throughout the years!
Just look at this Halloween graveyard fence! Doesn't it look authentic?
Don't worry…the only tools you'll need are a hack saw and drill.
Outdoor Halloween Decorations – Make a DIY Halloween Graveyard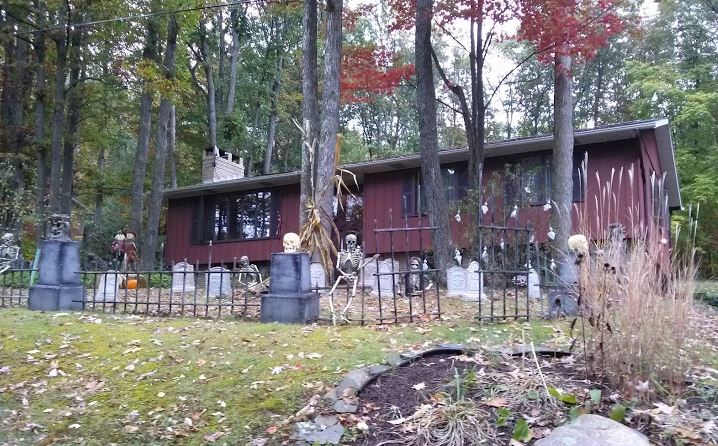 So what do you think that ghoulish DIY Halloween graveyard fence is made out of?
Looks heavy and probably cost a pretty penny to make it, right? Wrong!
Who knew scary outdoor Halloween decorations could be so easy to make, yet look so authentic and scary! It was almost as easy as these amazing 12 DIY Front Porch Halloween Ideas!
Because let's face it…once you create this spooky Halloween graveyard fence, you're going to want to "ghoulify" the rest of your yard and outside area, too! Trust me!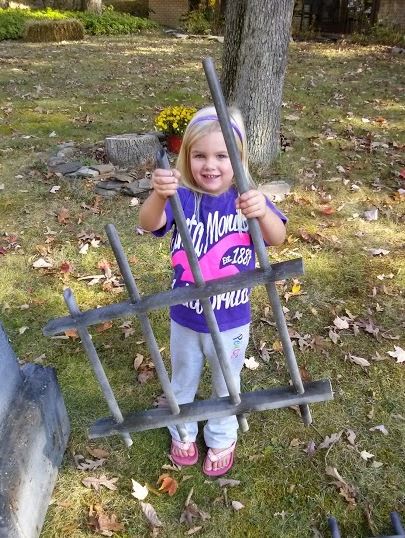 The fence is actually made from furring strips ($1.52 for an 8′ strip) and 3/4″ PVC conduit and/or 1″ PVC conduit ($1.88 – $2.56 for a 10′ piece) and is really light.
Using a hack saw, the conduit was cut into 18″ – 24″ pieces for the fence and 40″ – 60″ for the gate. The bottom of each piece was cut straight across while the top was cut at an angle.
Holes for the fence spokes in the furring strips were cut using a coordinating width wood bit. Then different sizes of fence spokes were scattered across the furring strips.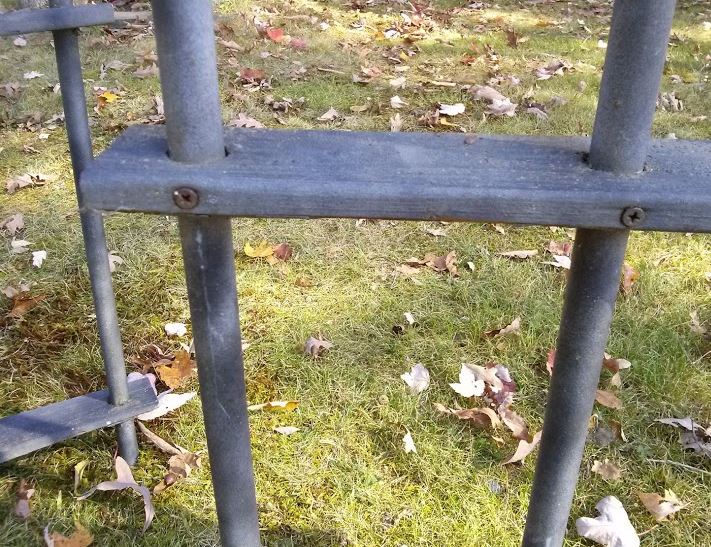 Drywall screws were used to fasten the fence spokes in the furring strips.
The fences were painted with black and gray spray paint for a metal look. It definitely looks like a more sturdy contraption, doesn't it?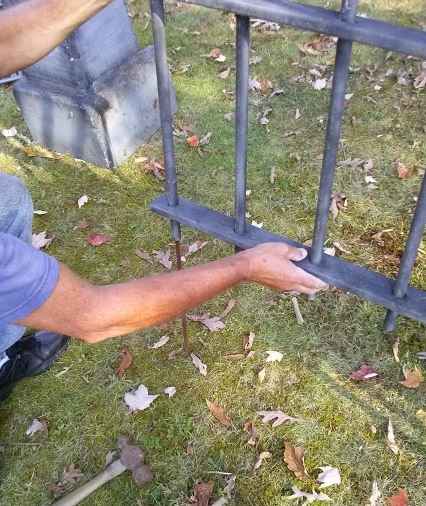 To secure the fence in the yard, rebar was staked into the ground. The drywall screw from the lower furring strip was loosened and an end fence spoke was simply placed over the rebar.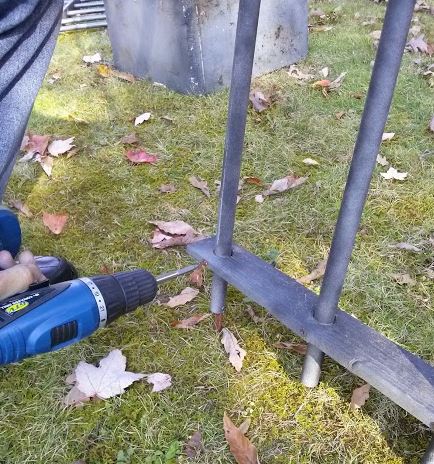 The screw was then tightened against the rebar to hold it in place.
You can spruce up your spooky fence even more by adding lights and other Halloween decorations such as skeletons, skulls, and other ghouls. We put some fun black lights out in the yard to really light things up at night and make the whole scene seem even more "spooky".
Fence Pillars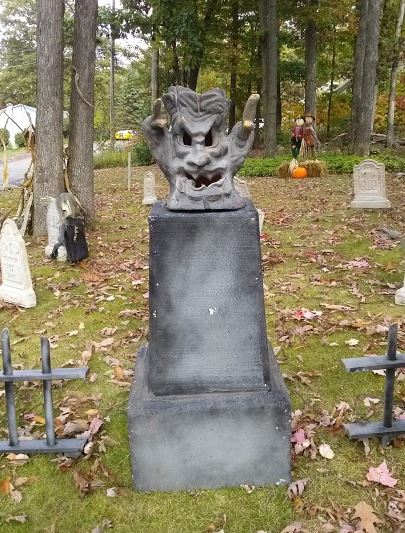 That's right! Our halloween graveyard fence wasn't complete without adding some pillars around the fence, as well!
The pillars were formed using scrap pieces of plywood, paneling, or any other thin pieces of wood. Styrofoam sheets were then glued to the wood and caulked together to give them a stone-looking finish. If you have any styrofoam coolers from past purchases you can cut those up to use 😉
After assembled, the pillars were painted with black and gray spray paint. When painting your pillars be sure to use a latex-based paint as spray paint will melt your styrofoam.
Light up decorations were then secured to the top of the pillars for added effect. You could even put some Halloween music speakers to play spooky music during trick-or-treat time. Just think of how much all of the little kiddos will love all of the effects you add in!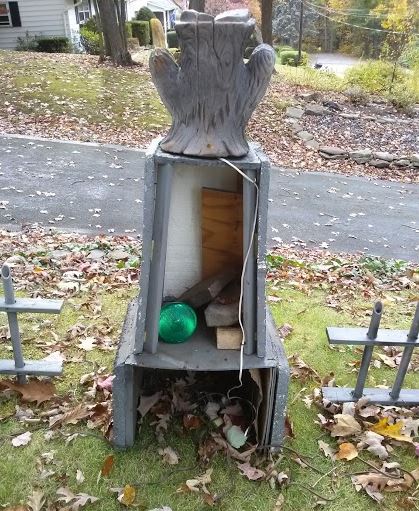 The inside of the pillars were weighted with rocks and bricks. This is also a great place for housing green spotlights shining out towards the tombstones to create an eerie graveyard display at night.
Now steps two and three were done for creating the perfect halloween graveyard fence. Technically, the graveyard fence is completed at this point, but now… it's time to look on the INSIDE of the graveyard to finish up the ambience your yard needs for Halloween!
DIY Halloween Tombstones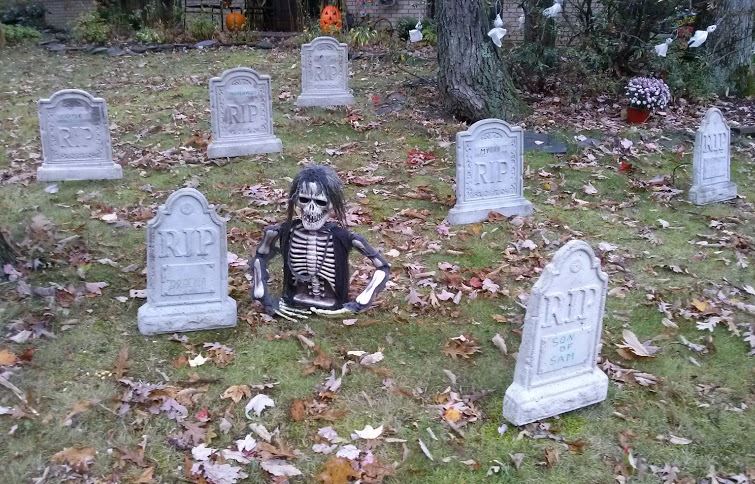 What's a Halloween graveyard fence without tombstones inside?! Believe it or not, the diy outdoor halloween decorations like the tombstones in this photo were actually made from concrete! Back in the day there were thin plastic, open-backed tombstone decorations sold.
They were pretty flimsy (and cheap), but worked good to just lean against a wall in your home…they looked just like a large candy mold. Well, that just wasn't going to work for an outdoor Halloween graveyard!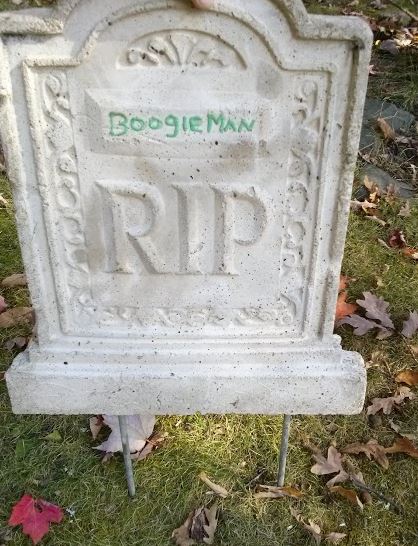 My Dad thought they looked like a mold too and took some Quikrete sand mix, added two spikes near the bottom as a way to secure them in the ground, and let the concrete set in the "mold." Once it was dry the mold easily peeled off and was ready to use for the next one. A diy graveyard doesn't get more authentic than that!
I have been looking for these tombstone "molds" everywhere and can't seem to find them. If anyone comes across a place that they can still be purchased I would love it if you could share 🙂
UPDATE – Looks like there may be similar, smaller molds available at Dollar Tree. Thanks Kym!
Names were added using black light paint pens since on Halloween we'll be throwing a few black lights out in our display too. How could we pass up making our outdoor halloween decorations even more authentic! Because honestly, once you get started with halloween graveyard ideas, they just keep on coming!
And that's it! Nothing too hard or expensive for what appears to be an authentic haunted Halloween graveyard! If you are looking for things that will get the kids even more involved, these 10 Frightfully Frugal Halloween Crafts for Kids. It's that time of the year when it's always fun to get the family involved in the different activities, creations and crafts we do for Halloween.
I promise. If we can create a DIY graveyard, I promise you and your family can do it, too!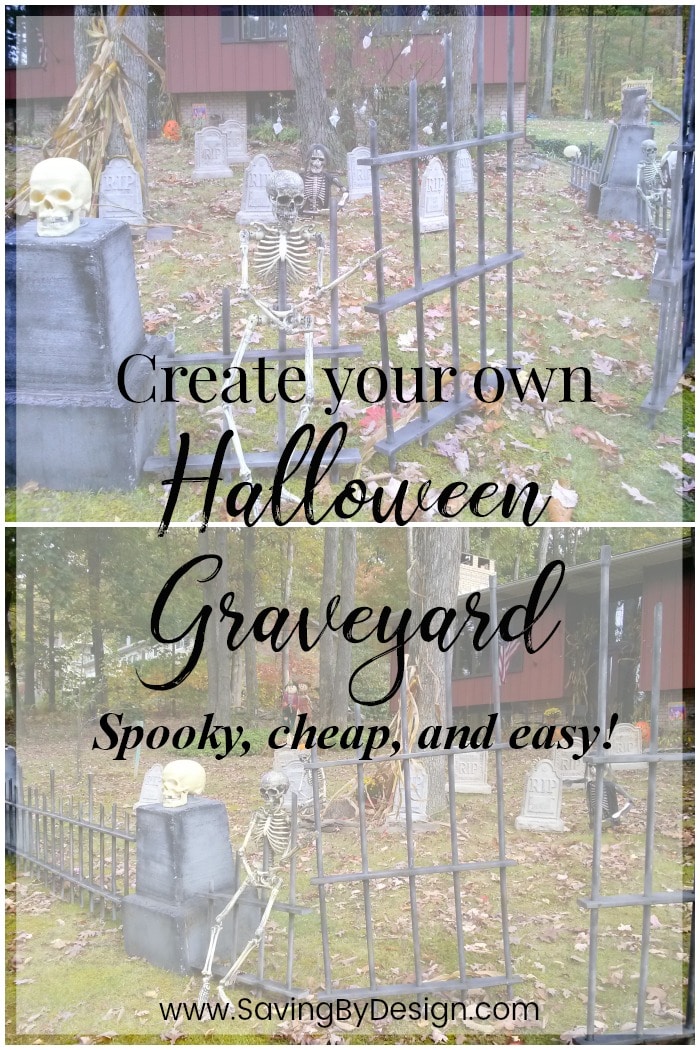 Happy Haunting and enjoy making your own outdoor halloween decorations!