We earn money from clicks or purchases made via product links in this post.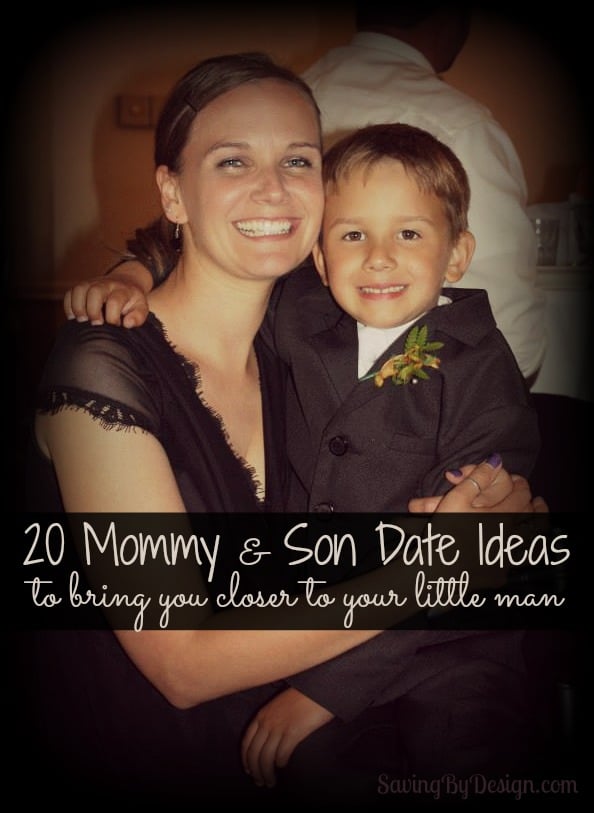 Dates in my house don't just revolve around the ones that include my husband and I. And in addition to our usual family time, I also like to incorporate a little one-on-one time with my son. I love involving him and planning out some great time together, but once in a while… I'll surprise him with one of these Mommy & Son date ideas! I know that it's my responsibility (along with his Dad's) to teach him how to respect and communicate with women. He gets great lessons from Dad and I'm blessed to have a husband who treats me well and sets a strong example for our children on how a marriage should look, but I also know it's me that he'll be looking to in order to establish good behavior. Our time alone together reinforces the groundwork I want to make sure is established in a safe environment.
And let's face it… hanging out with a little boy and being carefree for a day with him? That's just plain fun! 🙂
Free Mommy & Son Date Ideas
Because most of us don't have the luxury to hit up theme parks, expensive playzones, or shell out money for costly rides every time we want to spend some one-on-one time with our son, here are a few ideas that are FREE!
1 – Take A Bike Ride – What could be more freeing than taking a nice bike ride with your son? My son is just learning how to ride his bike, but even when the training wheels were still on, he was sooooo excited to be out on his bike pedaling away! Right now our rides are pretty short and stick pretty close to home, but soon we'll be able to hit some great bike trails in our area and enjoy even more time together.
2 – Build A Fort – I don't know about you, but my son is a MEGA fort builder! He lines up chairs, takes blankets off of couches and beds, moves furniture, and creates a fort all by himself. So when I got in on the action one day, his eyes lit up and he started rattling off how we could make the fort even BETTER now that Mommy was helping! I absolutely love helping him build and he makes me smile when I see how creative he is at such a young age. Now it has become one of his favorite activities to do with me and he is always asking me when we can build our next fort.
3 – Have a Scavenger Hunt – Our hunts stick pretty close to home, but I love the educational value it gives my son while he thinks it's all just fun and games. This is an easy one to make as simple or as elaborate as you want. Write down 5 things on a piece of paper and go for it! Or… get pictures of the items you're looking for if you are introducing new concepts. I've started doing this for things my son may not quite know what it is yet and it has really helped to educate him on the elements around our neighborhood.
4 – Sleepover Outside in a Tent – This is NOT just an activity for boys! I personally LOVE camping and am always super excited to pitch the tent in the backyard and have a Mommy & Son camping date night. Of course, that includes a campfire in our pit along with some s'mores! And when it's time to go to sleep, we usually end up playing little games until it's time for bed. One of his favorites while we're tucked in our sleeping bag? "I Spy With My Little Eye Something That Is….."
5 – Play Catch – I love sports so we love to throw the ball back and forth whenever we get the chance. He plays soccer too, so we spend a little time outside every night kicking the ball and practicing his "drills" for the day. I'll give Daddy most of the credit for this one, but hey…I like to join in the fun, too, and my son LOVES when I'm out there with him!
6 – Nature Hike – We are blessed to live in an area that has a lot of gorgeous State Parks right in our general vicinity and we love to take advantage of them. There are some beautiful hiking trails and my son loves to roam around on them, climb rocks, and skip stones in the lakes that some of the trails skim by. It's a great way to get some exercise, enjoy nature with your little guy, and spend some quiet time with him where you can hold hands, skip, and ask him questions about his day. I love it!
7 – Pack a Picnic – One day this summer my daughter had some swimming lessons and it was the perfect opportunity to pack a picnic and eat in the park with my son while we were waiting for her. He loved being able to help pack the lunch with me in the kitchen, requested a few of his favorites that we through in, and I even let him bring a special juice drink along for the event. He was in heaven and felt like the coolest kid on the planet!
8 – Bake Cookies – Yes, you have to buy ingredients, but it's a cheap way to allow your son to experience the satisfaction of being needed and having a "job" to do with you in the kitchen. I'll generally let him know if we are going to make anything special a day or two ahead of time and it really gets him excited. By the time we actually start baking, he has asked me 2-3 times beforehand if it's time yet! He LOVES to help Mommy out in the kitchen!
9 – Plant a Garden, Flowers, Grass, etc. – This one you really can make as cheap or expensive as you like. For example, earlier this summer we had some leftover grass seed from a project we did last fall around the house. So we took an old pot, threw some grass seed in it, and my son had the time of his life watching his "Grass Project" grow everyday! He would always come running to report to me if new sprouts came in and how tall the grass was getting. He also helped me when we planted our herb garden in the spring. Obviously, this was a project I was going to do regardless of having a date day with my son, but he loves nature and well…let's be honest…he's a boy and loves to play in dirt! He had a blast helping me plant the herb garden!
10 – Go to a Bookstore or Library – This can be free as long as you don't walk out of the store with an armload of new books 😉 There is a great bookstore in our local mall that I love taking my son to. They have an amazing children's section and he could stay entertained for hours with everything there is to look at. I generally get him one book while we're there, but it certainly isn't a must. We also write down the titles we love and then see if we can find them at our local library. I love the educational aspect of this date!
11 – iPad Game Challenge – My son is too young to know what he's missing out on with video games, but he does enjoy playing some educational games on the family's iPad that we have downloaded for him. However, we limit the technology that is allowed on a daily basis. So when there is a "special date" that involves more play time on the iPad?!?! You would think he just won the lottery! Generally I'll let him "show" me what to do with the app and we will see what things he can do to make him move to the next level. We have a lot of spelling, letter recognition, and Pre-K apps on our iPad, so I love that he is learning things and improving his vocabulary while spending a little extra time alone with me.
Other Mommy & Son Date Ideas
While the ideas below are pretty modest in price, you definitely could quickly find yourself spending more money than planned if you don't budget ahead!
12 – Go to the Arcade – We have a local arcade close to the house that is a kid's dream! It has tons of fun things for my 4-year-old and every time we go there, he leaves with a fresh lather of sweat on him from running on all of the rides and bouncing in the bouncy houses. We always go with the intention of getting ice cream after "play time" is over and honestly, I think that's the only way I can get him to leave! But he loves showing off for me and showing me how high he can jump or how fast he can run. It's great for his self-confidence!
13 – Go Bowling – This is one that I haven't tried with my son yet that I'm DYING to do over the cold months ahead! I think he is going to LOVE this and while he's too young to care about the actual game, I can picture his eyes now when he gets to throw the ball down the lane! I'm pretty sure it will be bumper bowling for us, but I'm super excited to see him try bowling for the first time!
14 – Have a Breakfast Date – Honestly, any meal will do, but for some reason, my son and I prefer breakfast dates. I love that it helps with manners and behavior in restaurants and he loves that it's a special meal alone with just me. No little sister vying for my attention and all of my focus is 100% on him.
15 – Go to a Drive-In Movie – We are super lucky because we have a drive-in movie theater in the town we live. If you don't, you can always go to the regular movies or even rent a movie for home if you need to watch the budget. But the Drive-In is EXTRA special for my son and he knows it's a big thing to be able to go! Over the summer we went and saw Planes 2 at the Drive-In. We packed chairs to sit in, brought our own popcorn, and packed some juice boxes and we hit the road. It was a great night that I can't wait to do again!
16 – Go to a Children's Museum – We have a wonderful Children's Museum in our community that we loved so much we ended up getting Season Passes for. Actually, we asked for the Season Passes for a family Christmas present last year, and we have made wonderful use of them! My son is old enough to go in different areas of the museum to play now and he has loved testing out his new skills in climbing and practicing his art skills at the art stations in the museum. It's such a great place to take him and I love that it's interactive and educational.
17 – Go Mini-Golfing – We live in an area that has multiple mini-golf courses that my son has wanted to go to for a LONG time! I've resisted up until recently, when I felt he was finally old enough to maybe get something out of it more than throwing his golf ball across the course! I had to help him a lot and show him how to hold his club and wait his turn. He loved watching the ball disappear and got a kick out of all of the fun mini-golf hole set-ups! We'll definitely be doing that again next summer!
18 – Go to the Zoo – For my family, we get to go to TWO zoos in our area that have free admission. Not every community has free zoos and the costs can definitely add up quickly, but my son could go here everyday and it wouldn't be enough! He loves to sit in front of certain animal displays to wait for them to move and some he loves to mimic as we're walking by! He talks about it the entire way home and we get to have fun conversations!
19 – Try out a Kids Building workshop at Lowe's or Home Depot – Last Spring I took my son to a bird-house building workshop and he LOVED it! It was super easy for him (and no dangerous power tools) and he came home as proud as could be and ready to hang his new bird house for the summer. It was a great interactive activity for the two of us and he loved having me there to help and guide him along the way.
20 – Go to a Sporting Event – Don't worry… I'm not suggesting an expensive pro event that will end up costing an arm and a leg for just the two of you to go to! But…you are more than welcome to take your son to any sporting event you choose. In our house, I opt for smaller high school and middle school games that he can watch and see what the team does on the field. There is also a minor league baseball team close to where we live that we have been to a couple times, as well. He loves all the action and I love not paying pro-athlete event prices!
There you go! In all honesty, it makes me weepy even writing about Mommy & Son date ideas! Even though my little guy is still young, I can already feel time moving swiftly in the wrong direction! I want to keep him little forever. FOREVER! These special moments with my son are truly the things I'll cherish when he's gone and out carving his own path in the world. I'm even documenting our dates so I can scrapbook them and have the memory at my fingertips whenever I want in the future. Enjoy spending some one-on-one time with your little guy!
Do you have any other awesome Mommy/Son Date Ideas that you've done or are dying to try?!?! Be sure to share in the comments below! 🙂