We earn money from clicks or purchases made via product links in this post.
The Busy Mom Family Budget Pack is a simple, yet effective, way to track income and monthly bills, create a budget that works, and pay down burdensome debt.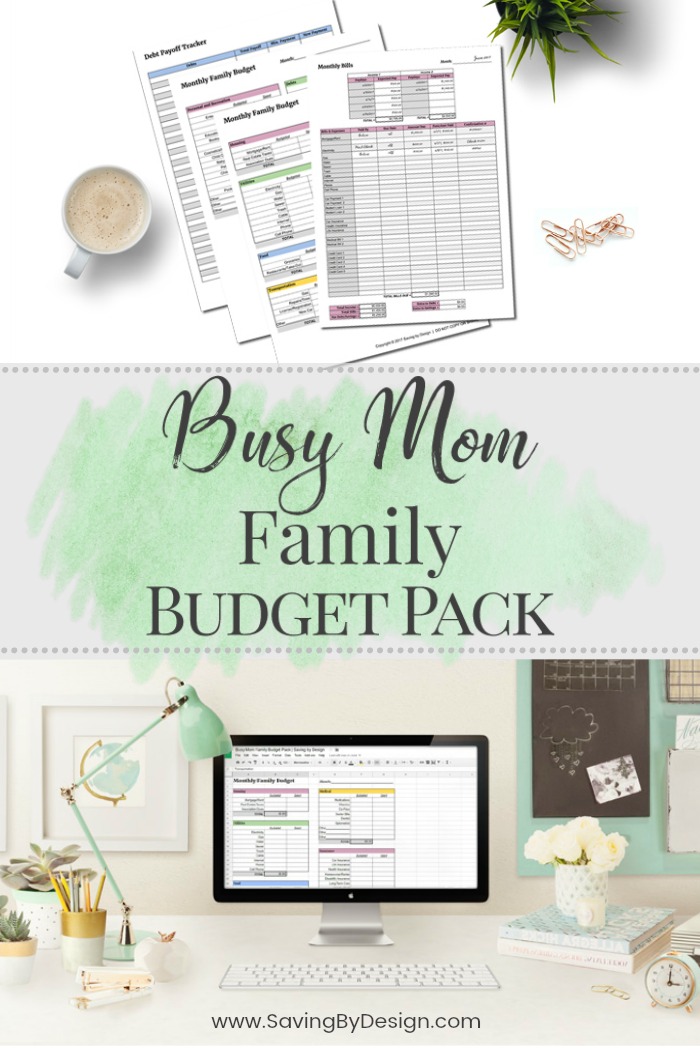 Have you tried to get more organized before, and failed? Or thought you found the perfect system, only to have it not work for you…even a little?
You're not alone.
Thinking about everything you would like to organize at once can be overwhelming…that's why it's best to start slow. Focusing on one small task each day or even each week will help motivate you to take on more.
The best place to start? Your finances.
If you've ever had "messy" finances I'm sure you know how they can weigh on your mind just about every second of every day. That's why I believe until you get that financial burden under control you'll never really be able to put your full attention into another organization task.
Without a system to pay your bills you're always trying to remember what's due when and scribbling confirmation numbers on post-it notes, the back of random envelopes, or taking screenshots with your phone.
When you don't have a budget that gives each and every dollar "a job" you never truly know if you can afford the lunch your co-workers surprisingly want to go out for or the absolutely perfect sweater you see at Target while heading down the aisle to grab diapers.
If you don't have a plan in place to start paying down the debt you've accumulated, the thought of ever becoming debt-free can feel like an unachievable dream.
The thing is, no matter how badly you would like to get your finances in order, there's just simply no time!
Weekdays are consumed with crazy mornings, full workdays, making dinner, and the kids' activities, while the weekends are full of cleaning, grocery shopping, and hopefully the family time you crave.
It seems impossible to find time to come up with a plan for managing bills, budgets, and debt.
Sure there are many products out there to help you get started. The thing is some are more than your tight budget can handle, especially if you're already falling behind. Others are so complicated…if you don't have time to work on your finances in the first place, how can you find extra time to learn how to use a new system first?!
Don't give up just yet…I have an easy solution.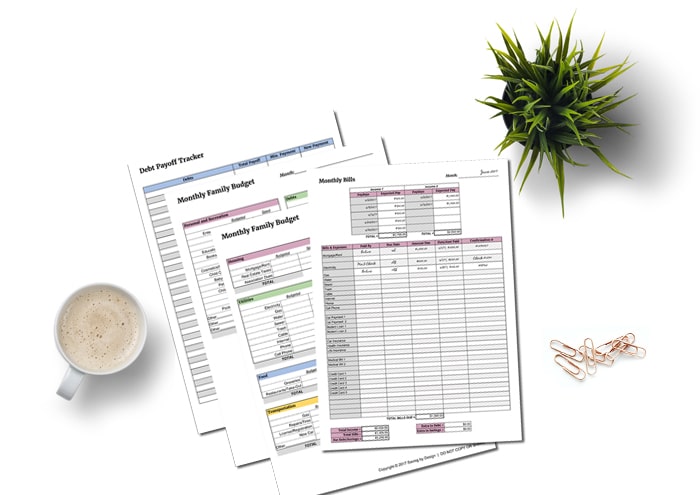 The Busy Mom Family Budget Pack
Because I had the same problems as you – unorganized finances with little time to manage them, I created the Busy Mom Family Budget Pack as a simple, yet effective, way to track income and monthly bills, create a budget that works, and pay down burdensome debt.
It's not so fancy that you'll need extra time to figure it out, but it is sophisticated enough to do just what you want – easily track, manage, and take control of your money. This is the same system I use to this day while taking care of my crazy busy, always on-the-go family 😉
If this sounds like something you could use to take back your finances, you'll definitely want to check it out.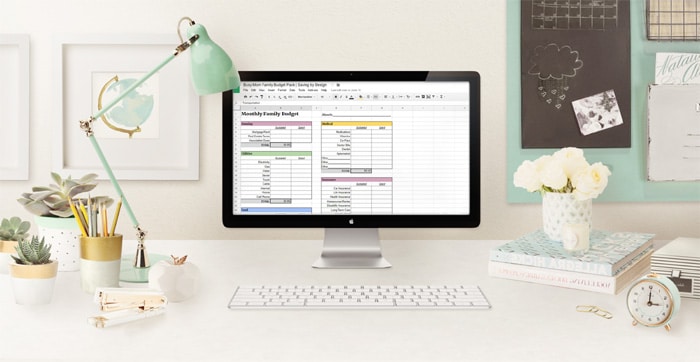 With The Busy Mom Family Budget Pack you'll get…
Access to the exact (simple) system I've used for years to track monthly bills, maintain a budget, and pay down debt.
Both an editable Google Sheets file AND printable version to track your income and expenses the way that best makes sense to you.
Fully formulated digital spreadsheets that will automatically calculate income totals, bill payment totals, and budget totals…you won't even need a calculator!
You can get your copy of the Busy Mom Family Budget Pack here.