We earn money from clicks or purchases made via product links in this post.
Our little ones are always creating so many great masterpieces…how do we show it off? Displaying artwork from your kids is easy with this simple tutorial!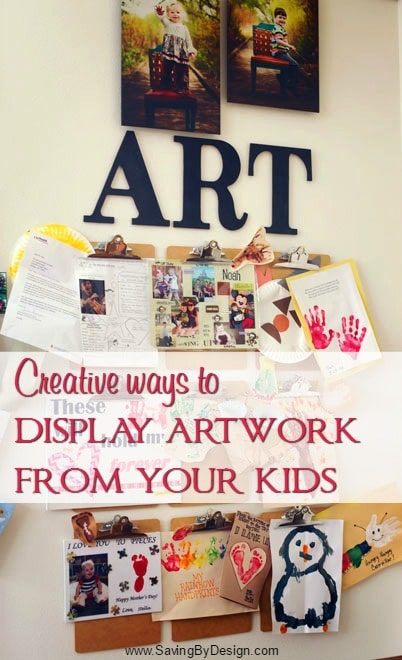 I think it's so much fun to see the kids create little art masterpieces! Arts & crafts are a big part of our days and now that my son is in Pre-K, he is coming home with great new projects each week. And with summer vacation quickly approaching, I'm sure our arts & crafts days at home will kick into overdrive soon!
I can't just throw these cute little works of art away. No way! So a couple years ago I searched for a way to showcase these sweet mementos and am so glad I did. Are you looking for fun ways to work on displaying artwork from your kids, too? If so, you've found the right place!
Displaying Artwork from Your Kids – DIY Children's Art Wall
I love doing fun DIY projects and I REALLY love doing them when they are for my kids. I love seeing their little faces light up at a new creation or having them help me to be a part of it.
My idea for their Clipboard Wall Art project came from CleanAndScentsible.com a couple years ago now. I wanted to make something simple that would also look decorative in the house. I knew I was going to pretty much need an entire wall (or a decent sized area) to pull this off, and I found just the right place!
My next step was to travel over to Office Depot to grab some clipboards. I decided to make mine a little bigger than the one I found, so I bought 9 clipboards to make the end product 3 clipboards by 3 clipboards.
I then stopped over at Michael's, where I found the large wooden letters I needed for the ART sign above. I had some black spray paint at home, so I painted them when I got home and let them dry.
When everything was ready, I used 3M Picture Hanging tape to put them on the walls. I didn't think that making that many nail holes would be a welcomed sight to my husband 😉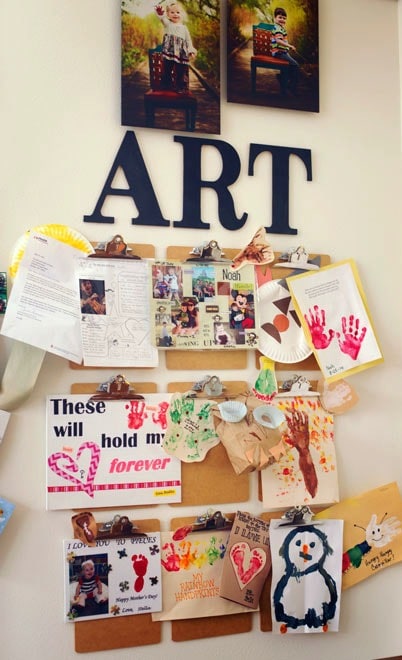 And voila! Our Art Wall was complete and my son was quick to show me which masterpieces he wanted hung up! My daughter had a few art projects of her own with those sweet little baby feet she had, so of course, those made it, as well!
If you don't feel like running out to get the supplies you'll need to make your art wall, you can find everything at Amazon. Here are the links…
Storing Artwork from Your Kids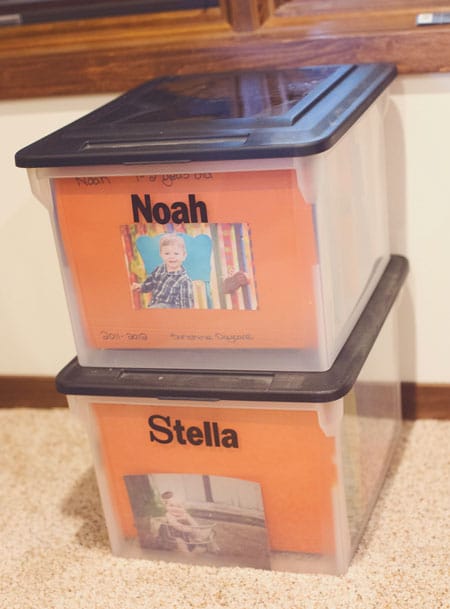 My next project was to get everything stored away in a safe, organized place that I knew I'd be able to use for years to come. That's where these awesome Baby Boxes came in, which I also found a few years ago at DestinationOfDomestication.com. These were exactly what I wanted and while I didn't follow the guidelines exactly, it works great for me with my two little ones.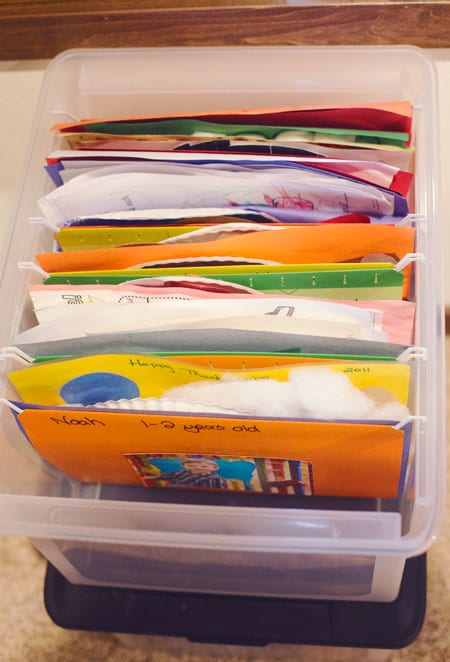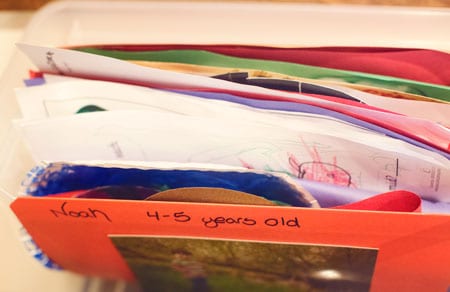 I wanted to make sure I was able to store things by year (since neither of my kids were in school yet) and now that my son is in Pre-K, I have written that down on a folder, as well.
My first step was to grab a couple of these file storage containers, along with some hanging file folders that I could use to organize their art. I happened to have some colored hanging files at home already, so that part was already completed!
I then used some scrapbooking letters to put their names on the outside of each box, and inside, I used a hanging file for each year of their life. On the hanging file, I wrote their age (and now school year), along with including a birthday picture from that year on the front of the file. I wanted to give it a little special touch and I already look back on those older folders and see that sweet picture and get all teary. And yes…I'm aware I'll probably need more than one box for their entire childhoods! 🙂
Now, when there are new art projects that they want to have displayed on their Art Wall, I can take down some of the older projects and put them in their storage box. I love it! I also love that they are going to have this box for their future to look back on some of their more fun and spectacular art projects they create. It's a win-win!
There are so many great ideas out there right now for ways to display kids' artwork. My son LOVES putting new things on our Art Wall and he is SO proud to show off his creations when visitors come over. It's one of the first things he wants to take people to!
Me, on the other hand…I have a super hard time wanting to put anything away, but I'm getting better at rotating in new pieces of art. I love having this wall to look at everyday. It is one of my favorite spaces in our home and it gives me a daily reminder of how much I have to be thankful for. I hope you have as much fun creating your display area as I did. Enjoy!
Don't miss these posts…
> 10 Incredible Kids Playroom Ideas That Will Inspire You
> Gardening With Your Kids: Fun Ways to Get Your Children Involved