We earn money from clicks or purchases made via product links in this post.
With these tips anyone can host a 4th of July barbecue on a budget. Add some patriotic pop to your party without sending your budget up in smoke!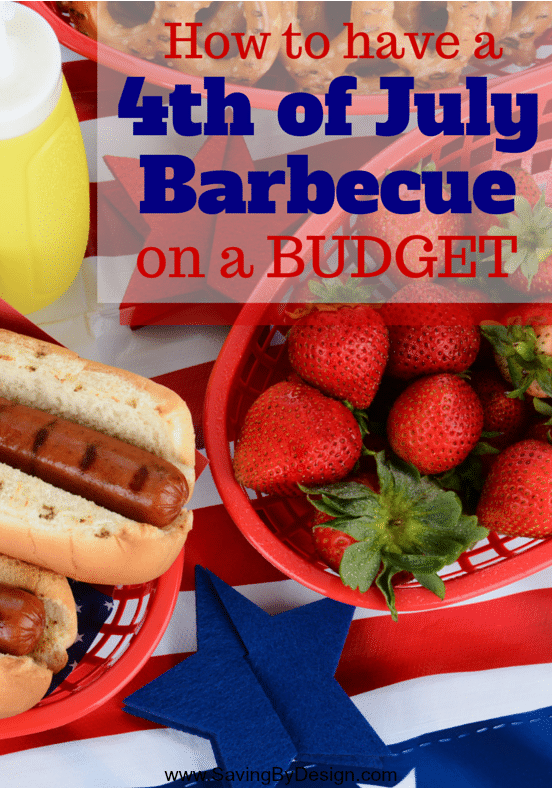 I just love the 4th of July! The warm summer air, swimming in the pool, delicious barbecued food, and getting together with friends and family to celebrate our nation's birthday…what's better than that?
Such a fun day requires some fun accessories and nothing makes a party more festive than cute decorations and themed party food that doesn't have to cost a fortune. With 4th of July right around the corner there is still time to host a 4th of July barbecue on a budget.
How to Have a 4th of July Barbecue on a Budget
Here are some tips and ideas to add some patriotic pop to your party that won't send your budget up in smoke 🙂
Food – Be Willing to Accept Help and Always Be on the Lookout for Deals
For most barbecues the star of the show is meat. When purchasing meat there are a few things to be aware of. Buying in bulk usually saves money. Buying ground beef this way is great for making your own hamburger patties and skipping the high-priced ready-to-grill ones. Check "value pack" prices at the grocery store and compare that to what you'll find at warehouse stores such as Sam's Club to see who has better bulk pricing. Also, many grocery stores discount meat when it gets close to its "sell by" date – watch for markdowns of up to $3 off on discounted meat and grab a great deal!
Instead of paying a few extra bucks for marinades or seasonings try using something you already have in the pantry or making your own. We love using Italian dressing with some fresh garlic added as a marinade…something you probably already have on hand. It works great on steaks and chicken! A quick internet search will also find you lots of homemade seasonings to try instead of purchasing them in the store. So put that spice rack to use and whip up some homemade lemon pepper, seasoned salt, ranch, and more.
Don't forget the sales and coupons of course! In the weeks leading up to your barbecue be on the lookout for ingredients and supplies you'll need. One thing to watch for is a deal on soda. I've found that using 2 liter bottles at my parties with cups works out much better than cans which can easily be opened, misplaced, and left behind, wasting the entire can. As you probably know, sales combined with coupons will score you some pretty sweet deals. If you don't have time to clip paper coupons, at least check a smartphone app to see if there are any offers available. Ibotta is by far my favorite and the easiest to use 😉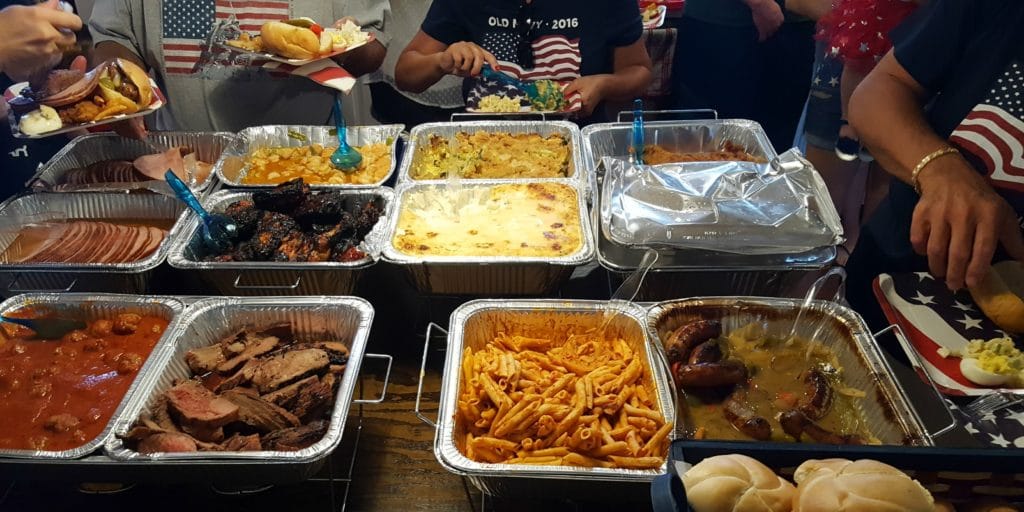 Almost every party I have, the first thing people ask after responding is, "What can I bring?" Take them up on their offer and ask friends and family to bring a dish with them or even some of the supplies like plastic ware, tablecloths, or decorations. If everyone chips in you can have a great barbecue without putting a strain on anyone's wallet.
Create some festive food by adding decorative picks to any dish or actually use red, white, and blue food. Some simple ideas include skewering strawberries, blueberries, and bananas or apples to make patriotic fruit kabobs. You can also cut star-shaped watermelon pieces using a cookie cutter and add them to a bowl of blueberries. To make red, white, and blue nachos add mozzarella cheese and a dollop of salsa to blue tortilla chips in clear single-serving cups so guests can just grab and go.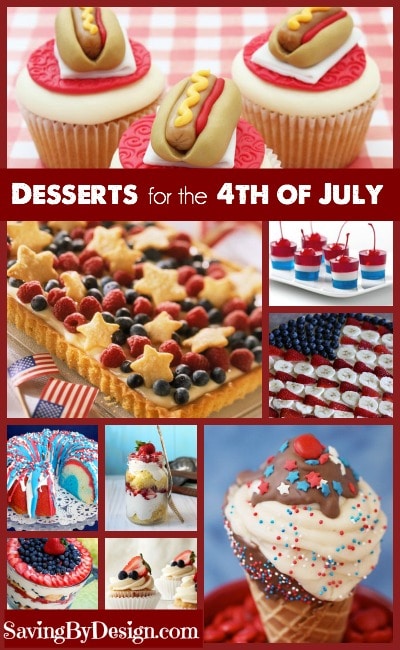 Looking for a red, white, & blue dessert? Check out my 10 Perfectly Patriotic Desserts for the 4th of July post 😉
Invitations – Make Your Own or Skip Them!
Once you know your menu, it's time to get your guests to the party!
Skip the expensive invites and make some of your own. Not too creative? Well don't worry! There are so many party sites offering ideas and free printables to use as invites for your party. The best place to find all of this – Pinterest! Take a look at my 4th of July Pinterest Board to get started 😉
As an alternative, if you and your friends are familiar with social media you can skip the invitations and just create a Facebook event letting everyone know about your get together.
Decorations – The Dollar Store and a Little DIY Never Hurt Anyone
No holiday party is complete without colorful party supplies and decorations – my favorite part!
One of the best places to find party supplies is Dollar Tree. There's always an assortment of themed decorations along with some go-to staples that can be used for any get together. If you'll be having a candy buffet at your party this is the place to find assorted vases and glasses to hold your goodies. They even had star-shaped glass dishes and for $1 you can't beat it! Fill the vases with red, white, and blue themed bulk candy. I'm also wrapping Hershey's nuggets in patriotic scrapbook paper strips to make them adorable on the cheap.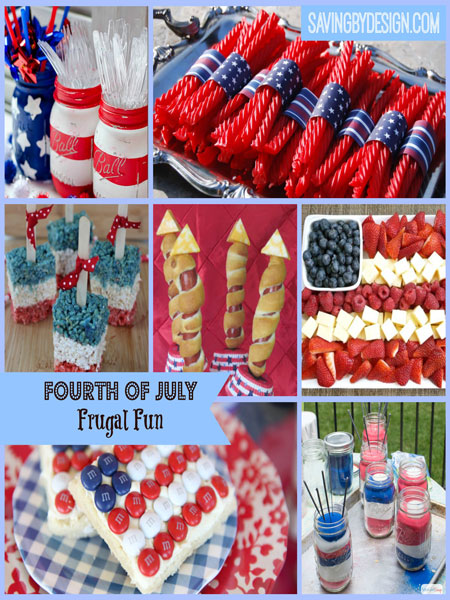 You can find lots of inexpensive decorating ideas in my 15 Frugal and Fun 4th of July Ideas post 😉
For centerpieces consider making floral arrangements from what you already have on hand. Use empty 15oz metal cans, scrapbook paper, and some flowers from your backyard. Decorate the metal cans with scrapbook paper and your favorite stickers, ribbon, or other embellishments. Add some of the flowers from your yard and you're all set!
I have lots of little white daisy wildflowers in my yard that I'll be using. I'm going to dye them with food coloring to make them red, white, and blue…the kids will love this! To dye your flowers just add about 4" of water to a vase, a few drops of food coloring in the color of your choice, and about a dozen flowers with stems cut sharply at an angle. You might also want to add a little plant food so your flowers last. In a few hours you'll see the petals starting to take on color and in a few days they'll be fully transformed.
How about some patriotic lawn stars that you won't be able to miss? These huge stars will add some easy colorful cheer. All you have to do is cut a star out of a large piece of cardboard to use as a stencil. The star stencil that I use is about 2 feet in diameter. At home improvement stores you'll find construction marking or field marking spray paint that is safe to use on lawns. The day before your party (or even the day of your party) just lay down your stencil and spray away! Completely fill your stencil for solid stars or just spay around the edges for star outlines.
Don't have any flowers? Consider making a flag bouquet! Take your $1 store vases and fill them with glass beads, sand, or even gumballs. Then add a few mini flags, which you'll find at a very good price right now.
Have a wonderful 4th of July barbecue on a budget! 😉
Don't miss these other 4th of July posts…
> 4th of July Fun with the Kids
> 10 Perfectly Patriotic Desserts for the 4th of July