We earn money from clicks or purchases made via product links in this post.
This homemade laundry detergent recipe smells so good, works great, and is mostly natural. Oh and it's less than $25 for about a year's supply…it's the best laundry detergent you'll ever try!
Running low on laundry detergent? You might want to try making some homemade laundry detergent!
It will only take you about 15 minutes and less than $25 to stock up for about a year!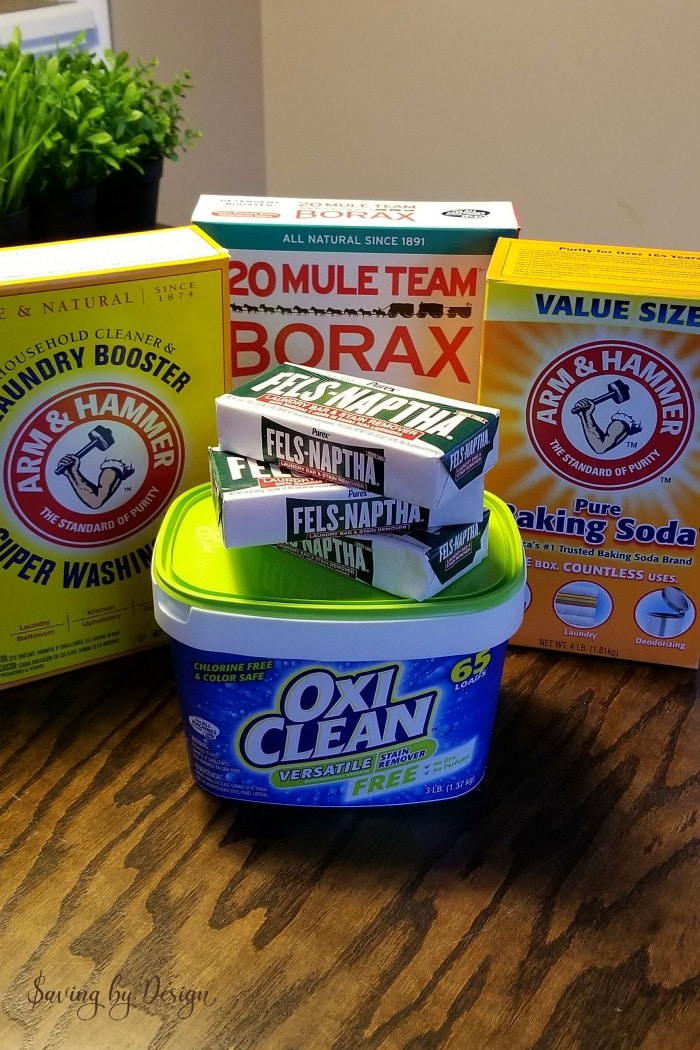 I first started making homemade laundry detergent years ago…before I really got into couponing.
Then I took a little hiatus when I was nabbing awesome deals on store-bought detergent. But now that my hard-core couponing has, well, flown the coup (see what I did there?! 😀 ), I've come across some new and improved recipes and I'm hooked again.
It just smells so good, works great, and, as a super important bonus, is mostly natural.
Oh and how can I forget about the price? It's less than $25 (without using coupons on the ingredients, so even less if you use them or store rewards 😉 ) for about a year's supply!
To me a good deal on store detergent is $0.02/oz or less which is a 50 oz bottle for $1 or less (that's only around 32 loads). The recipe below makes about 276 oz. You only need 1 tbsp (0.5 oz) per load so you'll get 552 loads!
How to Make Laundry Detergent
There's really nothing complicated about making your own laundry detergent. You basically buy the ingredients, grate your soap, and mix them together.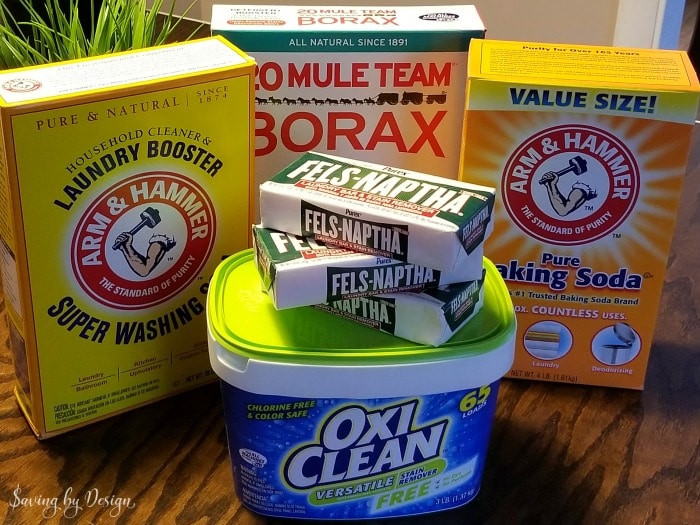 Ingredients Needed to Make Homemade Laundry Detergent
Here's what you'll need to make my favorite homemade laundry detergent recipe…
** I no longer use a laundry scent booster when making my homemade laundry detergent. Instead I keep a bottle of lemon essential oil my my washer and simply add five drops to each load.
Helpful Supplies for Making Homemade Laundry Soap
As I mentioned above, making your homemade laundry detergent is as simple as mixing all of your ingredients together.
The only "hard work," if you want to call it that 🙂 , required is grating your bars of Fels Naptha soap. I use the middle grate on a box grater. If you'd rather, you can also throw your Fels Naptha soap in the food processor and mix until finely ground.
Then just mix all the ingredients in an air tight container. I use a 5 gallon bucket from our local hardware store that came with a lid.
I leave my "stock" of laundry detergent tightly sealed in that bucket in the garage until I need it. I fill the tub the Oxi-Clean came in with detergent to keep by the washer.
If you would rather keep your laundry soap on display, you can use a pretty glass jar like this one 😉
How to Use Your Homemade Laundry Detergent
To use your homemade laundry detergent just add about 1 tablespoon to your washing machine before adding your clothes. I've always added my laundry soap to warm or hot water and then switch to the temperature I need before adding my clothes. I just feel it helps the the laundry detergent to dissolve.
Extra Tip – I also add a downy ball filled with distilled white vinegar to freshen and soften clothes, and add wool dryer balls when drying to save energy and prevent wrinkles.
For heavily soiled clothes I use 2 tablespoons.
Using the recipe above, if you do 10 loads of laundry per week. you'll have enough to do between 6 months and 1 year of laundry…not too shabby for the 15 minutes it took to throw it all together.
I can handle doing that once or twice a year! 🙂
Is Homemade Laundry Detergent Safe for HE Washers?
While I actually don't have a HE washer myself, each individual ingredient is HE-safe and many of the other readers have commented on this post that they have used it in their HE washer with success.
Don't miss these posts…
> Create a Laundry Schedule to Get Your Laundry Off the Floor and Back in the Drawer!
> 6 Ways to Start a Savings Plan No Matter What Your Financial Situation
> Meal Planning Free Printables and Organization Ideas to Help You Get Dinner Under Control