We earn money from clicks or purchases made via product links in this post.
This homemade laundry soap recipe smells so good, works great, and is natural.
Running low on laundry detergent? You might want to try making some homemade laundry soap!
I first started making homemade laundry soap years ago…before I really got into couponing.
Then I took a little hiatus when I was nabbing awesome deals on store-bought detergent. But now that my hard-core couponing has, well, flown the coup (see what I did there?! 😀 ), I've come across some new and improved recipes and I'm hooked again.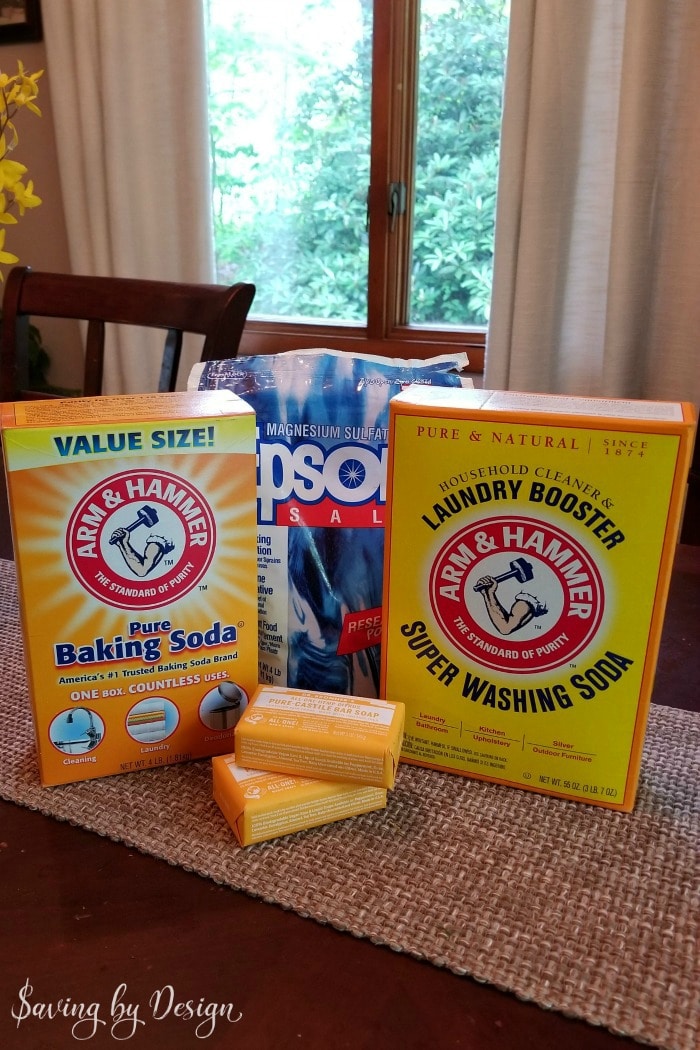 It just smells so good, works great, and, as a super important bonus, it's made of wonderful natural ingredients.
What's in Homemade Laundry Soap?
Wondering why certain products are used in this laundry soap? Here's a quick summary of why each ingredient was chosen.
Castile soap – Pure Castile soap is a vegetable-based soap that's free of animal fats and synthetic ingredients. It's a natural, non-toxic, biodegradable soap available in both liquid and bar form. It's amazingly versatile and gentle enough to use on your face, body, and hair, yet strong enough to tackle many household chores such as laundry.
Baking soda – Baking soda (sodium bicarbonate) naturally whitens and deodorizes laundry. When combined with Castile soap it also acts as a buffer, protecting the soap from acidic substances.
Washing soda – Washing soda (sodium carbonate) acts as a powerful scouring agent – increasing your soap's cleaning power to get out ground-in dirt and stains and cuts through grease. It helps eliminate odors instead of covering them up. Washing soda also softens the water.
Epsom salt – Epsom salt (magnesium sulfate) prevents fading, stabilizes colors, and softens fabrics.
Citric acid (*not in photo) – Citric acid is found in lemons and sour fruit. When used in this laundry soap it whitens whites, brightens colors, and softens water.
How to Make Laundry Soap
There's really nothing complicated about making your own laundry detergent. You basically purchase the ingredients, grate or chop your soap, and mix them together.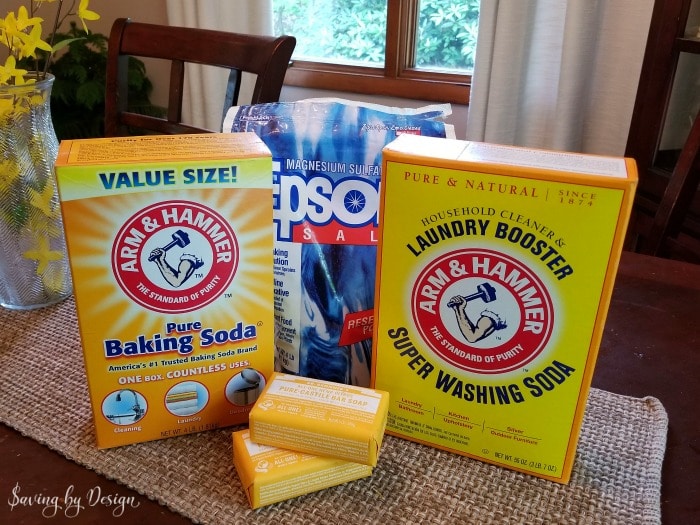 Ingredients Needed to Make Homemade Laundry Soap
Here's what you'll need to make my favorite homemade laundry soap recipe…
2 bars Castile soap in the scent of your choice (citrus, lavender, and peppermint are some of my favorites)
1 cup baking soda
2 cups washing soda
1 cup Epsom salt
1/2 cup citric acid
This recipe will make approximately 2 quarts of laundry soap.
Helpful Supplies for Making Homemade Laundry Soap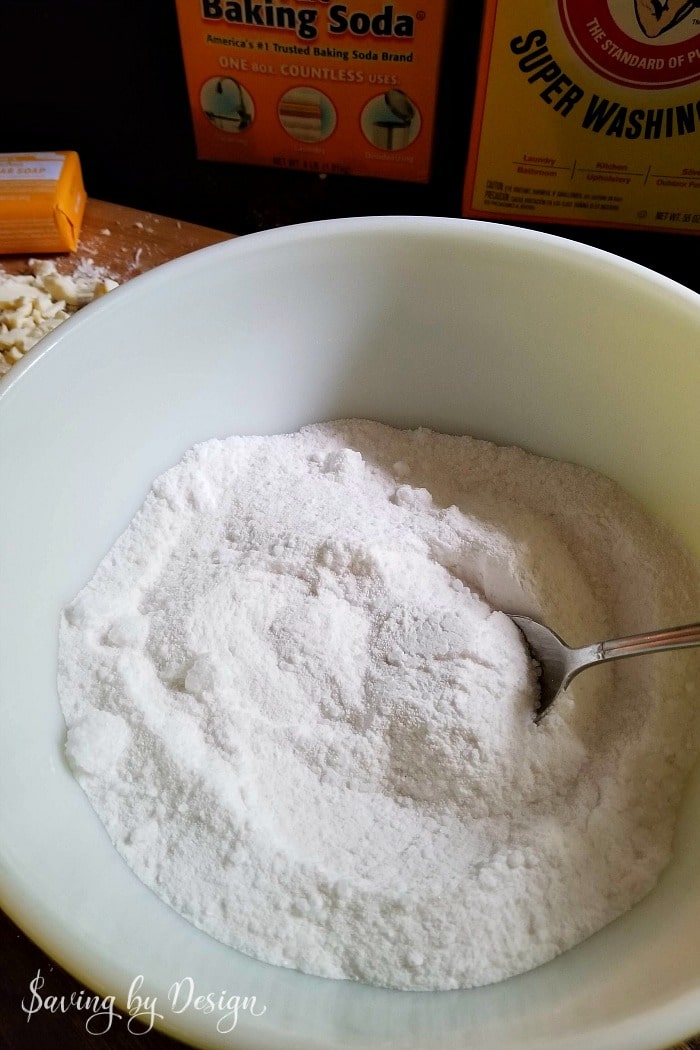 First combine all your dry ingredients – baking soda, washing soda, Epsom salt, and citric acid in a large bowl.
Then you'll need to grate or chop your soap. That's the only "hard work," if you want to call it that 🙂
You can use the middle grate on a box grater. If you'd rather, you can also throw your soap in the food processor and mix until finely ground like I do.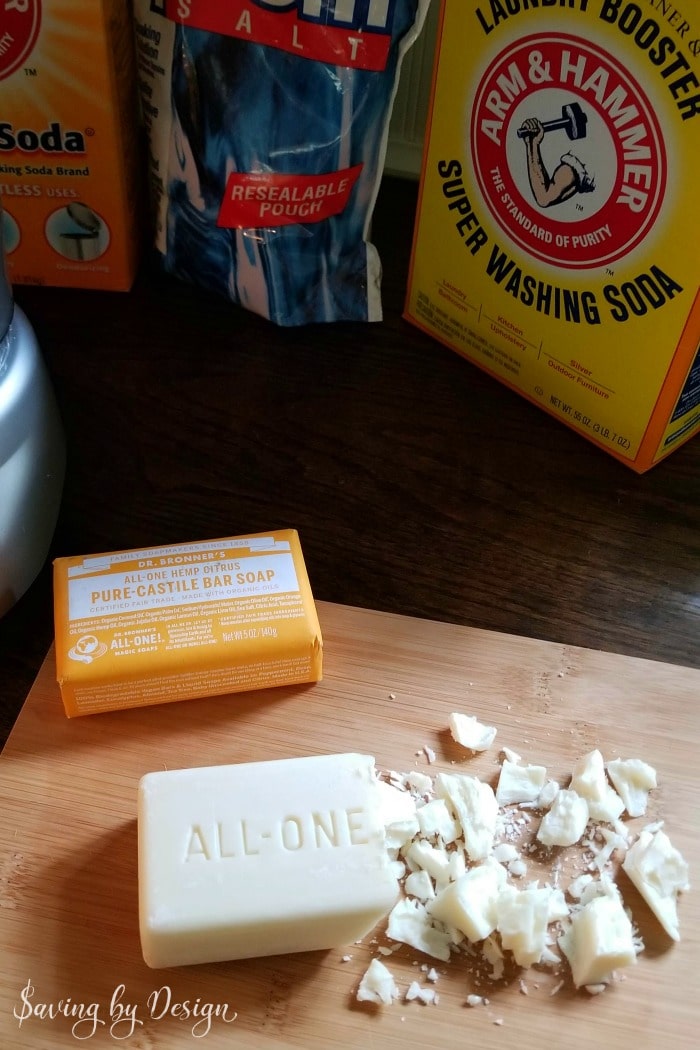 If you using a food processor it works best to first chop the soap into small pieces with a knife.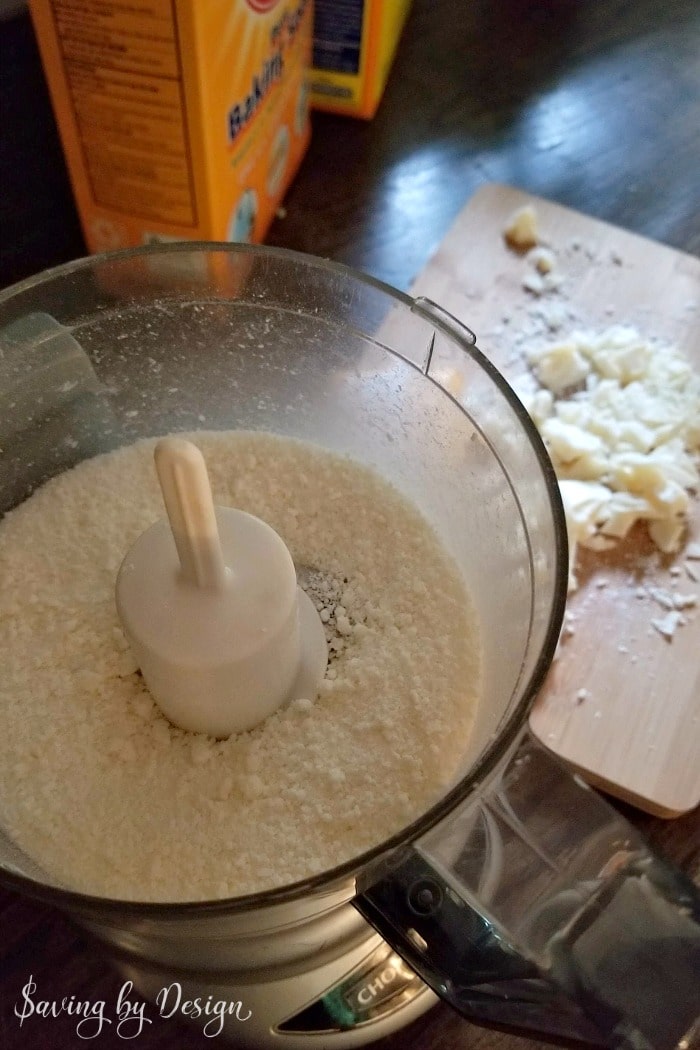 Then add 1/2 bar at a time with about 2 tablespoons of your dry ingredients to the processor to prevent the soap from clumping.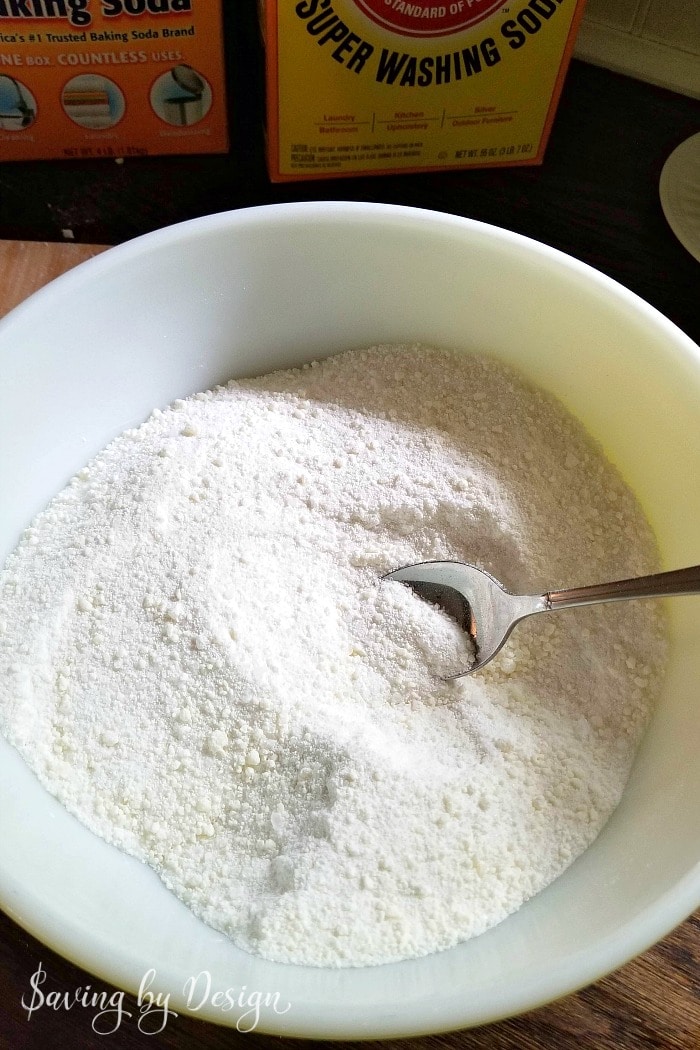 Then just mix all the ingredients and seal in an air tight container.
If you would like to keep your laundry soap on display, you can use a pretty glass jar like this one 😉
How to Use Your Homemade Laundry Detergent
To use your homemade laundry soap just add about 2 tablespoons to your washing machine before adding your clothes. For small or lightly soiled laundry 1 tablespoon should work fine.
I've always added my laundry soap to warm or hot water and then switch to the temperature I need before adding my clothes. I just feel it helps the the laundry soap to dissolve.
Extra Tips:
To pre-treat tough stains I use my all purpose cleaner. It's simply 2 tablespoons of liquid Castile soap mixed with 16 oz. of water. I have to admit that I was pleasantly when my son's muddy, grass-stained baseball pants came out clean using this method!
I add a downy ball filled with distilled white vinegar to freshen and soften clothes, and add wool dryer balls when drying to save energy and prevent wrinkles. I add essential oils to both the vinegar and dryer balls for a fabulous scent 😉
For heavily soiled clothes add an extra tablespoon.
Using the recipe above, you should be able to do about 64 loads of laundry. If you do ten loads of laundry per week that's enough for more than 6 weeks.
Is Homemade Laundry Detergent Safe for HE Washers?
While I actually don't have a HE washer myself, each individual ingredient is HE-safe and many of the other readers have commented on this post that they have used it in their HE washer with success.
---
References:
Bronner, Lisa. "What Can You Mix with Castile Soap?" Going Green with a Bronner Mom, 13 Dec. 2018, www.healthline.com/health/castile-soap.
Cronkleton, Emily. "What Is Castile Soap Used For? Uses, Benefits, What to Avoid, and More." Healthline, Healthline Media, 2018, www.healthline.com/health/castile-soap.
"Homemade LAUNDRY Detergent: Discover the Amazing Cleaning Power of This Non-Toxic, Borax-Free Recipe!" Farm Girl Inspirations, 2014, www.joyelick.com/2014/04/homemade-laundry-detergent-discover.html.
Post updated 5/31/2019 with new laundry soap recipe that I am currently using.