We earn money from clicks or purchases made via product links in this post.
These DIY teacher gifts are perfect for back to school gifts! You'll find easy homemade teacher appreciation gifts that are sure to be a hit!
My kids absolutely love making homemade DIY Teacher Gifts during the summer and are always so proud to hand them over on the first day of school.
It is one of our favorite back-to-school traditions!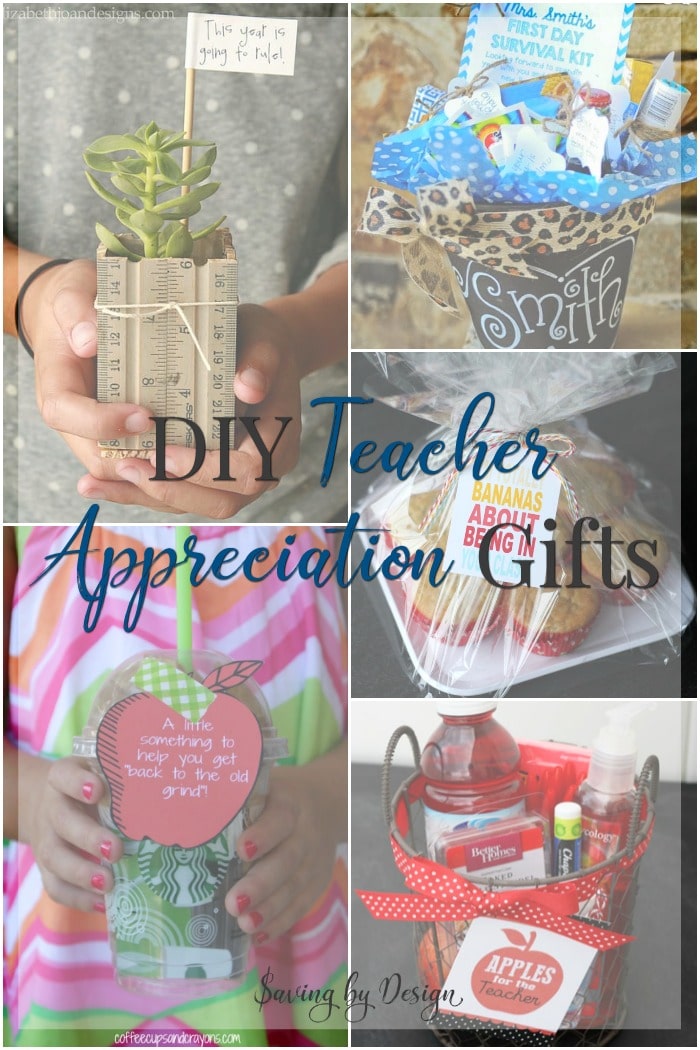 Before you know it, it's going to be time to get that first day of school teacher gift ready with your little one. It doesn't have to be anything fancy and can be a great time to get creative with your little one!
Which begs the question…what kind of back to school DIY teacher gifts are up your sleeve this year? Here are a few ideas…
13 Back to School DIY Teacher Gifts to Start the Year Off Right
Here are some great DIY Teacher Gifts that are quick and easy and will have your child's new teacher super appreciative. Now, it's time to get to work!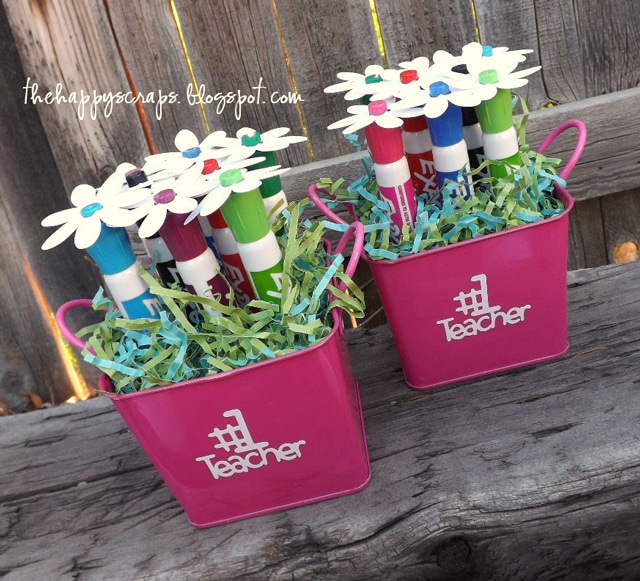 1. Who doesn't go through a million dry erase markers over the course of the year! These back to school gifts will be much appreciated! That's why these Dry Erase Marker Bouquets from TheHappyScraps.com is a perfect back-to-school gift idea for your child's teacher. And it doesn't hurt that it's quick and easy to make!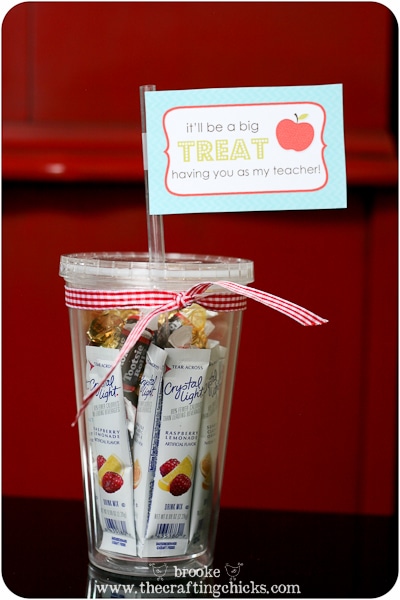 2. This Back-to-School Teacher Treat with a Tag Cup from TheCraftingChicks.com is so cute! I love back to school teacher gifts that have a FREE printable. Embellish your candy-filled cup with a great tag that is so cute. Your teacher will think you spent way too much time on it?!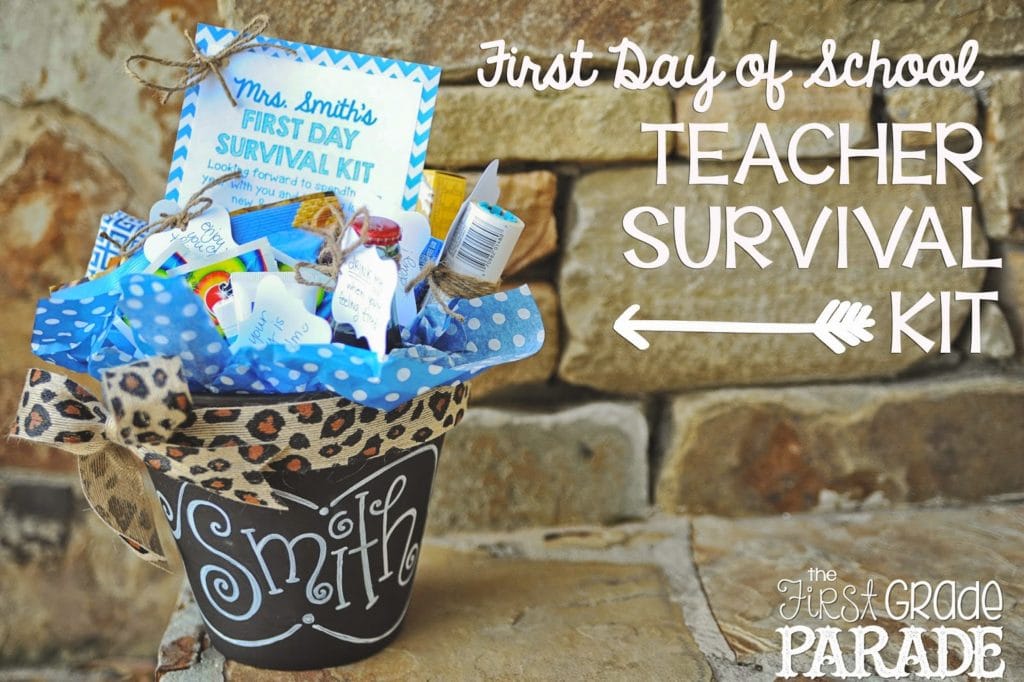 3. Every teacher deserves this First Day of School Teacher Survival Kit! TheFirstGradeParade.com puts such a cute crafting spin on this great idea! If you are a crafting junkie, this is a great way to put a personal, cute touch on a back-to-school gift. I love how you can incorporate school colors with the tissue paper or ribbon!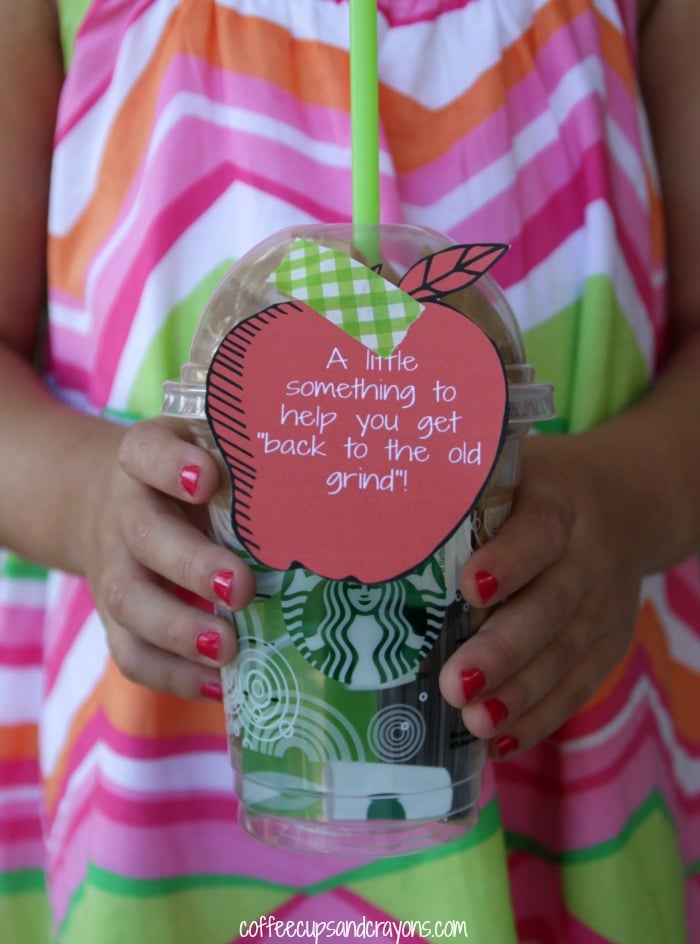 4. A Teacher Coffee Gift Card and Cup is a great way to help them get "back to the old grind"! CoffeeCupsAndCrayons.com nailed this idea. I don't know many teachers who don't appreciate a bit of caffeine. Teachers will love these great DIY Teacher Gifts!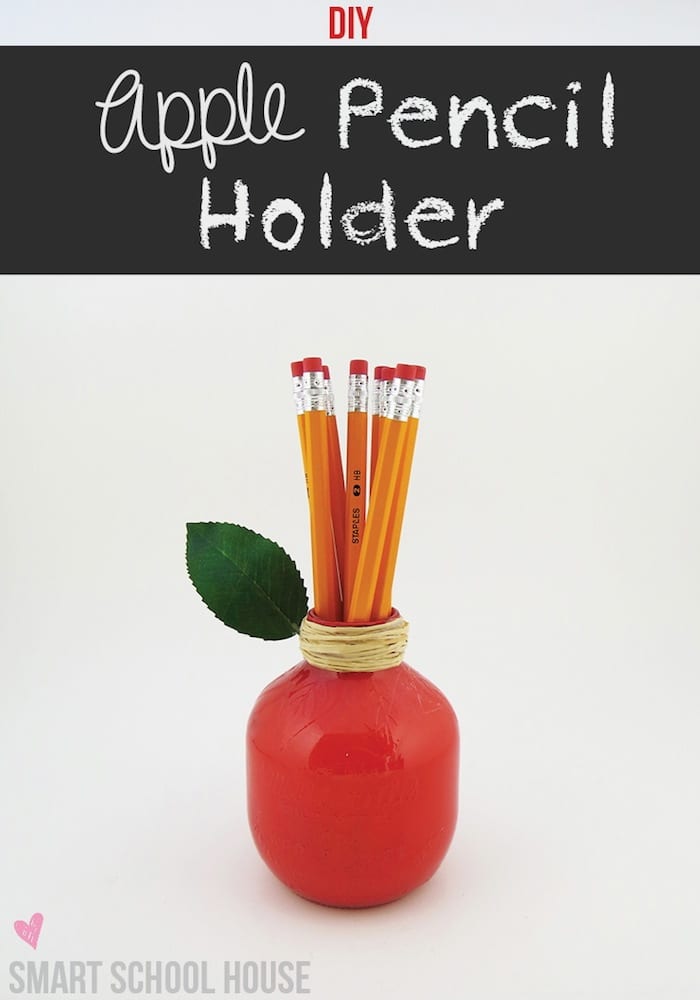 5. How cute is this first day of school teacher gift that is a Teacher's Apple Pencil Holder from SmartSchoolHouse.com?! Since teachers all need a place to put their pencils or other writing utensils, you know it's going to get a lot of use for years to come.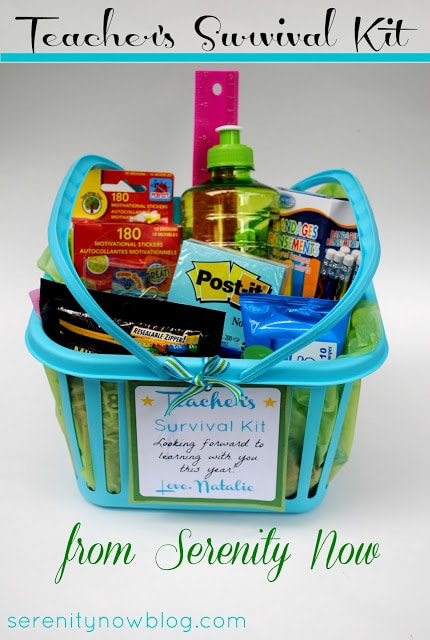 6. This Year-Long Survival Kit for Teachers from SerenityNowBlog.com will be a hit. Teachers will love this later in the year when items the teacher had stocked are starting to dwindle. Think of all of the school supplies you'd love to have at your disposal if you were a teacher and make sure you include some in this survival kit.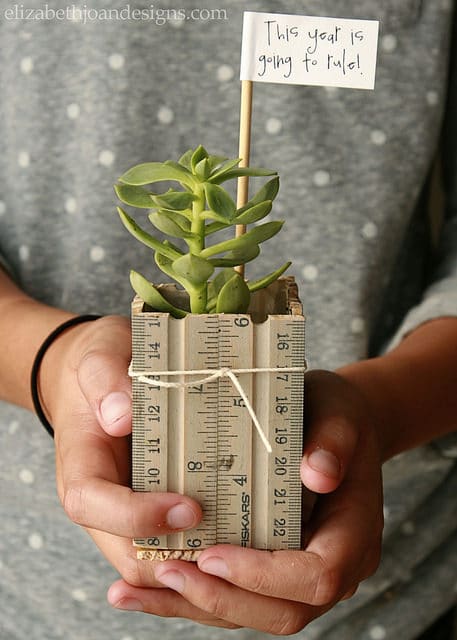 7. This gorgeous Ruler Succulent Planter from ElizabethJoanDesigns.com is going to make all of the other teachers jealous when they see it on your teacher's desk! There is a tutorial for you to make your own planter out of a ruler and succulents are so easy to take care of. It's a great plant to have in your child's classroom!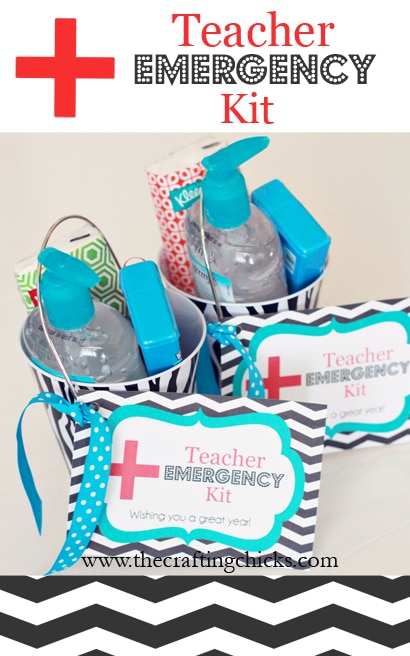 8. A Teacher Emergency Kit is never a bad idea to include in your teacher's arsenal for the year! After all, teachers get sick, too! TheCraftingChick.com knows teachers will appreciate the small token of TLC when they are feeling under the weather! Especially with lots of kids in their classroom to keep in-line!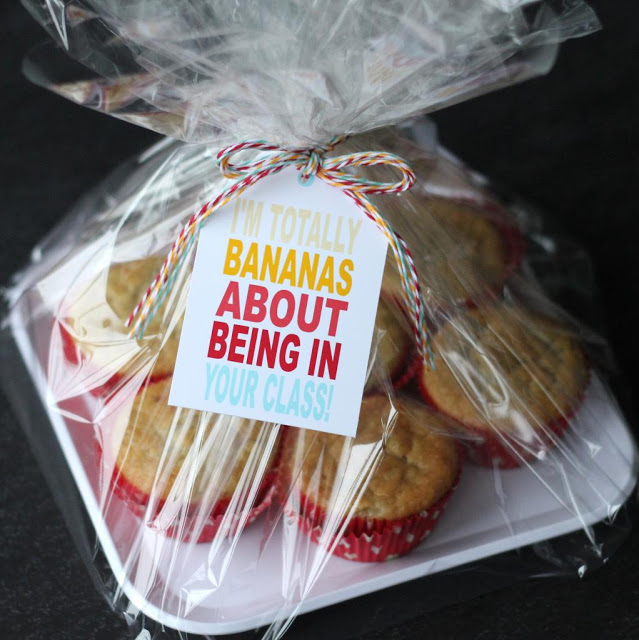 9. How cute is this Banana Muffins "I'm Totally Bananas About Being In Your Class" Gift?! This delicious homemade idea from TheTwinery.com will have your child begging to keep them home instead of giving them to their teacher! What a cute first day of school teacher gift idea that the kids will love helping out with!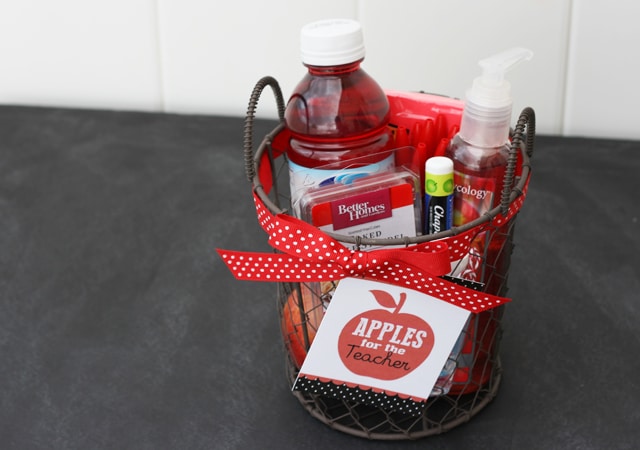 10. I love this "Apples for the Teacher" Gift from SisterSuitcaseBlog.com! What a cute, yet easy, way to implement the apple theme without actually giving the teacher an apple… of which they've probably been given dozens! So unique! There is even an apple-cranberry drink in here.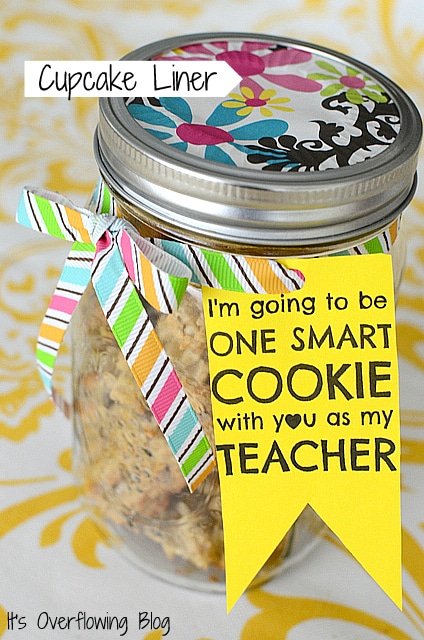 11. Here is another great homemade idea for the bakers in the house! This Smart Cookie Mason Jar Gift from ItsOverflowing.com is a great way to give a mason jar gift that's meaningful with some homemade goods. It's inexpensive and easy to put together, with an awesome FREE tag printable! Your child will love handing over these diy teacher appreciation gifts!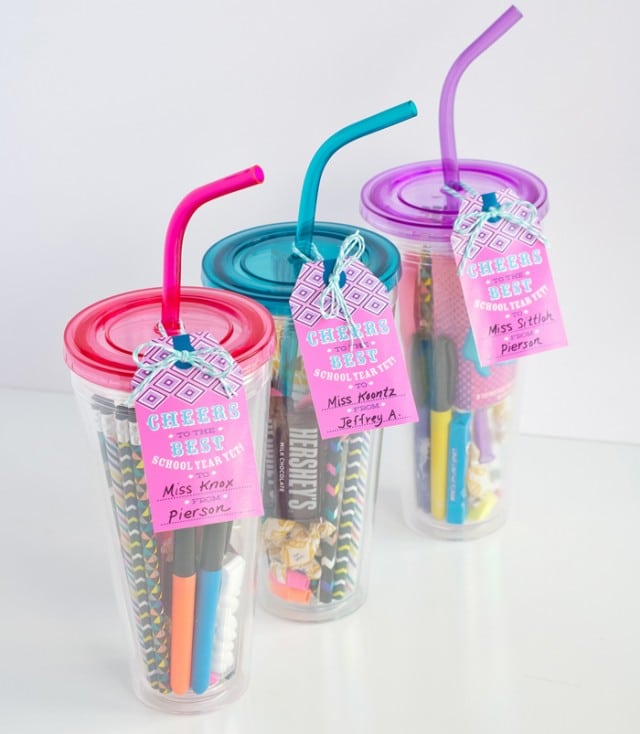 12. Plastic Tumbler Filled With Goodies are great if you may not know exactly what your new teacher likes, but AndersRuff.com has you covered! These super sweet FREE tags are easy to print off and simply stock up the tumbler with small supplies and goodies every teacher will appreciate. I love this idea!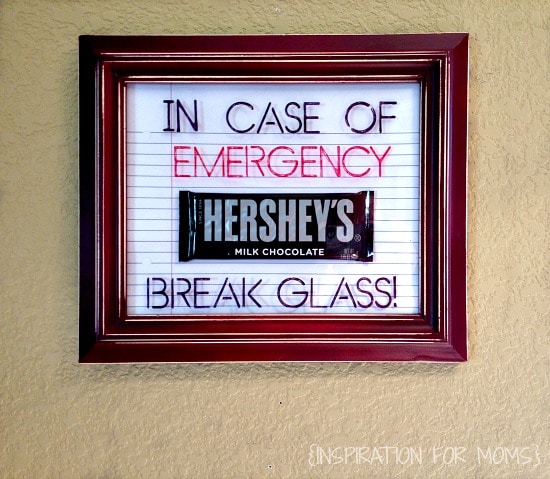 13. This creative "In Case of Emergency" Gift may or may not be opened by the end of the year, but at least your new teacher will have the option! InspirationForMoms.com has all of the directions that are super easy to follow. How cute will it be to keep an eye on it all year to see if your teacher finally caved?! How fun!
I'm sure your teacher would love any of these presents for back to school teacher gifts. I remember how exciting that first day was and how much anticipation was in the air! What a better way to break the ice than by treating your new teacher to special DIY teacher gifts!
But that's not it… It's never too early think about the end of the school year, too! Take a peek at these 10 Fun End of Yer Teacher Gifts They'll Love and you'll be at the head of the class all year!
You might like these…
> Fun Graduation Gift Ideas for Kindergarten to College
> 20 Fun Tooth Fairy Ideas the Kids Will Remember