We earn money from clicks or purchases made via product links in this post.
Save at amusement parks with these 3 easy tips! See how to spend a fun-filled day at theme parks, without draining your wallet.
Nothing says summer like amusement parks! There's nothing better than roller coasters, water rides, and ferris wheels on those hot, sunny days!
Although they are tons of family fun, theme parks can be a big drain on your wallet. Here are a few easy ways to grab great amusement park savings.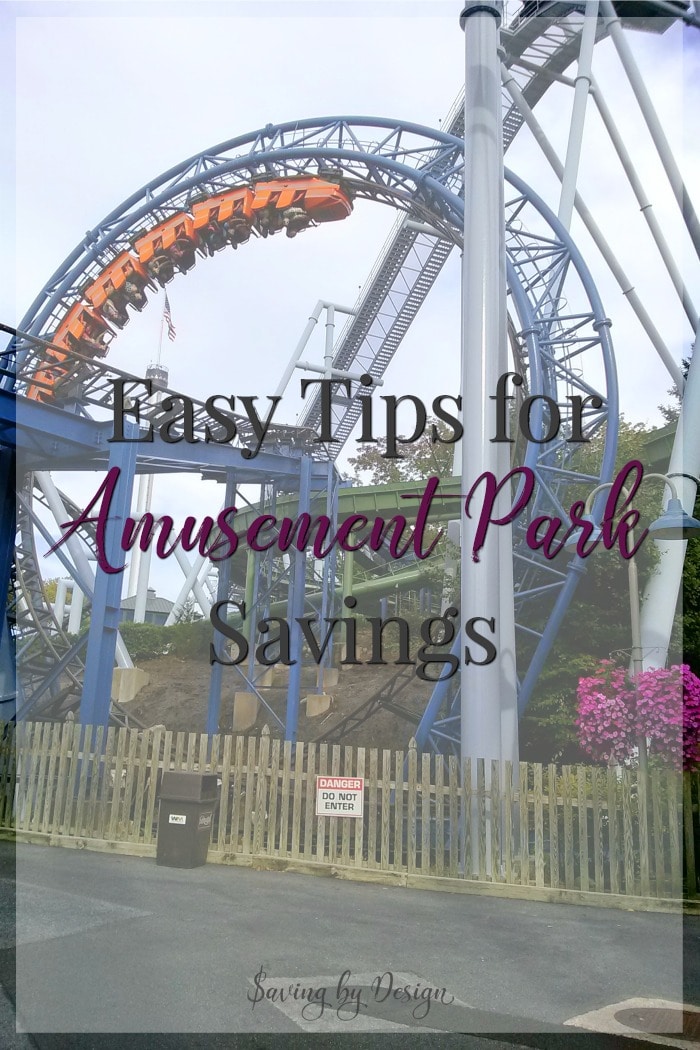 A spur of the moment surprise trip to amusement parks is great, but to save money it's best to do a little planning and just keep it a surprise for the kids. Buying tickets at the gate are a sure way to pay full price for your admission and spend more than necessary.
Tip #1 – Purchase Amusement Park Tickets in Advance
Grocery stores, fast food chains, and even soda manufacturers often offer discounted tickets.
For example, if we're headed to Knoebels Amusement Park (one of the local amusement parks in PA) we always grab ticket coupons in advance at Weis to save 20% on a book of tickets. That gets us a $20 ticket book for just $16!
Check to see if memberships such as AAA, AARP, or warehouse clubs offer admission discounts too.
If possible, try to take advantage of any discounted rates on certain days or time of the day. Tickets might be cheaper before and after the prime time summer months or the park might offer evening specials. Knoebels also offers a Bargain Night Special where adult passes are only $12 and children under 48″ are $9.
So be sure to check and see what specials the amusement park you'll be visiting offers.
One of my favorite ways to find extra savings is with online shopping. And that holds true for some amusement parks too!
Check the park of your choice's website along with their Facebook and Twitter pages for special promotions.
Tip #2 – Prepare for Your Amusement Park Visit
To save once you're at the park, be prepared. Bring along a bookbag or large bag that can store everything you'll need for the day such as sunblock, cameras, phones, and jackets so you don't have to pay for a locker to hold your belongings. Don't forget your umbrellas or ponchos if the weather calls for rain. Buying those at the park will cost you a pretty penny!
After the admission price, food is usually one of the most expensive costs at parks. Be sure to pack a few bottles of water or your drinks of choice in your bag and even a quick lunch such as a hoagie if the park allows you to bring food in.
You could also swing by the local drive-thru and grab a quick and inexpensive meal before or after visiting the park 😉
If you do plan on dining there, sharing entrees (especially with kids since they are unlikely to finish a whole meal when the exciting amusement park thrill rides are waiting) might be your best bet.
Tip #3 – Skip the Amusement Park Souvenirs
Do you really need that mug, key chain, or stuffed animal to remember your trip?
Wouldn't a family photo that you take at the park in a frame from the dollar store be just as nice a souvenir?
Skip the extras that will most likely end up on a shelf collecting dust, and focus on the fun that you and your kids will remember for a lifetime.
Ready to try your amusement park savings skills? Find a park near you and have an exciting, fun-filled day! 🙂
You may also like…
> 9 Things You Must Do When Vacationing in Ocean City, NJ
> We Took a 7-Day Family Vacation to Disney World for Under $3000! Here's How We Did It…