We earn money from clicks or purchases made via product links in this post.
Wondering how to make a dog cake? This dog birthday cake recipe is super easy…made with only a handful of everyday ingredients, and dogs love it!
This dog birthday cake recipe is safe for your dogs as it is made with real food and the main ingredients are carrots and peanut butter…two of our favorite treats to give our furry friends!
After baking, I simply spread peanut butter on top of the dog cake as icing and decorate with some dog food 🙂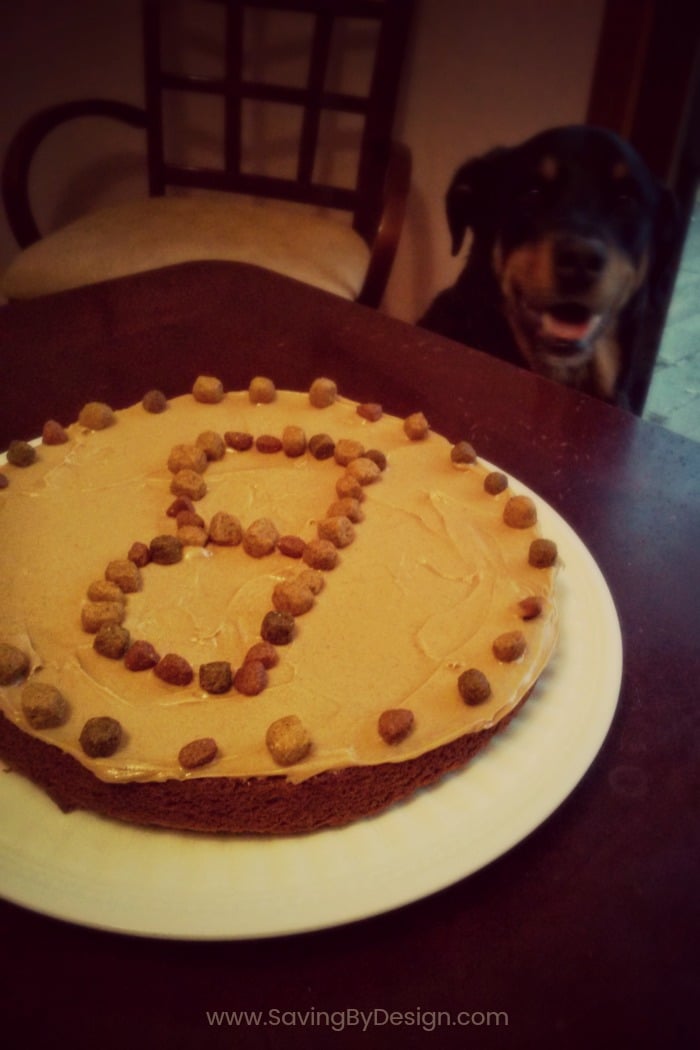 Last week was my dog's birthday! Happy Birthday Bronx!
Like many of you, our pets are truly part of our family so just like we would do for anyone else, we had a little birthday celebration complete with his very own dog birthday cake 🙂
How to Make a Dog Cake
Making this dog birthday cake was so easy and inexpensive…and both of our dogs love it! They definitely learned a new word, "cake," over the few days that it lasted.
To get started, I mixed the flour and baking soda together in a large bowl.
Then I added the peanut butter, vegetable oil, grated carrots, vanilla, honey, and egg to the bowl.
I know some readers have expressed concern over using vegetable oil in the recipe. If you would rather use coconut oil, that should work too. You would use the same amount (1/4 cup) of coconut oil.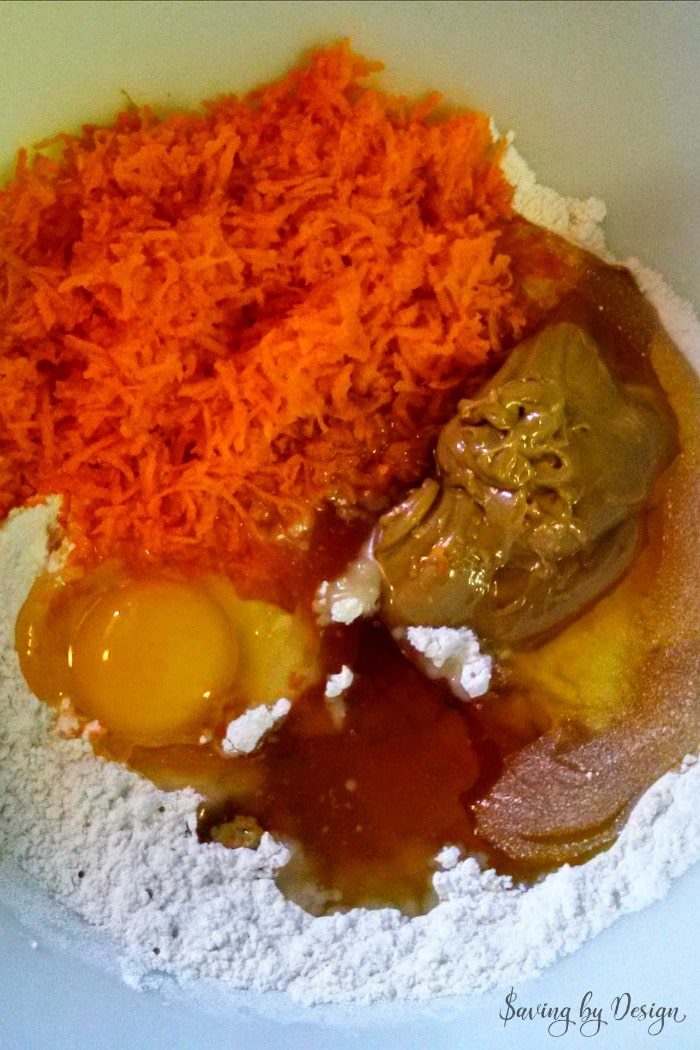 I just mixed all the ingredients together with a wooden spoon. No need to break out the mixer 😉
Once all the ingredients were combined I simply poured the batter into an 8″ greased cake pan and baked at 350 degrees for 30 minutes.
No cake is complete without icing! What's better than more peanut butter for the perfect dog cake icing?! So we spread some peanut butter on the top and added our dog's initial with dog food for a fun decoration.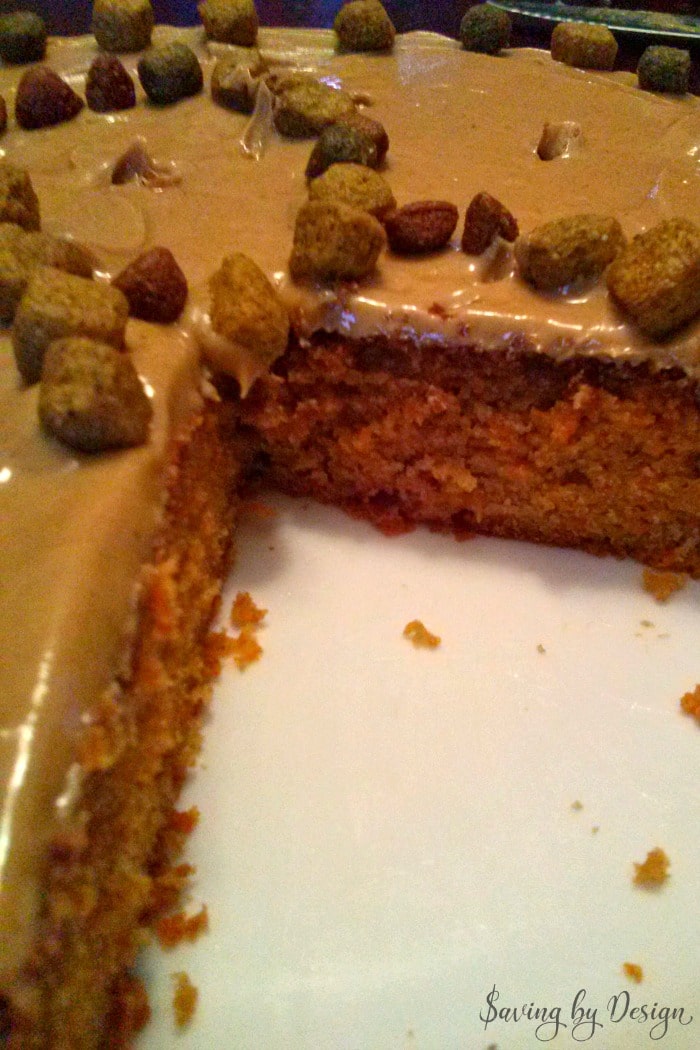 Ingredients Needed for This Dog Birthday Cake Recipe
Flour
Baking Soda
Peanut Butter
Vegetable oil
Fine grated carrots
Vanilla
Honey
Egg
Helpful Kitchen Tools for Your Dog Birthday Cake
While the recipe is completely edible and safe for humans, you might want to skip the dog food decorations if you plan on enjoying a piece of cake with your pooch.
Or you can be like my daughter and just eat around the dog food. I found her licking the peanut butter off the top and she said, "What? I stayed away from the dog food."
Yield: 8 servings
Dog Birthday Cake Recipe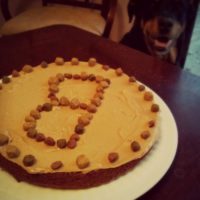 Celebrate your dog's birthday with their very own Peanut Butter Carrot birthday cake!

Prep Time 5 minutes

Cook Time 30 minutes

Total Time 35 minutes
Ingredients
1 cup flour
1 tsp baking soda
1/4 cup peanut butter, + additional for icing
1/4 cup vegetable oil
1 cup shredded carrots
1 tsp vanilla
1/3 cup honey
1 egg
Instructions
Mix the flour and baking soda together then add peanut butter, vegetable oil, shredded carrots, vanilla, honey, and egg. I simply combined them using a wooden spoon...no mixer necessary.
Pour into a greased 8" round cake pan and bake at 350 degrees for 30 minutes.
Cool and spread additional peanut butter on the top for icing.
Notes
I only had a 9" round cake pan so I used that. It won't need to bake quite as long since you'll have a thinner layer so check around 20 minutes to see if it's baked. When a toothpick inserted into the center comes out clean you're good to go.

Adapted from This That and More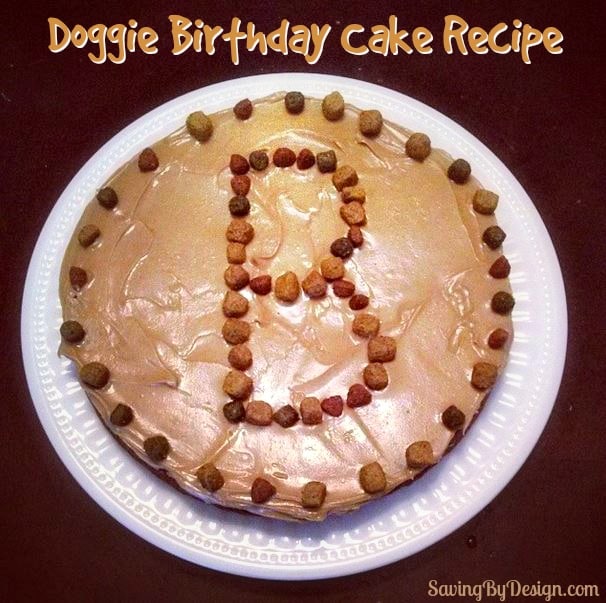 Please remember that I am not a doctor, nurse, veterinarian, or even a real chef, and the FDA hasn't evaluated anything on this blog. Any products mentioned are not intended to diagnose, treat, cure, or prevent any disease. Please talk to your health professional before doing anything you might think is questionable. Trust your own judgment…I am not liable for problems that occur from decisions made based on content found here.
Don't miss these posts…
20 Fun Tooth Fairy Ideas the Kids Will Remember
Easily Create the Perfect Shirt for Any Occasion
How to Spray Paint a Wooden Nursery Rocking Chair
Join Our Food & Recipes Newsletter!
Do you like easy and delicious recipes? How about the best ways to save on groceries and how to make the most of your time with meal planning?

Then subscribe to my Food & Recipes newsletter!