We earn money from clicks or purchases made via product links in this post.
Here are a few Elf on the Shelf ideas for arrival so your Elf can make a fabulous debut in your home! Which will you choose to delight your children with?
Can you even believe that it's already time to talk Christmas and Elf on the Shelf ideas for arrival?
The years go faster and faster! Why is it that I feel I just put all of our Christmas decor away for the year and now it's time to start talking about bringing it back out?!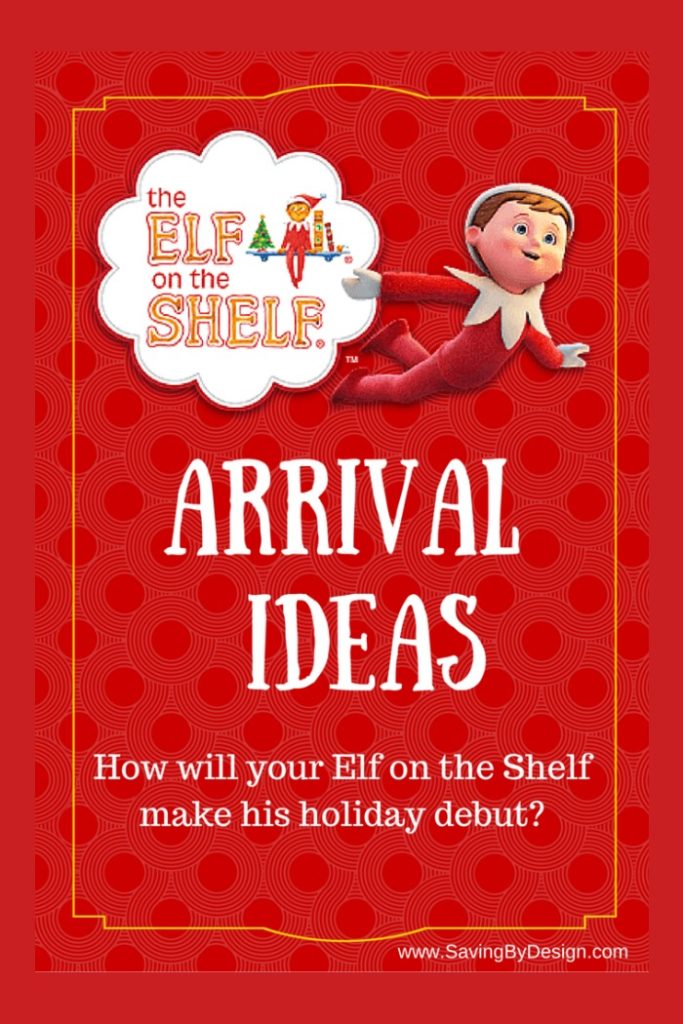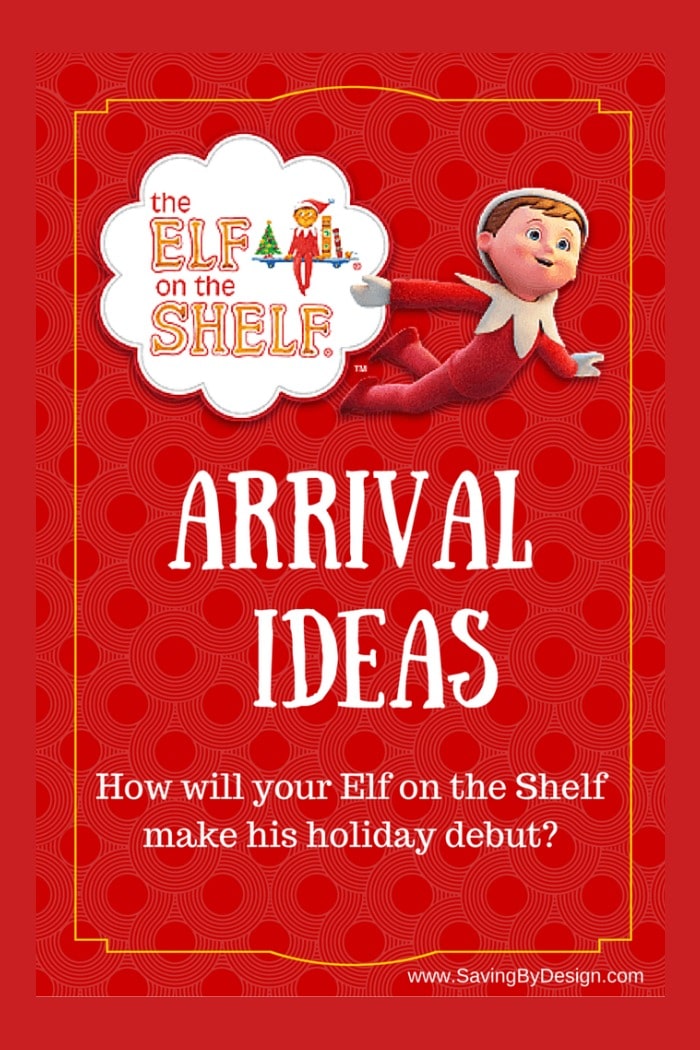 "Smiley" has been with us for a few years now, and we just never know how he is going to pop up in our home! Speaking of hiding…have you seen these super cute Elf on the Shelf cutouts?
He likes to create all kinds of mischief and before you know it, the hubby and I spend WAY too much time getting creative on the different things our Elf on the Shelf will do every day until Christmas. And yes…I'm not ashamed to say that it definitely has helped with behavior during that last month of the year 😉
Elf on the Shelf Planner
Will your elf be arriving soon?

Subscribe to get FREE Elf on the Shelf Printables to help plan your elf's antics!
Typically, our Elf, "Smiley," arrives the Sunday after Thanksgiving. We also get our Christmas tree that same weekend, so it always fits well with our fun holiday festivities.
It just makes it easier to not introduce him on a weekday and it's a fun way to start getting into the Christmas spirit in our home. Each year I look for new Elf on the Shelf ideas for arrival to surprise the kids…it really is so much fun to watch the kids' faces when they see him for the first time each Christmas season!
Don't think you have what it takes to do daily Elf set-ups for an entire month? Create a timeline that works for your family, even if it's just for the week before Christmas…the kids will love it no matter what!
4 Fabulous Elf on the Shelf Ideas for Arrival
So, how does your Elf on the Shelf make his big debut in your home? Not sure? Here are a few Elf on the Shelf return ideas to get your creative juices flowing!

Elf on the Shelf Arrival Letter
What better way to introduce your Elf into the home during the holiday season than with a letter that will do all of the explaining for you?!
This great letter from Living Locurto does way more than just introduce your Elf into the home, it also helps to teach your kids how giving back during the holiday season is a great way to help those less fortunate than us. Who doesn't want their children to have a kind heart with a giving spirit?
And I don't know about you, but encouraging our children to round up some of those toys that they never seem to use anymore sounds wonderful to me.
Welcome Elf Breakfast
This is one of the main reasons why I like our Elf to "show up" on the Sunday after Thanksgiving. It's a nice, relaxed weekend already in our home, which makes a fun Sunday breakfast with the family all the more enjoyable.
Project Nursery really got into the spirit of creating an amazing breakfast revolving around your Elf on the Shelf's return. Create as fancy a breakfast as you like, or make it as simple and casual as you want.
Want to keep it a surprise from the kids and have breakfast ready when they wake up with your Elf waiting on the kitchen table? Fun! Want to get them involved in helping to plan the breakfast that their little buddy will make his first appearance at? It's your call! A cute idea is to have them set the table the night before, and maybe…just maybe…their Elf will be waiting for them at the table for breakfast the next morning. Yay!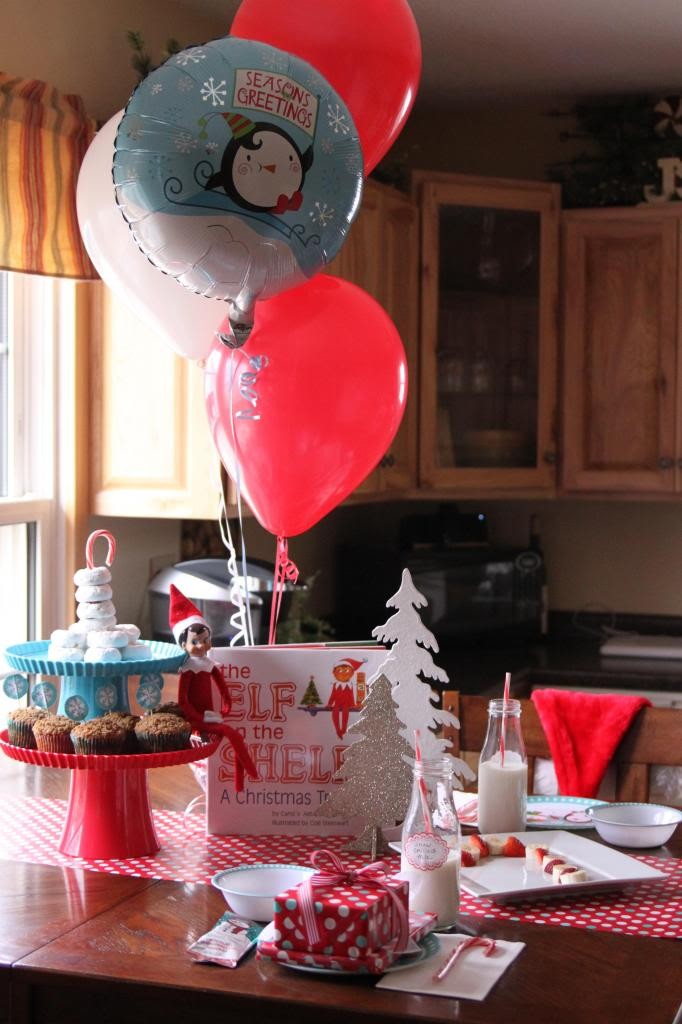 This Mom over at the Jorgensen Better Together blog had the same type of idea! How gorgeous is this breakfast table for their elf's arrival?!
She created a North Pole themed breakfast that was simple enough with some donuts and muffins. And of course, some "snow-chilled milk". But where the gorgeousness really comes from is the balloons that accompanied the food, along with the Elf on the Shelf book, and table coverings.
How gorgeous, yet simple! I know I can pull this off 🙂 And the cute clincher? Having the Elf bring a Christmas ornament for your little loves to start the holiday season and tree decorating right. How cute!

Elf On The Shelf Gets "Shipped" To Your Kiddos
Who doesn't love getting mail? I know my kids get such a kick out of it when something shows up on our doorstep for them. So why not have your Elf on the Shelf show up with mail delivery as well?!
Use this perfect printable from Design Dazzle to put on a box with your Elf inside. It suddenly shows up on your doorstep, and the kids get to open up their Elf, who came straight from the North Pole, addressed to them!
I love that the return address is from Santa Claus, so remind those kiddos that they better be good this holiday season 😉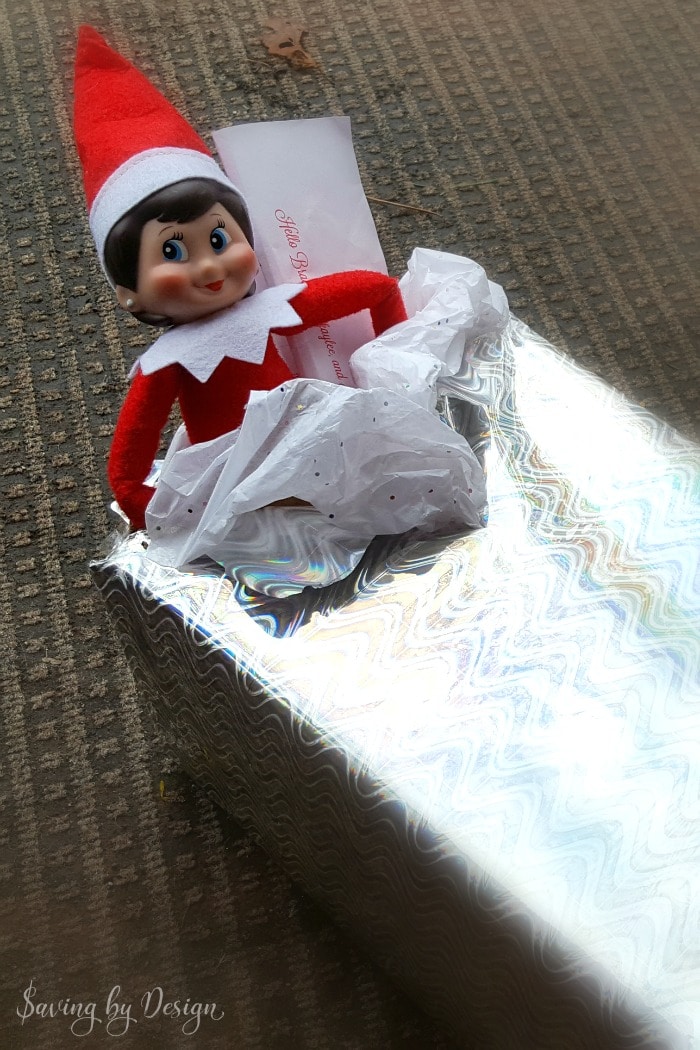 Want to have a little fun with your Elf before he "arrives" for your kids? How about making it look like he's trying to escape a box you've already painstakingly gotten ready for when the kids go to get the mail? Again, it's from Santa, and they're going to see just how excited their Elf was to get back home to spend the month with them! So cute!

Your Elf Arrives Bearing Gifts
Kids love gifts and they love Elf on the Shelf, so why not combine the two! We've done this in the past with our kids and it was a total hit!
Have your Elf arrive with a special gift or goodie that the kids can use for the holiday season such as gingerbread house kits, holiday craft kits, Christmas movies, or Christmas books.
In our home, we always do advent calendars, and there's a special LEGO Advent Calendar that they really love. So our Elf shows up with an Advent calendar in hand for each of our kids, ready to help with the big countdown!


Trust me…once you start staging your Elf in all of his different poses throughout the month, you are going to totally see just how creative you can get. I think the hubby loves doing the daily pose changes more than I do, but that's fine with me.
Have fun with it, get the kids excited, and enjoy the month of December with your family's Elf on the Shelf!
Don't miss these posts…