We earn money from clicks or purchases made via product links in this post.
Ditch the stinky and expensive chemicals! Check out these simple natural bug repellent remedies…from homemade sprays to herbs and plants. Bye bye bugs!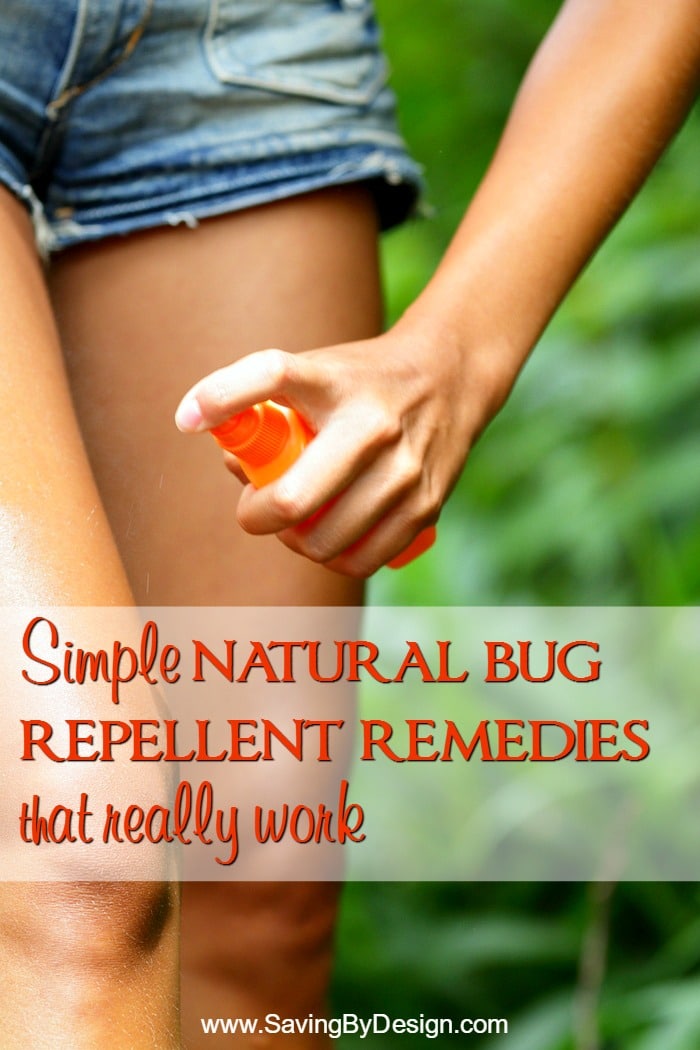 ---
SEE ALSO:
---
I don't know many people who don't absolutely love summer! But…who loves all of the bugs that comes with it?! I know I don't!
Nothing is worse than enjoying a perfect day outside, or a great bonfire at night, just to be attacked by all of the bugs the entire time. Yuck!
These natural bug repellent remedies are a great way to make sure that they keep their distance from you and your family, while making sure you're not ingesting strong and harmful chemicals into not only your body, but your kiddo's bodies too!
Simple Natural Bug Repellent Remedies That Really Work
In a world that is becoming more and more consumed by natural DIY remedies, bug repellent is a great place for you to start. And you'll be amazed at how easy these natural remedies really are!
Essential Oils
There is no better way to go natural and chemical-free when looking to make a bug repellent than by using essential oils. There are so many wonderful health benefits with essential oils and looking to make your own bug repellent is no different.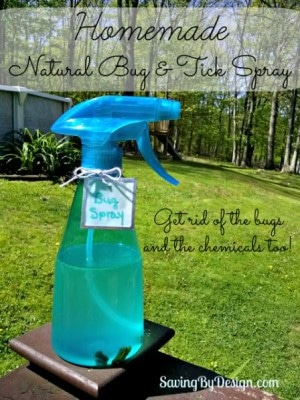 Around our house, unfortunately we've had quite the tick problem the last few years. After doing my research I came up with this wonderful homemade natural bug repellent. It works great and smells really good too 🙂
There are also great recipes from HerbalAcademyOfNE.com and ScratchMommy.com. Check them all out to find what might work best for your family.
I love that there is a lotion repellent that is light and not oily. It is so easy to throw it on the kids and know that they're safe from the bugs. But we all know that sprays are the #1 way that bug sprays are diffused. So if you're looking for something that "feels" like you're actually putting on a bug spray, then there is a recipe for that as well!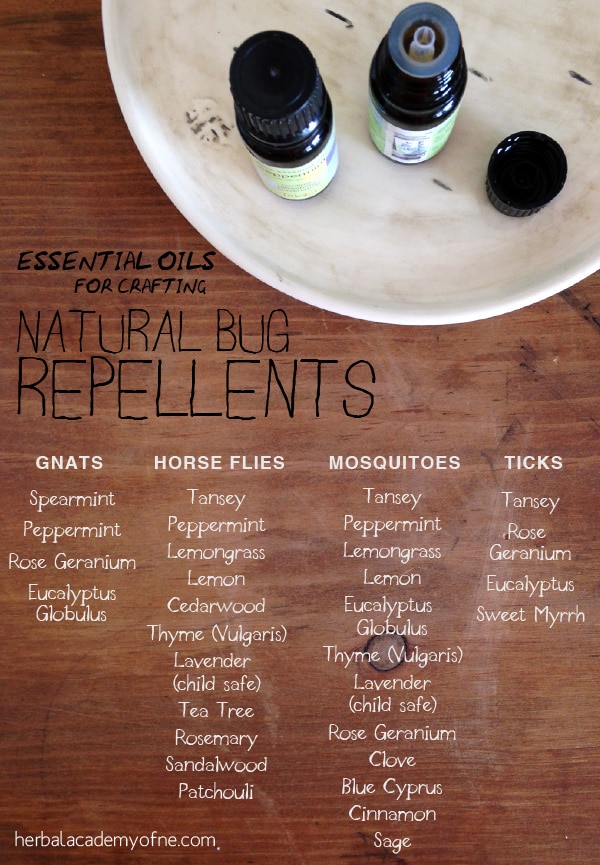 Take a look at all the oils above that are great to repel different insects and bugs! There are so many different essential oils that can be used as a natural bug repellent. Amazing!
Simple Lemongrass Lotion Repellent
Use a 2 ounce bottle (you can spread this on anytime, it smells great)
Fill bottle with a nice unscented lotion
Add 5-6 drops of lemongrass
You could also combine oils such as Lavender and Geranium, however, use 3 drops of Lavender and 2 of Geranium.
Simple Spritzer Repellent
2 ounce Bottle (spritz this on your clothes, hair, and face)
4 tablespoons of distilled water
2 teaspoons of vodka
5-6 drops of your favorite Essential Oils above in the picture
Tea Tree and Geranium Oil Natural Bug Spray
30 drops of Tea Tree Essential Oil
10 drops of Geranium Essential Oil
1 T vegetable glycerine
Fill to (almost) the top of 3 oz plastic bottle with distilled H2O
Shake and apply as needed (at least every hour or so)
You're going to smell great AND keep the mosquitoes away! And it's a healthy alternative to the harsh chemicals many bug sprays have.
Kitchen Ingredients
I bet you didn't even realize that items sitting in your kitchen cabinets would be beneficial to make for bug repellent!
This great natural insect repellent can be made and then sprayed around high-traffic areas you use outside like the deck, fire pit, or anywhere else you may want to spray it. Thanks to WhoKnewTips.com for the great recipe!
In your blender combine…
1 small onion
1 head of peeled garlic
4 cups water
1½ tablespoons cayenne pepper
After blending, add a tablespoon liquid dish soap and strain into a spray bottle.
Spray around your deck and anywhere else you'd like to repel bugs—it's safe for kids and pets! Spray around your yard once a week to keep bugs away for good. Store any leftover spray in the fridge until the next time you use it. Bye-bye mosquitoes!
Burnt Coffee Grounds
Can you believe it? Light a small plate of used coffee grounds and let them smolder. After that, let the smoke keep the bugs away in a natural way!
Plants
Did you know that if you plant specific types of things outside, it can be a natural repellent for mosquitoes and other bugs? Things you can plant include:
Basil – This is a natural mosquito repellent so plant some basil, or at the very least, set out jars of basil on tables and railings. Not only will it help fight off the bugs, but it smells great!
Marigolds – Plant some marigold in pots and place them on your patio. If you're able to, plant some in a garden, as well. Marigolds are also great for keeping rabbits away in a garden. What a great natural (and pretty!) way to keep the bugs away!
Citronella – Go straight to the source and plant some of this outside. It is one of the main ingredients in most bug repellents sold on the market and is a great way to keep the bugs away. It has a strong aroma that masks other scents and keeps mosquitoes from being attracted to things located around it. And don't worry…it's super easy to grow.
Lemon Balm – A member of the mint family, it's a super easy plant to grow to keep the bugs away. It's a very hardy plant that is great for a beginning gardener. And if you're a tea drinker, you'll love this one even more. Dry the leaves and make an herbal tea that you'll love!
Catnip – If one of your family members is a cat, they are going to LOVE you! The rest of your family is going to love you for planting something that will keep the mosquitoes away. In a 2010 study, they found catnip to be 10 TIMES more effective than DEET! You won't go wrong!
Lavender – This is such a gorgeous plant to include in your herb garden. The purple flowers and the great smell is so soothing. But it's even more impressive since it's an effective natural bug deterrent.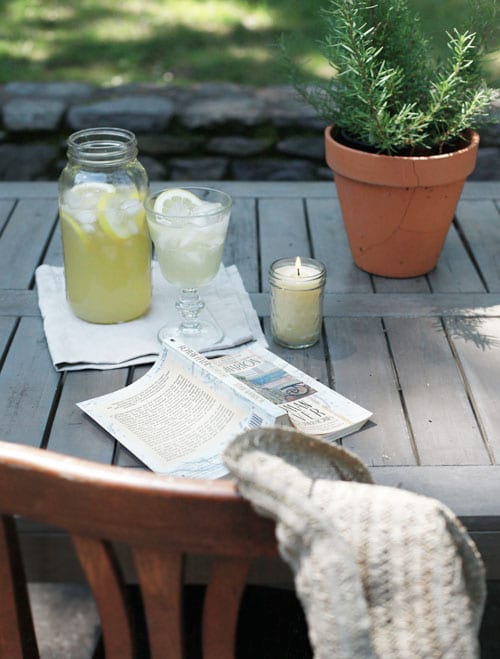 Homemade Candles
This Beeswax Insect Repellent Candle from DesignSponge.com is a great way to quench your DIY need and also make something for your deck or patio that will keep the mosquitoes away. I can't wait to make this candle!
I love that there are so many different ways that you can focus on providing natural bug repellent remedies to your family. I've seen how effective they really can be and it is so much better than inhaling that nasty bug spray every time you try to keep your family safe from all of the different bugs that bite, crawl and sting over the summer months. Hopefully you'll find a recipe that will work for you. Have fun testing them out!
You might also enjoy these posts…
> How to Create a Kid-Approved Plan to Survive Summer Vacation
> Frugal Summer Activities for the Kids – Pick Your Own Farms!