We earn money from clicks or purchases made via product links in this post.
Not only does Target carry awesome merchandise, but there are so many ways to get a deal at Target too…make sure you know these 7 ways to save at Target!!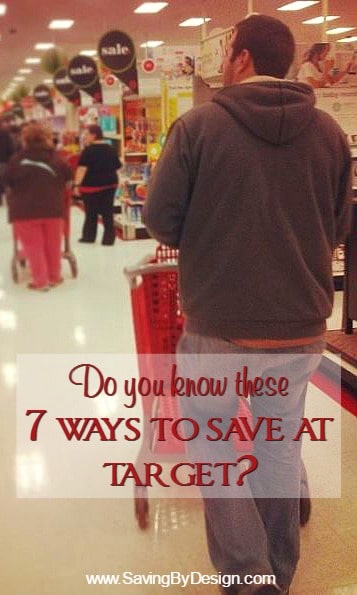 ---
SEE ALSO:
Target Cartwheel is a must for Target shopping! You can see all the details of this great app here.
---
You already know that shopping at Target saves you money because of the competitive prices found there. But did you know that you can use manufacturer's coupons, store coupons, Cartwheel offers, gift card deals, special purchase deals, Target's Price Match Guarantee and more to grab an even better deal?
Before you begin…
As with any store you are shopping at, the first thing you should do is review Target's coupon policy and be sure to have a copy with you while shopping. Not only does this help you with any confusion you might have while in the store, but it is also great to have in case your cashier isn't familiar with the policy.
You can find Target's entire coupon policy here.
One highlight of the policy is that you can use one manufacturer's coupon, one Target coupon, and one Cartwheel offer per item.
Do You Know These 7 Ways to Save at Target?
Are you ready? Wait until you see the many ways to save at Target…one of my favorite stores!
1. Target's Price Match Guarantee
Did you know that Target price matches? Making one trip to a single store instead of driving all over town to get the best deals is a great way to save time, money, and gas.
To take advantage of Target's Price Match Guarantee just bring an ad from a competitor store in your local market (the town or city you reside in) and identical items will be adjusted down to the advertised competitor's price. You can also price match to select online competitors.
You can view the complete Price Match Guarantee here.
2. Target Store Coupons
Manufacturer's coupons work at Target just like they do at other stores. But what you may not know (I didn't before I started couponing!) is that Target has store coupons which can be stacked with a manufacturer's coupon to really get a great price!
The most common type of Target coupons are Target Web Coupons which can be found and printed here. There are also store coupons found occasionally in Sunday newspaper inserts, magazines, mailers, catalinas, and even peelies on items in the store.
3. Target Cartwheel
A few years ago Target added yet another way to save with the Cartwheel program. With Cartwheel you get the opportunity to save up to 30%, occasionally even more, on just about every department in the store.
As mentioned above you can really stack on the savings by using one manufacturer's coupon, Target store coupon, and Cartwheel offer per item!
You can find out all about Target Cartwheel here.
P.S. Don't forget to check Ibotta for manufacturer's coupons that can be used at Target too! 😉
4. Target Gift Card Deals
You should also be on the lookout for Gift Card Deals at Target. Sometimes you'll find these deals listed in the weekly sales ad and sometimes they'll be unadvertised and just found in the store for a longer period of time. A Gift Card Deal is when a Target gift card is awarded for buying certain items.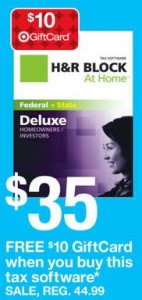 When you buy the items required, the register prompts the cashier and you are handed a gift card right at checkout. You won't be able to use the gift card on the transaction for which you received it, but you can use it on any future transaction. And if you purchase more than one Gift Card Deal in the same transaction you will receive all gift cards you are eligible for.
5. Target Special Purchase Deals
Also be on the lookout for Special Purchase Deals in the ad or unadvertised in the store. Special Purchase Deals are deals such as "Buy 2 Get 1 Free" or an instant savings at the register when you purchase select items.
Here's an example…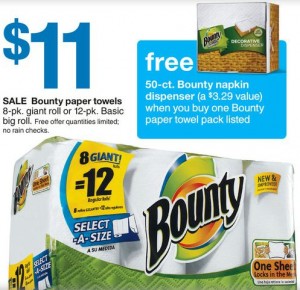 6. Target REDcards
Even if "couponing" isn't your thing and you don't do any of the other tips above, you may want to consider signing up for a Target Debit Card, Target Credit Card, or Target Visa Credit Card to easily save 5% on all your Target purchases. You'll score FREE shipping when shopping at Target.com. too!
If you're not a big fan of store credit card like me, you can get the RedCard debit card and get the same exact benefits you would get with a RedCard credit card. You just link your card to your bank account and use that debit card whenever shopping at Target to get your discount 😉
Head over here to see all the benefits and and sign up for your Target REDcard.
7. Target Clearance
Finally, ALWAYS be on the lookout for clearance items at Target. After holidays or at the end of the seasons you'll find lots of items marked down, but there are also clearance items scattered throughout the store every day. Clearance items up to 90% off in addition to a coupon or two will get you unbeatable prices on tons of items!
As you can see, there are many ways to save at Target! Don't worry if it takes some time for the tips above to become a routine…you'll be a money-saving Target ninja in no time!
You might also like these…
> 3 Easy Tips to Find Extra Savings at the Grocery Store
> Earn Cash Back When Shopping in Stores? Now You Can!