We earn money from clicks or purchases made via product links in this post.
Ready to start a blog? This tutorial will walk you through 3 easy steps to start a WordPress blog or website in 5 minutes.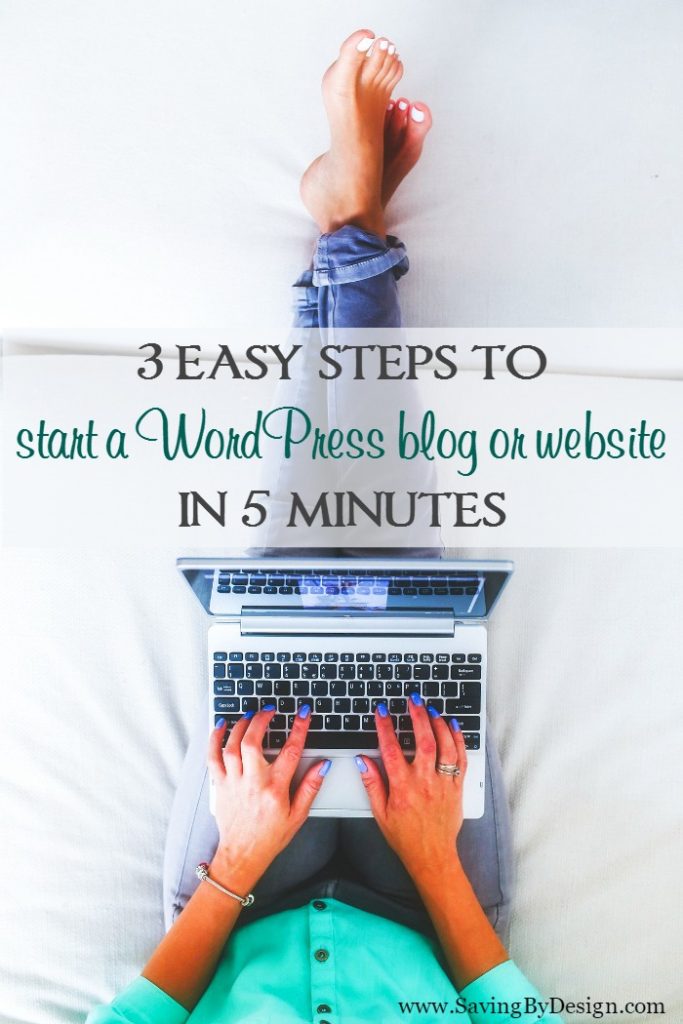 I've been blogging now for about 5 years. It's been a wild ride, but definitely one that's been worth it.
You see blogging IS a real job…it's no get rich quick scheme. That means it takes work to make money. But boy is the payoff incredible!
Because of my blog I get to be home with my kids and work on my own, flexible schedule. I also get to contribute financially to our family while sharing all kinds of great money-saving tips with you, my wonderful readers.
I have a purpose and a voice that reaches worldwide and every day I thank God for allowing me to stumble across this job of my dreams.
If you are reading this post, that means you are considering starting a blog too. I say GO FOR IT!
I mean really, what's the worst that can happen? If you don't take this chance on yourself you'll never know how successful you could have been and what that success could have meant for your life and family.
You can do this! And I'm here to help you get started 🙂
3 Easy Steps to Start a WordPress Blog or Website in 5 Minutes
There are many companies available to host your blog, but for someone who is looking to start a WordPress blog or website, Bluehost is simply the best option. If you are looking for an easy and efficient way to get started on your blogging adventure, Bluehost is for you!
With Bluehost, WordPress installation is super simple and it is the only hosting service officially recommended by WordPress. In fact, Bluehost has been the #1 recommended hosting service by WordPress for almost 10 years!
To make things even better, when you sign up through this link, you'll get a special offer of shared hosting at $3.95/month for 36 months + a free domain name for a year!
So let's get down to the nitty gritty…here's a detailed step-by-step walk-through of exactly how to get your blog up and running.
1. Choose your domain name
Choosing a domain name for your blog will probably be one of your most frustrating tasks. One thing to keep in mind is that you definitely want a .com address. If your name isn't available you'll probably be offered a .net or .info address. You don't want that! So if the the name you want isn't available keep brainstorming for a similar one that you love.
You can search to see if your name is available by clicking in the image above. Domain names should be about $15/year. If you see one for some crazy price like thousands of dollars it's because someone owns that name and is trying to make a buck selling it. And remember, if you sign up with Bluehost you'll get your domain name for FREE for the first year 😉
2. Set up your hosting account
Once you have your fabulous domain name, it's time to get that baby hosted! (that means put it out there for the world to find and see)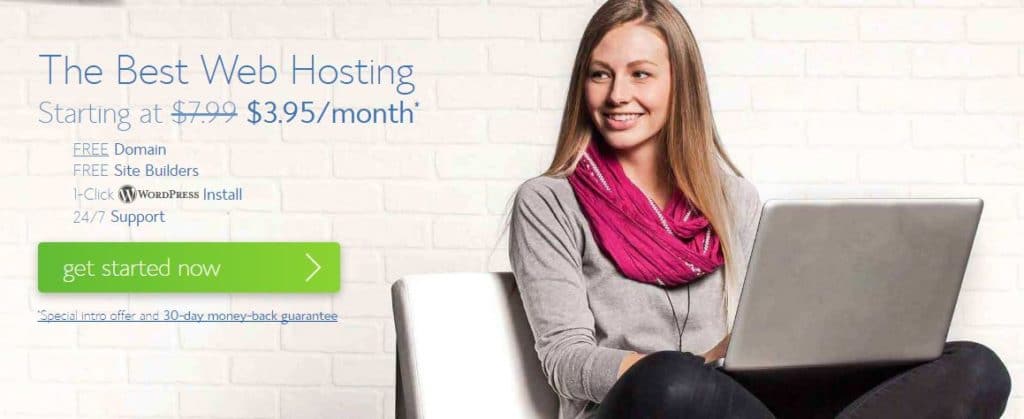 Head to the Bluehost homepage and click "get started now."
Next you'll need to choose your plan. Since you are just getting started, I would stick with the basic plan. You'll have everything you need to start a profitable blog and you can always upgrade later.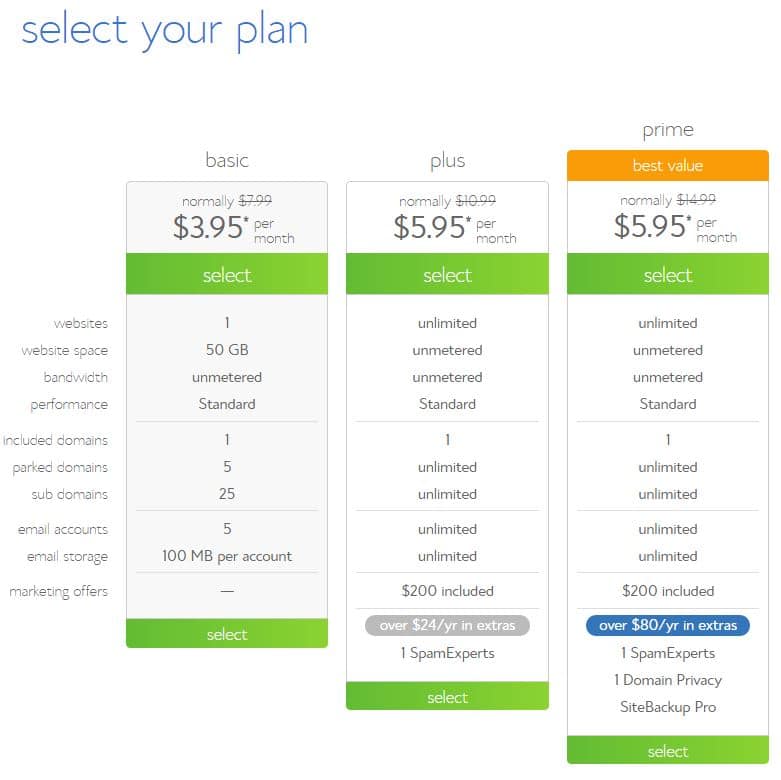 Since you've already decided on a domain name at this point, just enter it in the new domain box and click next.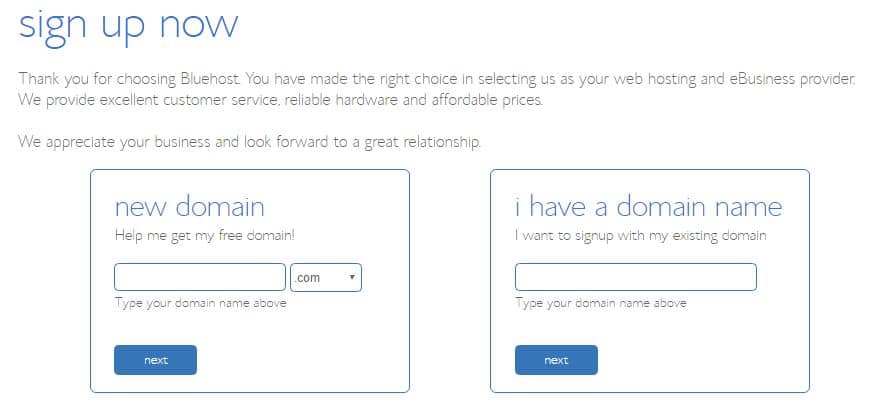 Then fill out all your account and contact information on the next screen.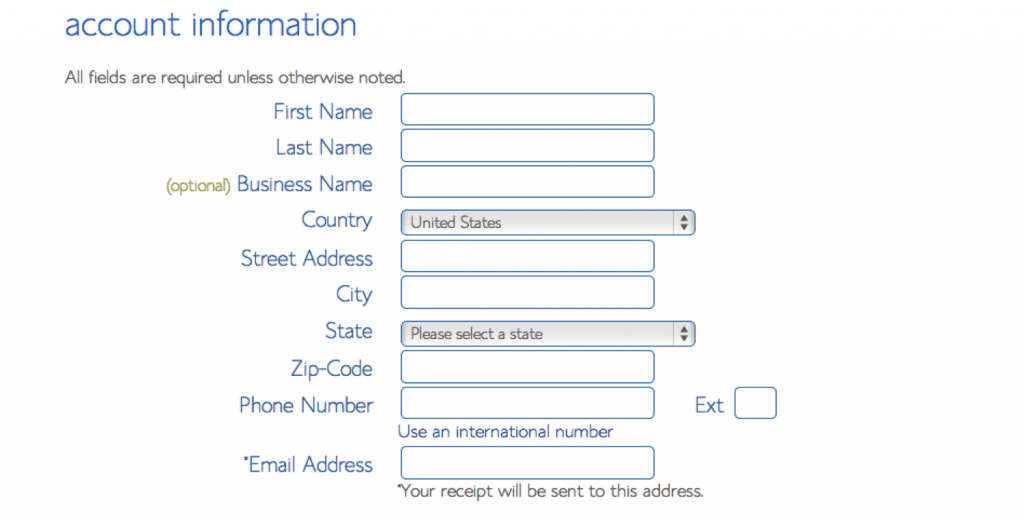 Now choose which hosting package you want. Normal, shared hosting is priced at 12, 24 and 36-month terms. To help save you money, the longer term you purchase, the lower the monthly rate will be.
For example, by choosing a 36-month hosting term, you can get the great introductory rate of $3.95/month. And, because you've chosen to host with Bluehost, if you ever need more than a shared hosting account, Bluehost provides seamless upgrades to VPS or dedicated server hosting accounts from inside your control panel.
There are few other offers provided at sign up, which you can include at your discretion.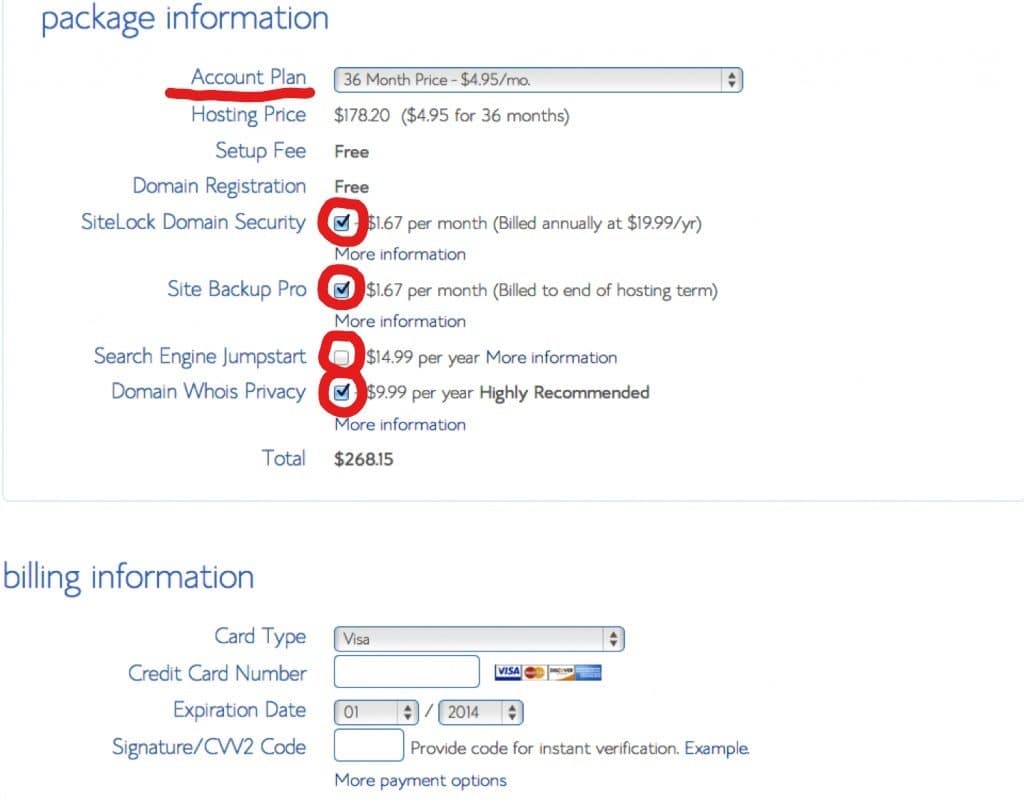 After you've filled in your information and chosen your hosting package, click the "Next" button to complete your purchase. You'll then be asked to create a password for your account.
You can use the Password Generator to create a strong and secure password, or create one yourself. It is required to have both capital and lowercase letters, a number, and a special character (?!#, etc.) in order to have a strong enough password to protect your account.
Now that you are all signed up and are able to log into your account, you can get started installing WordPress!
3. Install WordPress
Don't panic! Even though this may seem like the most complicated step, Bluehost has worked hard to make this one of the easiest things for you to do by using the new MOJO Marketplace for installing WordPress and other applications.
In your cPanel, scroll to the section titled "MOJO Marketplace" and choose the "One-Click Installs" button. This will take you to a page inside MOJO Marketplace called Scripts and Platforms. The blog section is at the very top, so all you have to do here is click on the WordPress icon.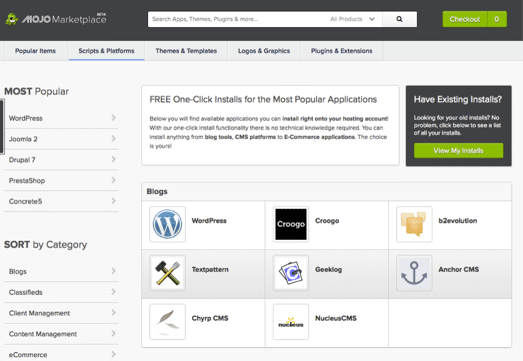 This will open the installation window. Click on the green "Start" button that will start the WordPress installation process, which has a few easy steps.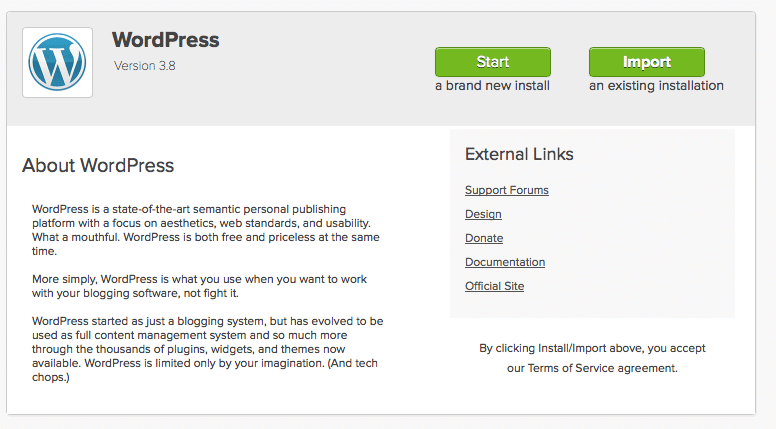 Step 1: Choose where you want to install WordPress. This can be any domain on your account, or a subdomain or a folder for one of your domains. Next, click on "Check Domain," which will make sure the domain is assigned and pointing to your account. You may get a warning that you are overwriting files, but as long as you don't have another website built yet, you can check the box and continue. This is mostly to make sure that you really want to install in that location. If you do have other sites built, you will want to make sure you're not overwriting something important.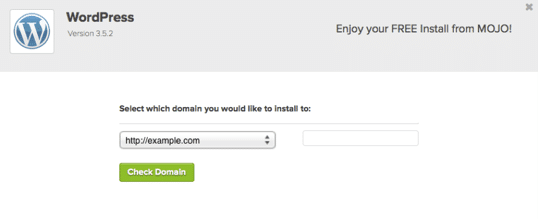 Step 2: Show Advanced Options. This section allows you to set up your own username and password for your WordPress install. It is recommended to use a different username than "admin" and a very strong password. Make sure that the "Automatically create a new database for this installation" box is checked, unless you have a database already set up that you want to use.
Step 3: After you've read the terms and conditions, check the box indicating that you've done so, then click "Install Now."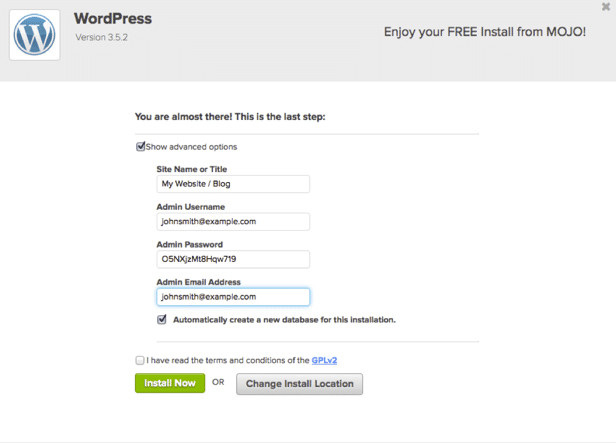 Now you'll see the progress page, which will show you how far along the installation is. Once WordPress is fully installed, it will provide you with your site URL, the admin login URL, your username, and password. You will get a copy of this information, except your password, in your email as well. Make sure to keep it in a safe place.

Now you can log into your WordPress site by going to the admin login URL (your login URL is www.yourblogaddresshere.com/admin…so if your blog address is www.example.com you would use www.example.com/admin to log in to your dashboard).
Enter your username and password, then click "Log In." This will take you to your WordPress dashboard. From here, you can control everything to do with your WordPress site, such as creating pages, writing posts, and changing the appearance. For help on these next steps check out this post where you'll find my favorite free themes, plugins, and advice on what to next to start making money.
That's it! You're up and running!! Do you feel like a blogger yet?!
One other tip I have for you is to take a look at The Ultimate Work at Home Bundle.
This brand-new, limited-time bundle includes 30 eBooks, 14 full eCourses, 4 printables, and 1 audiobook, all carefully vetted to get you up to speed on finding real work-at-home opportunities (AND making your work + life balance better once you're working from home).
For six days only, everything you need (and then some) is in one fabulous package, for the most affordable price ever.
These top-quality resources cover everything you need to give you the skills and confidence to do fulfilling work, at your favorite place in the world 🙂
You'll get a complete library to help you…
Identify your marketable skills
Juggle your responsibilities and finally find work + life balance
Manage your time efficiently (and never let anything fall through the cracks again)
Avoid the most common pitfalls of the work-at-home lifestyle
Understand the legal and financial implications of your business
Discover the secrets to getting into the business that most appeals to you, whether it's a wholesale product, service-based, handmade, transcription, becoming a VA, or any other number of opportunities
and so much more…
Besides being so incredibly helpful, one of the things I like best about the bundle is the price. By offering it for a short time only, you'll get access to over $2,300 worth of amazing products for a whopping 98% off!
LEARN MORE OR GET YOUR BUNDLE HERE
Be sure to comment below with any questions and your blog url so we can check out your new site! Good luck…I'm so excited to have you around the blogosphere! 🙂
Don't miss these blogging posts…
How to Start a Blog to Make Money for Less Than $70 per Year
The Day I Chose to Start a Blog and How It Changed My Life Forever
Why You Need Elite Blog Academy If You Want to Be a Professional Blogger
Join the Blogger Newsletter!
Subscribe to get the latest blogger
opportunities, information, and tips by email.