We earn money from clicks or purchases made via product links in this post.
Use this free printable to create a "Snow Journal" to track the snowfall during storms over the years. The kids will love this educational snow day fun!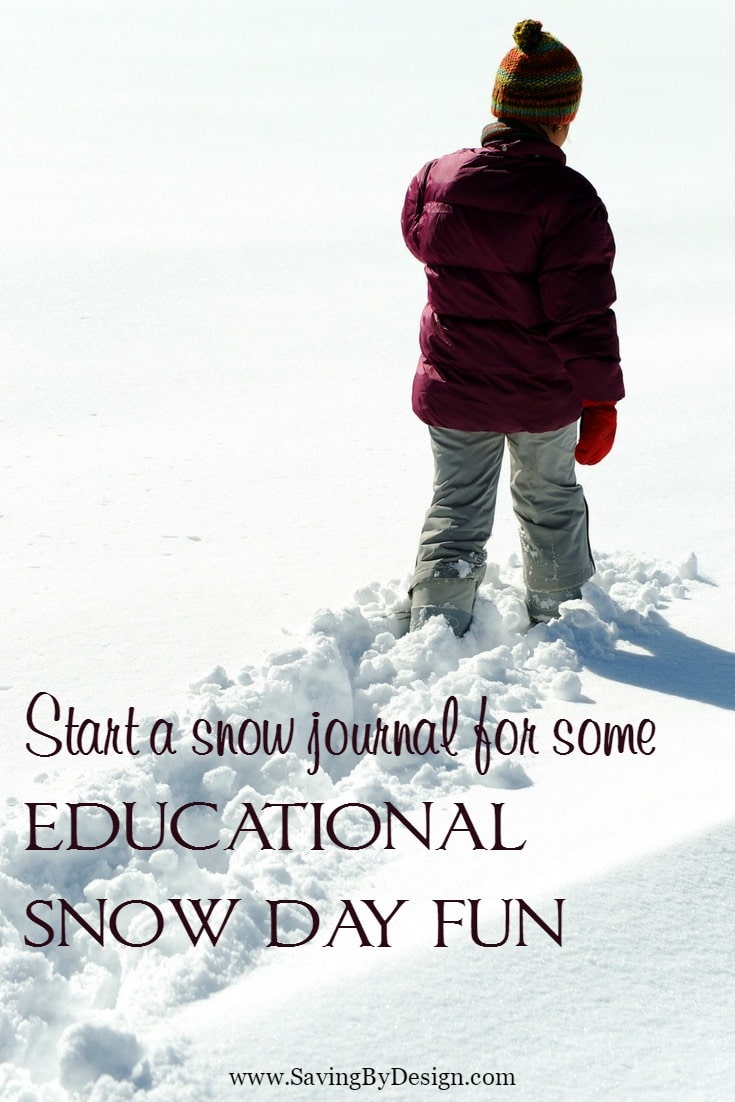 As I write this post, we have a HUGE winter storm headed our way…so big we have a blizzard warning and it's currently being measure in feet, not inches!
Now I have to admit that while I am worried about the possibility of losing power and of course don't want anyone to be in harm's way during this weather event, I am excited to be hunkered down with my family and enjoy what's probably going to be the last few snow days of the season with them.
We actually have had a very calm winter around here in Northeastern Pennsylvania, so it's not like we've been dealing with snow all season. I mean if it's going to be cold we might as well make it fun with the white stuff!
So woo-hoo! Bring on the snow! 🙂
How to Start a Snow Journal for Some Educational Snow Day Fun
Last week was the first significant snowfall we've had pretty much all winter, when we got about 6″ of snow. During that little storm I mentioned to my oldest son that maybe we should start a snow journal to keep track of the storms over the years. He thought that would be a great idea!
In preparation for this big storm about to dump feet of snow on us, I whipped up a quick printable that we can use to track the snowfall. I plan to print one out for each storm and keep them in our new "Snow Journal." There's even a space at the top to add a photo so you can remember how excited those little munchkins were during the storm.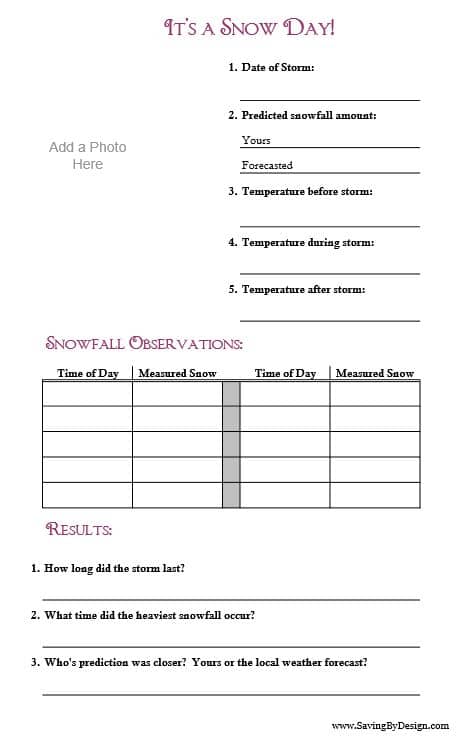 You can get your free Snow Day Snowfall Measurement Printable here.
We already know how much fun the snow is to play in, but it can also be a great learning experience too.
Be safe and make lots of memories! Remember to end your snow day fun with a yummy cup of hot chocolate too! 🙂
Don't miss these posts…
9 Fun Ways for Kids to Beat the Winter Blues
Indoor and Outdoor Winter Activities to Keep the Kids Busy and Having Fun
Everyone Needs a Snow Day Sometimes!