We earn money from clicks or purchases made via product links in this post.
Whether you are driving or flying to your next destination, you'll love these tips for vacationing with children. Keep everyone organized and having fun!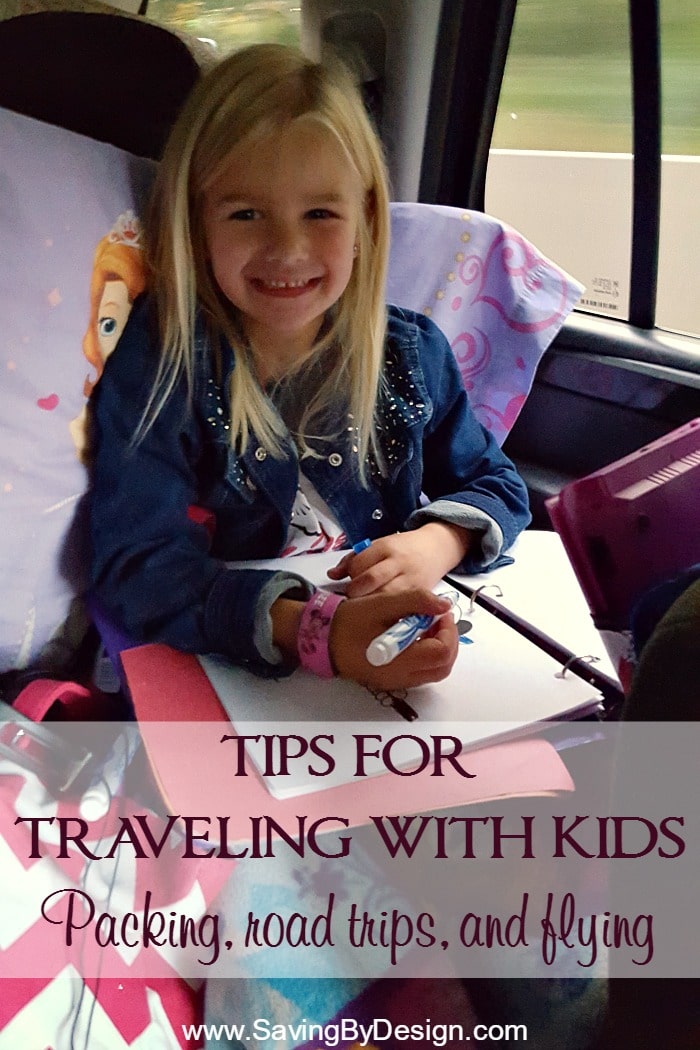 Now that summer is almost here, it's time to start thinking about all of the places you can travel with the kids!
Once the kiddos are out of school, a whole new world of possibility opens up. I love doing the research and figuring out where we might want to think about taking a vacation. Even if a bigger vacation is planned earlier or later in the year, it still is fun to find a long-weekend getaway for the family. Summer is meant to be enjoyed and what better way than packing up the family and starting out on a new adventure!
Vacationing with Children: Tips for Packing, Driving, and Flying to Keep Everyone Happy
One thing I've learned from the few vacations I've taken with kids is that it's quite a bit different than preparing for a vacation with my husband. There is so much more to think about and prepare for! Take a peek at the following tips to help you get things prepared before your next vacation with the kids.
Packing for Family Vacations
One of the main things that is always a bit more challenging when it comes to traveling with the whole family is packing.
There are numerous suitcases and carry-ons if you're flying, and you'll need to plan plenty of accessible items if you're taking a road trip. How is a parent supposed to keep everything together and organized while making sure you don't take absolutely everything in the house with you?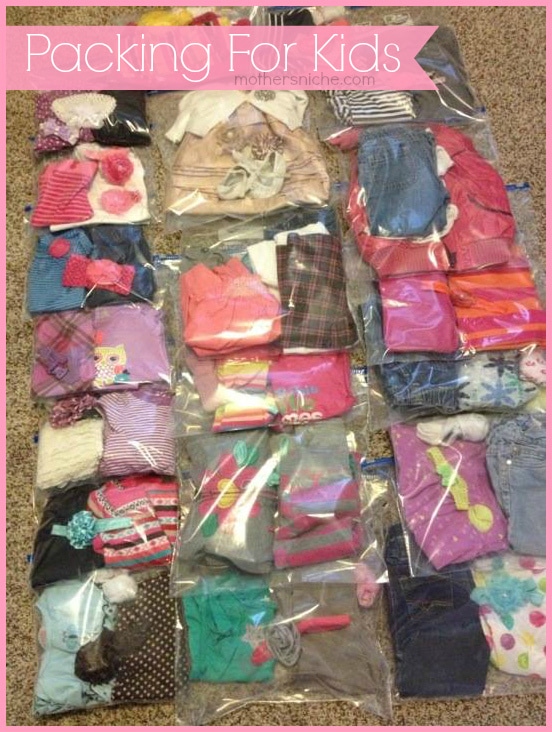 First off, I have to give a shout-out to MothersNiche.com for some of these WONDERFUL IDEAS when it comes to packing for a family vacation. Some of these ideas have become staples in our home now and I don't know what I'd do without them!
1. Pack each day's outfits individually in Ziploc bags. In order to make sure you aren't forgetting anyone's outfits and you are staying as organized as possible, one of the secrets I've started using is to pack each day's outfits individually in Ziploc bags. While that might seem a bit odd, think about it! If you pack individual bags for each member of the family, you'll be sure to never forget anyone's socks or underwear (which I know are the things I used to forget!). You'll know that you have enough PJ's for everyone and it makes it SO much easier to know that any accessories you need for the trip will be easily accessible.
Also, I don't know about you, but if I'm not under packing and forgetting important items, I'm over-packing and wondering why I can't close my suitcase! This will completely help with those scenarios and you will make sure that your outfits and needed items are on-point for all of the members of your family.
2. It's a great idea to pack a few garbage bags for dirty laundry, as well. I've been known to just throw dirty laundry in the bottom of our bags, but before you know it, things get confused and I can't remember what was used and what is fresh. Having the separate Ziploc bags for daily clean clothes, along with garbage bags you can just toss all of the dirty clothes in, really helps to keep things under control!
3. Another great tip is to keep handy a toiletry bag as a "clean up" bag. Depending on the age of your children, your toiletry bag might include diapers and/or pull-ups, along with some disposable bibs. If your children are older, it may just include things like wipes and cleaning supplies to make sure everyone is easily able to stay mess-free after snack-time or while having a meal on the road.
If you're particularly cramped for space, another great idea is to just bring enough of these types of things for a day or two and than buy more at your destination. This lets you free things up in your luggage and you don't end up wasting valuable space that you need to make sure you can fit all of the other things for your trip!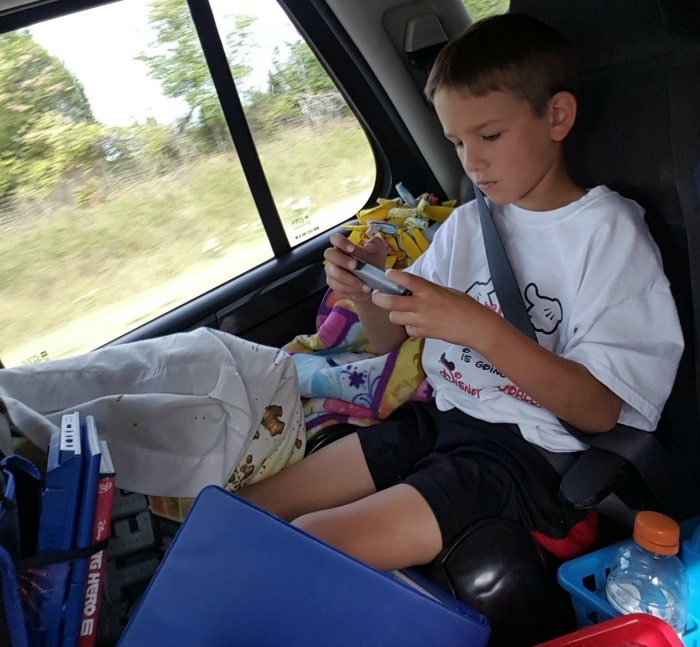 Road Trips with the Kids
Road trips are one of the many ways families enjoy vacationing with children. While it can be an amazing way to see the country and to see many things you might otherwise miss if you weren't traveling along the open road, it can also become a long-haul for kids of any age (as well as for the parents!).
All I can think of are the Griswald's on their many family vacations. I'm thankful that we haven't had anything quite that exciting happen to us during road trips like they have experienced in their movies, but none the less, a lot of planning and organization is useful when it comes to vacations on the open road! We all want to avoid the inevitable question, "Are we there yet?!?!"
1. Bins, baskets and any other type of larger organizational space is key when you're taking a road trip. By having them set up in strategic locations throughout the vehicle, you'll be sure to know where things are at a moment's notice and won't have to tear the car apart to find what you're looking for. Putting things in the back, between seats, and anywhere else you have space, will be a complete life saver!
2. Coolers are always a staple of any road trip! Even better, try to color-coordinate Coolers between drinks and snacks so you can easily tell what is where. Or, label everything and tape it to the top so you know what is in the cooler without having to dig through the entire thing. The last thing you are going to want to do is empty the contents of each cooler on the side of the road while you're looking for your desired item!
3. Dry Storage Snack Bin – things that don't need to be included in a cooler shouldn't be. Save the cooler for things that you need to stay cold! If you don't have a specific bin you could easily use for all of your snacks that don't need to be chilled, you could always use an empty cooler that you wouldn't have to keep ice or frozen packs in.
Take a look at this car seat organizer that will hold an iPad or other tablet, snacks, drinks, and more conveniently over the back of the front seat or check out this larger car seat organizer that can hold even more goodies. When it comes to snacks, make sure you have lots of treats that will keep the kiddos AND you happy. You don't want to be stopping for every little thing, or you'll never get to your destination!
4. Snacks are a must! Snack ideas could include pretzels, trail mix, nuts, fruit snacks, dry cereal, goldfish, crackers, or anything else that your little ones and you might enjoy. And it's probably a good idea to not keep the snacks close on-hand to the kids, otherwise before you know it, your snacks might end up all gone and the little ones will end up with upset tummies!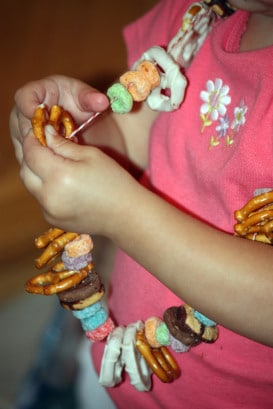 5. Another great idea for road trips are Edible Necklaces for the kids! I saw this particular one over at BlondieAndBrownies.com and this is an absolutely wonderful ideas to keep the kids occupied and have something quick and easy for them to snack on! Using things such as pretzels, candy, gummy circles, or cereal with holes in it (think Cheerios or Fruit Loops), you'll be able to create as many of these great necklaces before you leave as you'll need. Keep them on-hand for different stages of your vacation and the kids will be super excited when they make their appearance!
6. Have a "Clean Up Bin." Use a trunk organizer to create a "Clean Up" Bin that will include supplies for quick and easy clean-ups, along with garbage bags for trash that you will want to keep contained during the vacation. Bring some antibacterial hand lotion, wipes for quick hand and face clean-up, and anything else you may use on a regular basis for helping the kids stay clean and you'll be all set!
7. Hopefully you won't need it, but don't forget the first aid kit! It's always a good idea to take a First Aid kit with you. You never know what type of predicaments you may find yourself in and instead of having to search around your destination for things you may need, you'll already have it on you. And don't forget the sun block and aloe, too!
8. Entertainment is key! We have lots of fun little travel-sized games that you can pick up at many stores that the kids love to break out when we're on the road. My son also loves doodling and practicing his letters, so we'll make sure we have an empty notebook for him to write in as well.
My kids are a bit too young for the license plate game, but if your kids are a bit older, this is another one that will keep them focused on their surroundings and excited to find their next new license plate! I'm also going to whip up a quick game of travel bingo that they can work on following along with. Have you heard of travel bingo? Just think of things to put in the squares that the kids will need to keep their eyes peeled for. Cows maybe? Crossing a new state line? Anything that you know you'll be seeing, include it in the game and have fun! A road trip journal, books, and stickers are also a big hit during any extended amount of time in the car. Yes, you never know where some of those stickers might end up, but if it alleviates any fighting or boredom, I'm game! You can see a roundup of our favorite road trip games here 😉
Another hit with the kids? Calculators! You can grab a large one at the dollar store 😉 Who would have thought? They get the biggest kick out of punching in the numbers and seeing what they can create. My son has started doing this in the car since he was about 18 months old and he still looks for our "travel calculator" when we're on the road!
Other great ideas include coloring books, play dough, or their favorite action figures. Let them help to pick their favorite things they may want to take along!
9. When all else fails, bust out the electronics. We happen to have the ability to watch movies in our vehicle DVD player and it has come in handy on road trips more than once! Make sure you have some DVD's on-hand you are OK with the kids watching and you'll enjoy a little time of quiet and concentration as they zone out for part of your trip with their favorite show.
My kids also are obsessed with their LeapPads. I love the educational games that they contain and I'll make sure to put a few new apps on them before leaving so they can be excited for something new to play!
10. Break out a map of your travels so the kids can follow along. Just print out a map of where you'll be traveling and highlight the route that you're taking so the kids can see where they are and figure out locations. They'll love seeing the progress that you've made and what may be coming up that they are excited for. I know when I was a kid, it was one of my favorite things to be able to watch our progress on a map when we took family road trips!
11. Make sure you pack for rest stops. Have a designated area where you have some activities that will burn some energy and get the kids moving when you are finally out of the car for a little bit. Think jump ropes or sidewalk chalk. Maybe bring a ball and glove and play catch when you stop for a break. With the kids spending so much time in the car during a road trip, it will be super useful to have them run around and blow off some steam from their long travels!
12. Bring a few disposable cameras that they can use during the vacation. Even if you have a kid-friendly toy camera for the younger ones, make sure it comes with you on the trip! Let the kids document your travels with their disposable cameras and they will love to see the pictures that they took once you are home and sorting out everything fun from the vacation!
13. Don't forget their favorite blanket and pillow! If you're going on a road trip, the kids will love to have a small piece of home with them when it comes time for a little rest and quiet time. The more comfortable and calm they are, the better the trip will be for everyone!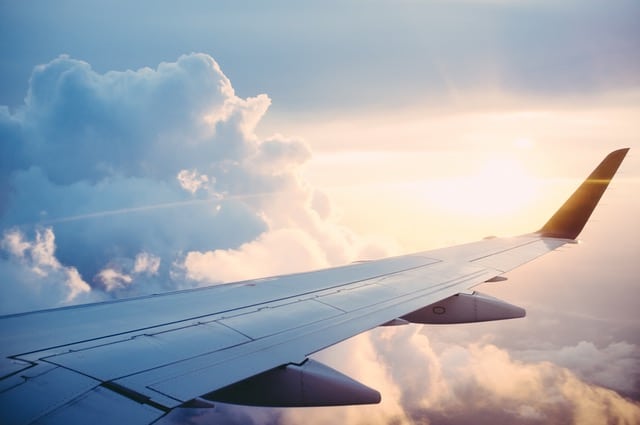 Flying with the Kids
Flying is great to get to your destination without all of the wasted time that some people can't handle in a vehicle. It's so nice to be able to get up and go to your destination and be there in a matter of hours. But when vacationing with children, flying is a whole new ballgame!
It can be a little bit trickier and can cause a bit more stress when you're pressed to get through security lines and keep everyone organized in an airport, but by following a few tips, you'll be sure to make it there in one piece!
1. Communication with kids is key when you're getting ready to fly. Especially if it will be the first time for them. Some kids may be super pumped up about their upcoming adventure, while others might be scared out of their minds about what lies ahead. It is out of their comfort zone and can be a lot for a little one to handle. Take time beforehand to make sure they are prepared and excited about not only flying, but what the entire vacation will be!
2. If you have small children, don't forget your stroller! Strollers are free to check at the gate and it helps SO MUCH with getting around an airport with little ones! You can keep things in the bottom of the stroller to help with carrying things around and it makes it easier with your little one is contained in their own private car service, thanks to the parent chauffeuring them around everywhere.
3. When you get the chance to move around, take it! Circulation is important when flying and it's even more important with the little ones. Get them moving around when possible and when you're waiting by the gate for your flight to finally leave, take a quick stroll to the closest convenience store with them to get them moving a bit.
4. Flight scheduling can be very important! If possible, schedule flights around nap times so they can try to rest a bit once you are in the air. It makes things go so much quicker for them if they are able to catch a little sleep while you're flying to your destination.
Also, try to schedule non-stop flights when taking vacations with the kids. It might be more expensive, but not having to worry about coordinating lay-over situations can make it a lot less stressful on everyone. And if flights get delayed, there can be plenty of times when you might find yourself running through an airport to catch that connecting flight. Who needs that?
If you do happen to have a lay-over, just make sure you are giving yourself plenty of time between connections to get to where you need to go if something were to happen. Also, if it's possible, choose non-peak times to travel, such as during weekdays when it may be just a bit less busy. Anything helps with kids!
5. Don't forget snacks and entertainment! Many of the same things from #4 and #8 discussed in road trips above can be said for flying. You definitely want to make sure everyone has enough to keep them busy during what can turn into long delays or long flights!
6. Make sure you travel in easy and comfortable clothing. It makes it less chaotic when trying to remove shoes and getting through security if everyone is dressed as simply as possible!
7. Make sure all of your travel documents are in a parent's carry-on. In your carry-on include a copy of your travel plan, necessary medicine, hand sanitizer, a quick change of clothes, and any electronic devices you're going to use on the flight in this carry-on, as well. That way you'll know which bag has all the travel documents you'll need once you're seated on the plane so you're not rummaging through every carry-on you have brought with you. That can be a major hassle!
8. If possible, have the children sit in the middle of the adults. It helps to keep them a bit more contained and can help with room issues on the plane, as well. It gives everyone just a bit more space and that way the kids know that someone is close by on either side if they come across any difficulties.
9. It might be a useful gesture to surprise them with something new once you are situated and ready to take-off. Having the excitement of getting a new toy/movie/book, etc. will help distract them from everything else that may be going on and will keep them more occupied during the flight since they will be excited about checking out their new goodie!
10. Don't forget… allow yourself extra time for EVERYTHING when it comes to flying. You never know how long those security lines are going to be, where you'll be parking, how far away your gate will be, or how many times you may have to stop with the kiddos to use the bathroom. When you have a flight time that is NON-negotiable, it's best to arrive earlier than you normally would, just to make sure everything goes off without a hitch! You'll be thankful you did.
11. Make sure your kids have some type of identification. Another useful idea to use when flying is to think about putting a temporary tattoo or travel bracelet on your child's arm that includes your phone number or necessary information on it. God forbid anything should happen, but airports are busy and kids move fast. If for some unforeseen reason you lose your child, this will hopefully help them find their way back safely with an adult's help.
No matter what, when it comes to vacationing with children, you always have to be prepared to roll with the punches. Nap times may not coincide with plans and you're sure to experience an occasional meltdown from an overtired child who has been super excited about your daily adventures!
Take everything as it comes, but above all, HAVE FUN! Family vacations are meant to be a wonderful time and these are the memories that you'll look back on someday and absolutely cherish.
Don't let the little things stress you out! Enjoy!