We earn money from clicks or purchases made via product links in this post.
In this Ebates Rakuten review you'll learn everything you need to know to earn cash back at your favorite stores.
Are you ready to earn cash back rewards for shopping you already do? Then it's time to sign up with Rakuten and check out my review below!
Over the last few years Ebates went by Ebates Rakuten…as of May 2019 the company has now officially changed their name to simply Rakuten. Everything remains the same and you'll still enjoy the same amazing extra layer of cash back savings you have come to love.
In this Ebates review you'll learn…
How does Ebates work?
Is Ebates legit?
How do I shop through Ebates?
What is the Ebates Cash Back Visa Credit Card?
Where do I find the Ebates App and browser extentions?
What is the Ebates Referral Program?
Can I still use promo codes?
Are there additional discounts?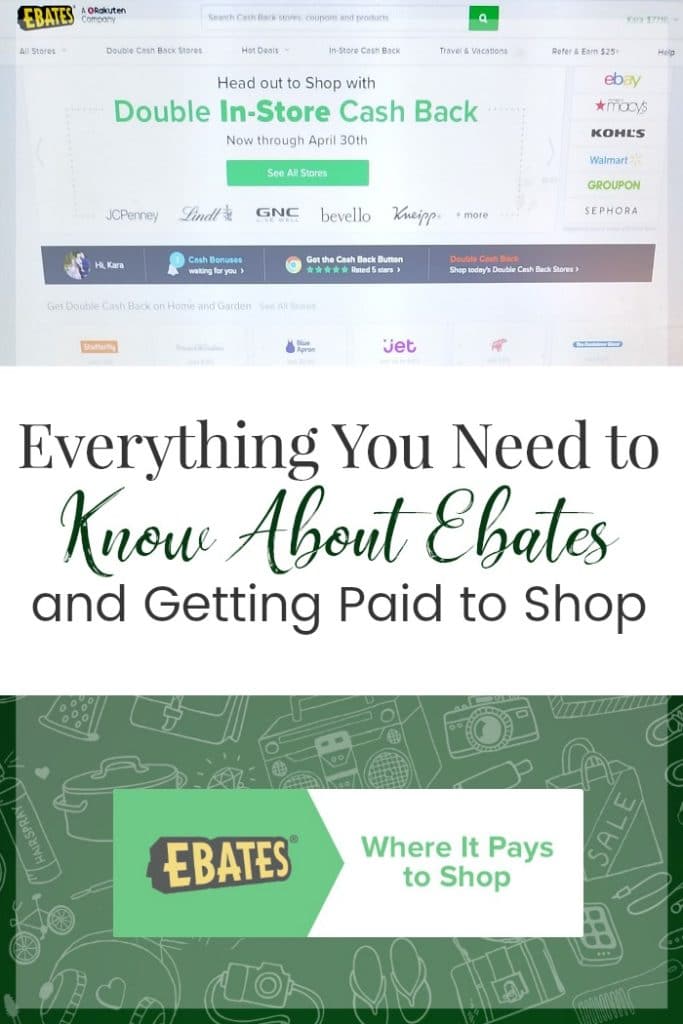 Years ago when I started couponing (like really couponing) I couldn't believe just how many opportunities there were to save.
Not only were there the newspaper coupon inserts that everyone is familiar with, there were also printable coupons, store coupons, and mobile coupons. All were used in a similar way – go to store, shop for item with coupon, and give coupon at register to save money.
But one of the most surprising ways to save for me was when shopping online. When I first learned about Ebates, I thought it was surely a scam. I mean why would someone pay me to shop online?
Well, I can tell you now from first-hand experience…many years of "getting paid to shop" and many "Big Fat Checks" later – Ebates is real and it would be silly of you to leave this cash on the table when shopping online!

How Does Ebates Work?
Well it's really very simple…stores pay Ebates a commission in exchange for them sending customers to their websites, think of it as a form of advertising. Then Ebates shares some of that commission with you as "cash back."
To get your share of the pot, you simply create an Ebates account for FREE earn cash back at over 2,500 stores for doing the shopping you already planned on doing online. You'll also have plenty of opportunities to earn double cash back rebates, just for shopping at certain retailers.
Favorite stores such as Walmart, Kohl's, Target, Macy's and Amazon offer ways for you to utilize Ebates.
Doing some home remodels? You'll want to take advantage at places like Best Buy, Home Depot and Lowe's!
Planning a fun family vacation? Ebates hotels are even available for you to earn cash simply for staying at specific places at your destination! How great is that?!
And don't worry, you can still use coupon codes so you'll get even more savings!
If you're a new member you'll even get a FREE $10 gift card to Target, Kohl's, Macy's, or $5 cash once you make your first $25 purchase.
Is Ebates Legit?
You bet…Ebates is legit!
I've used it myself for many years to earn cash, both as a Big Fat Check and straight into my PayPal account. And I've done it just by shopping for the things I was going to buy at my favorite stores anyway!
It's absolutely free to you, and you never have to give super personal information, like social security numbers, so you don't have to worry. Also, while it may not provide a living for you, it's definitely a great way to make some extra money, simply by purchasing the items you were going to anyway.
Ebates also offers a great Ebates customer service area that will help to answer any questions or problems that you may have within your account. So if you ever have a question an answer is only a few clicks away.
How to Shop Through Ebates and Jump on the Cash Back Bandwagon
Head over to Ebates and create an account (remember it's FREE!)
Choose the gift card you would like to receive once you make your first $25 purchase
Then whenever you are ready to shop online, head to Ebates and search for your favorite stores you would like to shop at. You can use the search bar at the top or scan through the featured deals.
Once you find your store just click on the "Shop Now" button. You'll be redirected to the store's website where you can shop as usual, using any promo codes you planned on using.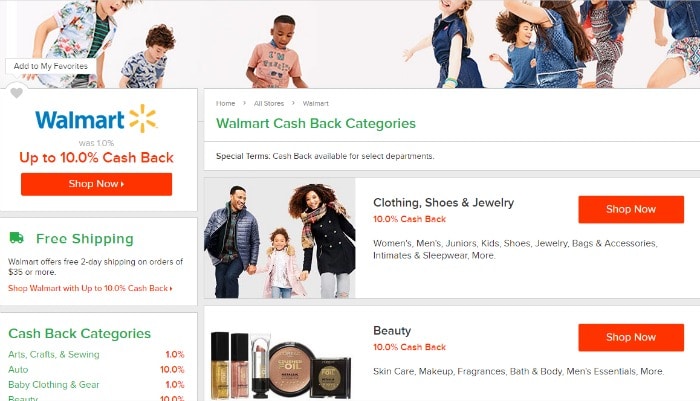 Your cash back will be deposited in your Ebates account! Once your balance reaches $5.01 you'll be sent a Big Fat Check in the mail to deposit in your checking account (Yes! You get REAL cash back!). Checks are sent every quarter according to the Ebates payment schedule below. If you would rather, you could have your money deposited in your PayPal account instead, which is what I have recently opted for.Here's the schedule of when you can expect your check or deposit…

Did you know you can now earn cash back rewards from Ebates when shopping in stores too? Learn how to easily earn cash back in stores here.
Ebates Credit Card
In addition to your regular cash back rewards, with the new Ebates Cash Back Visa Credit Card you can earn an extra 3% cash back on qualifying purchases made through Ebates and 1% cash back on other purchases made anywhere Visa credit cards are accepted.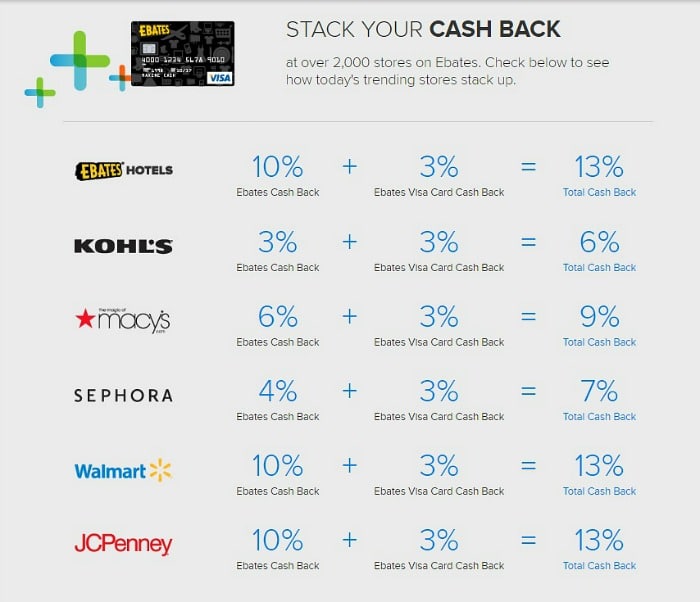 When you are approved for the card, you'll even get a $10 cash back bonus! The bonus will be added to your Ebates Cash Back Account and there is no minimum purchase amount required to earn your $10 Bonus on first purchase with the Ebates Cash Back Visa Credit Card.
Ebates Apps and Browser Extensions
To make earning cash back super easy, take some a few minutes to download the Ebates App and browser extensions to your preferred platforms. The links are below…
Ebates Referral Program
Once you start earning cash back with Ebates it's only natural to want to spread the word! And Ebates will reward you and them just for doing so!
When your friends sign up for Ebates and make a qualifying purchase, you both earn a reward. That's right…Ebates will pay you for every new member you refer who then shops and makes a purchase at one of their partner store sites!
You can refer your friends or family by sending an email or by simply sharing a link on Facebook or Twitter.
For more information head to Ebates and click on the "Refer & Earn" tab.
Ebates Coupons, Promo Codes, and Daily Deals
Now that we've went over the details on how you can earn cash back rewards, there are many special promotions to help you save even more.
Double cash back is probably one of the most popular promotions! Just as is sounds, you'll often find stores doubling the amount of cash back rewards you'll earn when shopping at their stores. These offers change frequently so be sure to keep an eye out for your favorite store 😉
You'll also find tons of promo codes and daily deals on everything you need, including shoes and apparel, baby and kids clothing and toys, furniture and home decor items, computers and tech accessories, flights and hotel reservations, and so much more!
Just click on the "Double Cash Back Stores" and "Hot Deals" tab to see the current discounts available.
After reading this Ebates review you're going to become a pro at shopping through Ebates!
If you want more saving tips for all of your shopping, check out this great article about how to never pay full price again for items that you plan to buy. Game Changer!
You're going to get everything you need for your family and save money doing it! Is there any other way?!