We earn money from clicks or purchases made via product links in this post.
There really is no reason to pay full-price for anything…ever again. Take a look at these easy tips to turn any purchase into a deal!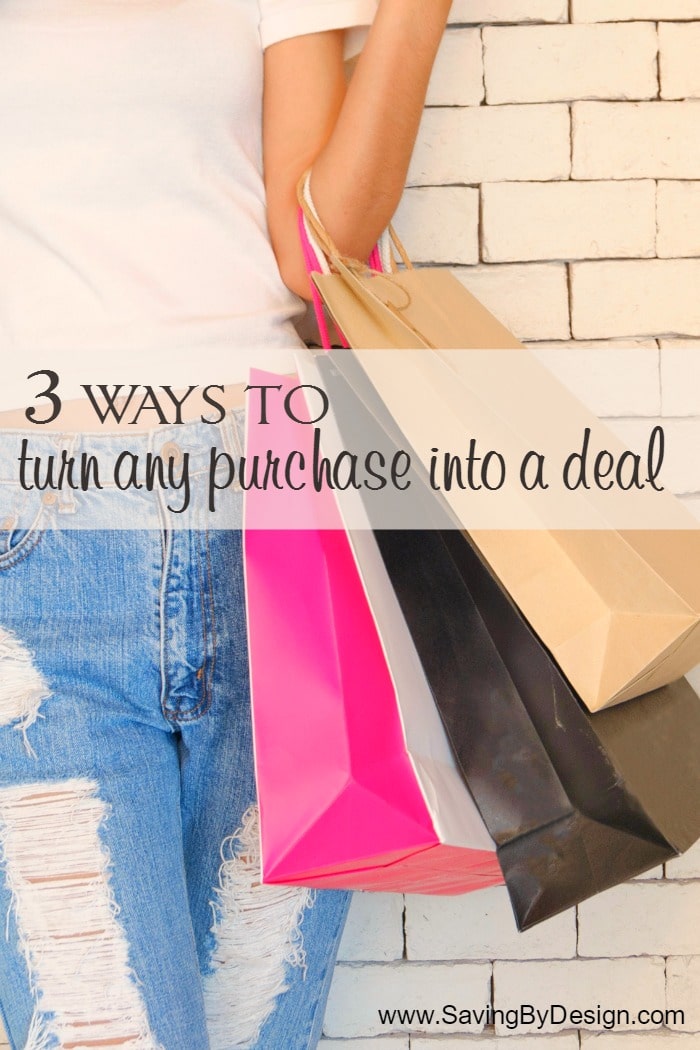 ---
SEE ALSO:
---
Nobody likes to pay more than they have to…for anything. I'm happy to say that after reading this post, you'll never have to pay full-price for any purchase again!
I've always been a "deal shopper." Even when I was working at Bon-Ton throughout high school and college, you would never find me buying something without a sale and coupon. While I loved a great deal, I guess I was more of a casual deal seeker back then since I didn't want to waste my money, but I really didn't have the responsibilities and bills to take care of that I do now.
After having our first child and deciding to stay home with him, I really needed to kick my saving into high gear. I not only became quite the couponer and started slashing our grocery bills, but also learned about many different ways to save that I never even knew existed…ways that I could save on just about anything!
3 Ways to Turn Any Purchase Into a Deal
There really is no reason to pay full-price for anything ever again. Here's how you can turn any purchase into a deal 🙂
1. Look for a sale
This first step is pretty easy, and obvious. If you don't want to pay full-price for something, the best place to start is to look for a sale on it. Check prices using the Sunday newspaper ads or pull up the ad to a store online. You also may want to compare prices in-store vs. online as sometimes they can be different.
Compare prices at different stores
Since we want to find the best price, it's best to compare prices between stores. Many times if it's on sale at one store, it's probably on sale at another store too…so check different stores to find the best sale price! Now don't go getting crazy and overwhelm yourself. Checking the prices at no more than 3 stores should be plenty.
Check daily deal sites
When comparing prices, don't forget to check the daily deal sites like Groupon and Living Social. Whether you're looking for an item, activity, or even getaway, you might find exactly what you are looking for at a great price!
2. Look for coupons or coupon codes
Now that you have your best sale price, it's time to kick things up a notch and add some coupon savings.
Coupons for in-store vs. online shopping
While you are looking for coupons to use on your purchase, be sure to check coupons available for both in-store and online purchases. Most of the time they are the same, but in some cases you might find a better discount one way or the other. Which leads to the next tip…
FREE shipping codes
If you find the better deal ends up being online, don't forget to factor in the shipping cost. Obviously free shipping would be best, so if you won't be automatically getting it with your purchase, look for a free shipping coupon code.
Check coupon apps
There are quite a few coupon apps where you can find discounts too. Many times discounts found on these apps can be used in addition to sales and other coupons you are using so be sure to at least check them out before making your purchase.
Some of these apps are store apps, such as Target Cartwheel, while others are apps that can be used across multiple stores, like Ibotta.
3. Look for extra ways to save
Sale prices, coupons, and then all those extra savings! Yes, there's more…
Store rewards programs
Many stores offer reward programs that can be used on top of coupons and other eligible discounts. Some examples of these programs include Kohl's Cash (at Kohl's) and Place Cash (at Children's Place) where you earn money back to be spent on a future purchase.
While you might not be able to use these discounts immediately, they can usually be earned on items that you are getting on sale and/or are using coupons for. That means you are already on your way to turning your next purchase into a deal!
Save by paying with store cards
My favorite example of this is Target. When shopping at Target, if you use your RedCard you'll save an additional 5% on your purchases and can even score FREE shipping when shopping at Target.com. Don't want another credit card? No problem! You can get a RedCard debit card like me and get the same exact benefits you would get with a RedCard credit card. You just link your card to your bank account and use that debit card whenever shopping at Target to get your discount ?
If you don't already have one, you can get a RedCard here.
A few other stores that offer some type of additional discounts for using their card include Lowes, Kohls, and Children's Place.
Earn cash back
On top of coupons, you can add another discount when doing your shopping – earn yourself some cash back! Up until a few months ago you used to be able to only earn cash back online, but now you can earn cash back in-store too! You can learn everything you need to know about online and in-store cash back here.
4. When all else fails, make your own deal
When you've exhausted this long list of money-saving opportunities and still can't seem to find a good deal, don't give up. There is still a way to save by making your own deal.
Free cash is, well, free, so having some extra money given to you that can be used on your purchase would be a great way to create a deal, right? If you're looking for free cash, Swagbucks is where it's at!
I've been using Swagbucks for many years and I promise that it's legit! I've racked up close to $400 over the years and there's no reason you can't do the same thing.
Swagbucks is a site where you earn points (called SB) for things you're probably doing online already like searching, watching videos, shopping, and taking surveys. You also earn SB for referring others to give it a try. Then you take those points (1 SB is worth a penny) and exchange them for gift cards to places like Amazon, Starbucks, Walmart, Target, or even PayPal cash! That's right…actual cash!
Swagbucks is something I regularly do so I always have some SB ready to cash in when I need them. You can get started earning your own SB here.
You can also download the Swagbucks app for iOS and Android and take surveys and do other SB-earning activities right from your phone, no matter where you are! Get paid as you pass time waiting to pick up the kids at school or practice like I do ?
I know this may seem like a lot, but once you make these tips a habit, it will all be second nature. To help you get started on your new deal-seeking ways, I've created worksheet to make things a little easier.
CLICK HERE TO PRINT YOUR DEAL FINDER WORKSHEET
As you can see there's pretty much always a way to score some kind of deal no matter what you are purchasing. With a little searching and creativity, you'll never have to pay full price…ever again!
Don't miss these posts…
> 3 Habits of Frugal People You May Not Know
> 3 Easy Tips to Find Extra Savings at the Grocery Store