We earn money from clicks or purchases made via product links in this post.
These Halloween fireplace mantels will inspire you to create a perfectly decorated seasonal fireplace in your home…I'm sure it's going to be SPOOKtacular!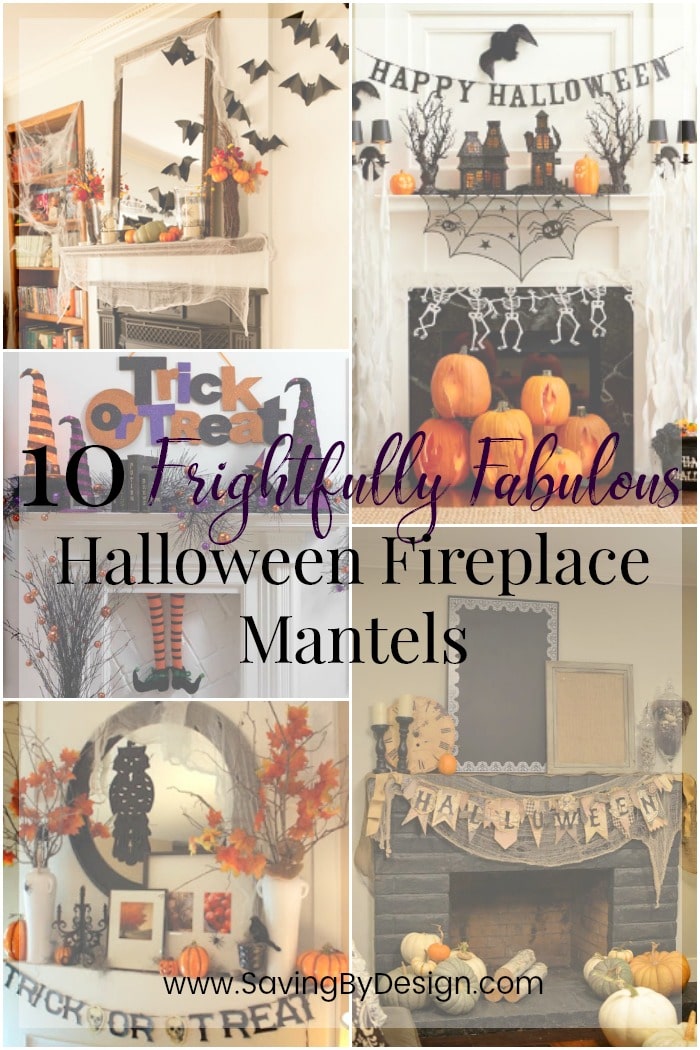 OK, so I won't lie… one of my favorite parts about a fireplace in our home is having a mantel to decorate.
And you know what that means! It means I get to decorate it all year long for the different holidays and events that happen.
One of my favorite times to decorate our mantel is Halloween! I just love all of the fun color schemes and the different ways to put a little spooky decor around the house. And since our mantel tends to be one of the main focal points in our home, there is no escaping it, so I have to make it GOOD!
These Halloween fireplace mantels will get you started on creating the perfect DIY fireplace mantel for your family this year.
No matter what, I'm sure it's going to be SPOOKtacular!
10 Frightfully Fabulous Halloween Mantels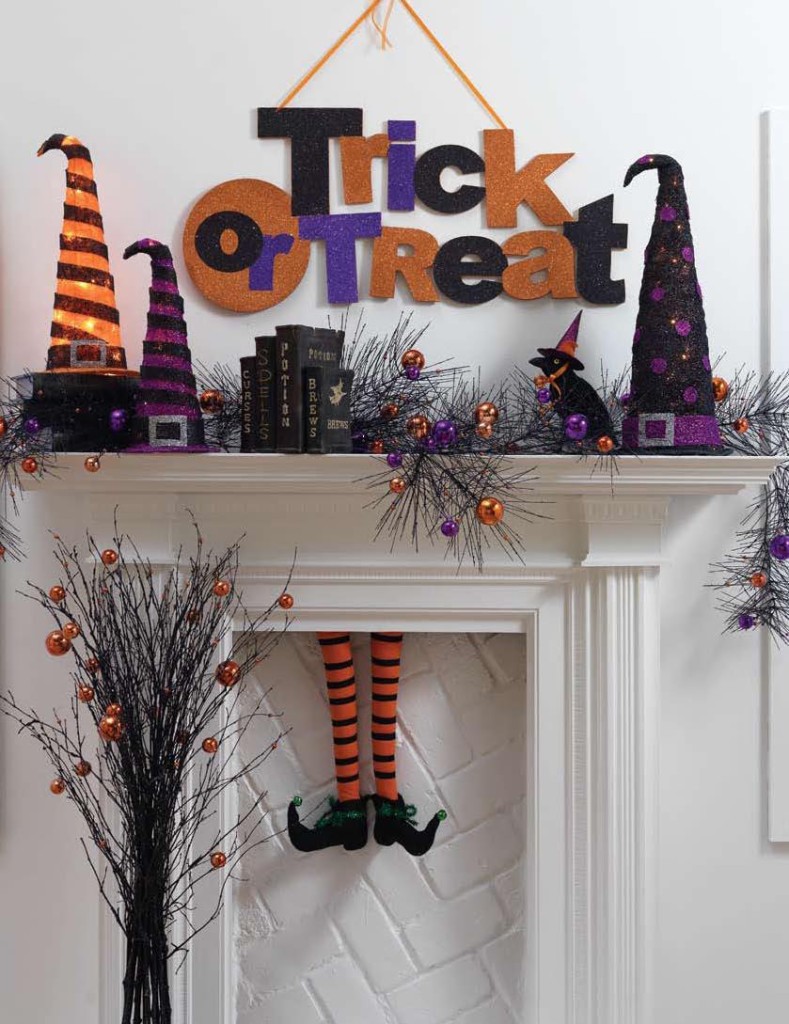 1. This "Magical" Halloween Mantel over at SerendipityRefined.com is so cute I can barely stand it!
I love the little witch legs coming down the fireplace. The lighted witch hats, along with the color scheme just screams Halloween!
What a fun mantel to have in your house for your family to enjoy during this spooky season!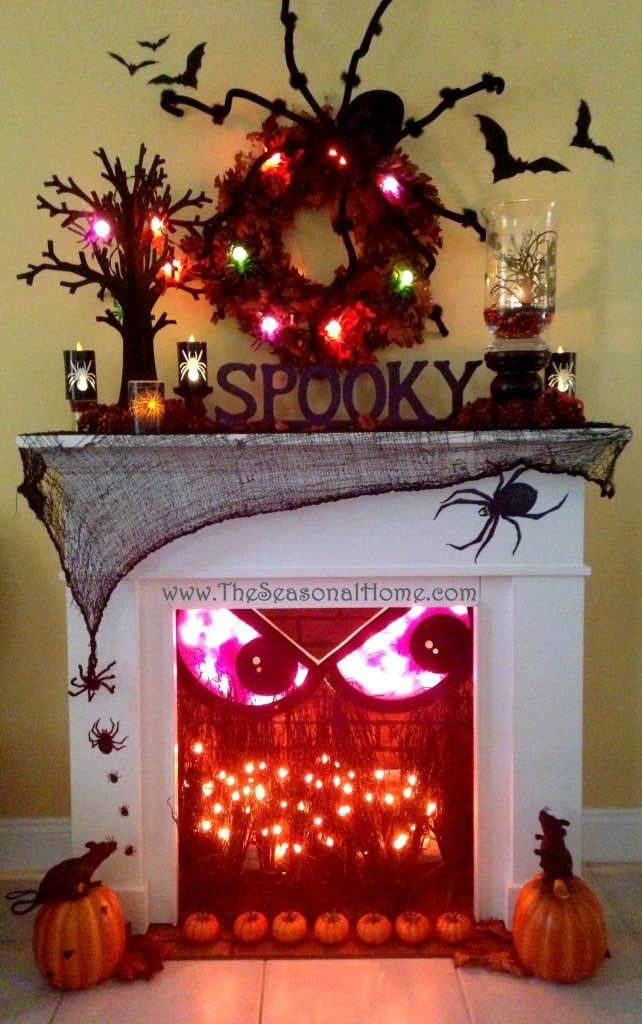 2. A Spooky Fireplace with a Monster inside? Yes, please! TheSeasonalHome.com went ALL OUT for their Halloween fireplace mantel!
Between the wonderful light fixtures embedded in the wreath and tree, the spooky spider, and of course, the monster inside of the fireplace, this mantel has anything and everything you could want!
Can you even imagine setting this one up while the kids are at school and seeing their faces when they get home! Ha!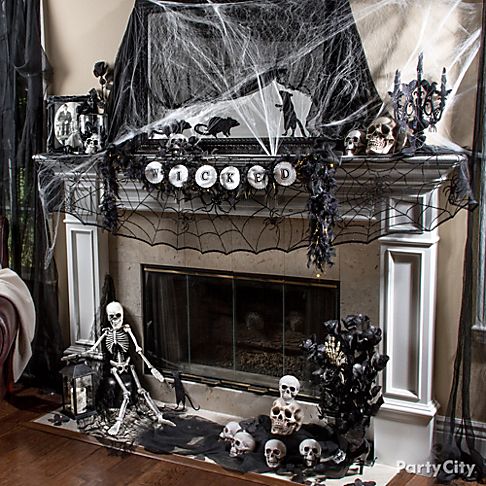 3. The DeFRIGHTful Mantel with Lace and Cobwebs has a spooky theme to it, all in a black and white color scheme.
PartyCity.com has some great finds that you can snatch up to make your Halloween mantel everything you're dreaming of! I love the skeleton theme that is all around the fireplace.
Definitely frightful!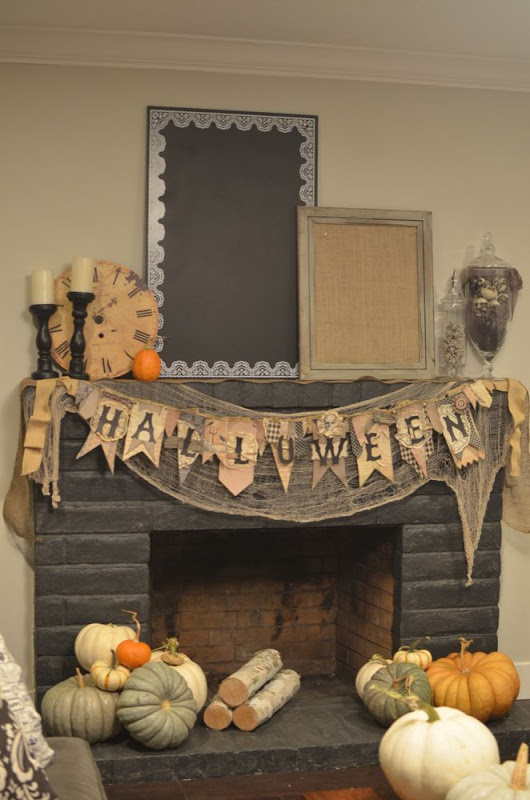 4. This Eclectic Halloween Mantel from TheProjectGirl.com is a great way to celebrate the Halloween season without scaring the pants off of all of your guests!
The DIY banner that is on the mantel is truly a work of art and looks amazing with the other decorations surrounding it! What a simplistic, yet fun mantel idea!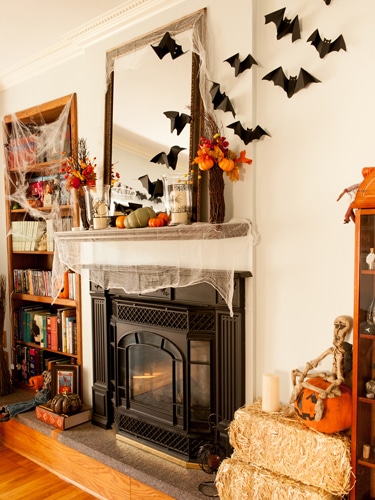 5. Don't worry, this Bat Crazy Halloween Mantel won't drive you bat crazy! Found over at CountryLiving.com, this is a great way to get the kids involved in a little paper art to create all of the bats that you can hang up around your fireplace!
With a little cheesecloth, pumpkins and hay bales, you can complete the Halloween look and not go broke! I'm all up for that!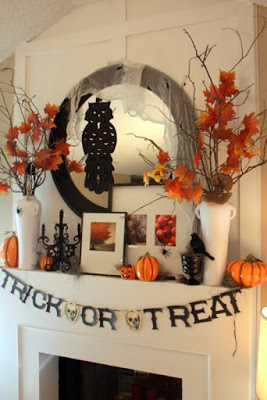 6. An All Hallow's Eve theme adorns this mantel, which was found over at SweetSomethingDesign.com!
I love the banner that says "Trick or Treat." It's great to mix up the wording instead of the same old "Happy Halloween" theme. And with that spooky owl and lovely vases on each end that have sticks and leaves, you'll have a happy hallow's eve, indeed!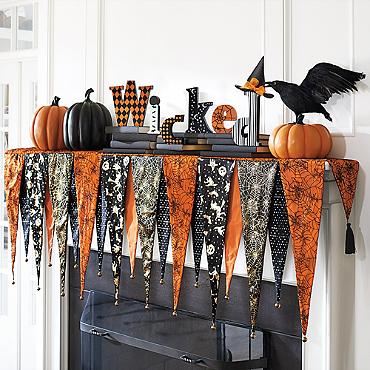 7. Not feeling too crafty when it comes to putting together a halloween mantel? Than this No Sew Halloween Decor for the Mantel is for you!
Head on over to StayingCloseToHome.com and get all of the DIY instructions you need to make this gorgeous no sew banner yourself. I also love the idea of painting some of you pumpkins that you come home with, like on this mantel. The black pumpkin is an awesome addition to the mantel and really stands out.
Love!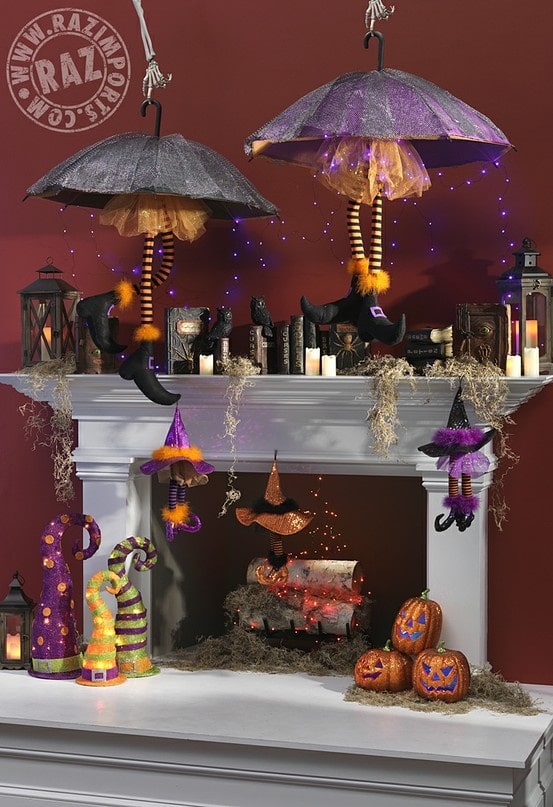 8. OMG, this Whimsical Halloween Mantel from TrendyTree.com absolutely blows me away!
These ideas are things that never would have crossed my mind to put together, but the final result is truly amazing and is whimsical, indeed! I love the purple lights that drape around the mantel in an oh-so-elegant fashion and the witch hats that bend and curve to suggest those witches must have been having some fun. But the up-side-down umbrellas? Genius!
This one is SO going on my list!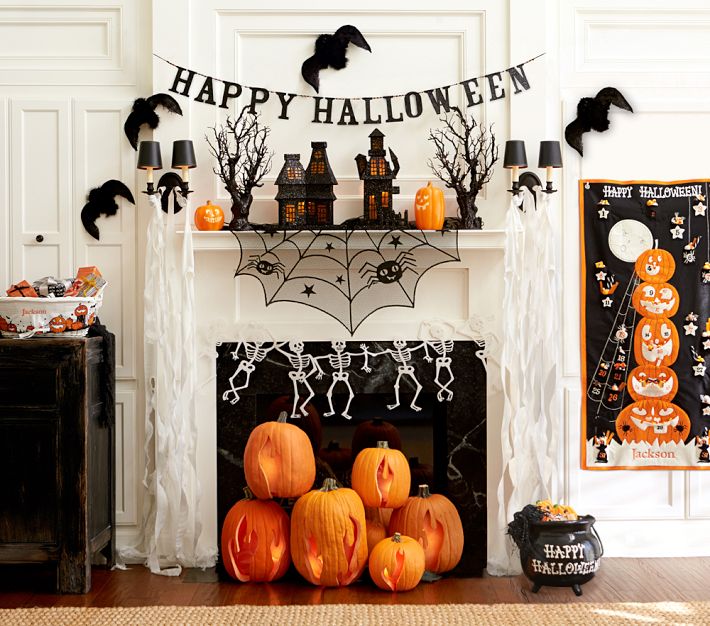 9. This Light Up Tree Inspired Mantel found at PotteryBarnKids.com is a great idea if you have a fireplace mantel that is light in color. The black really pops out against the white walls and fireplace, and the cute little Halloween village on the mantel really gives it a fun and unique look.
Two thumbs up!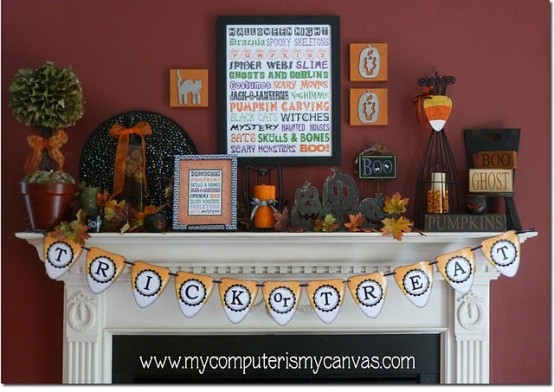 10. I love subway art. Like, a lot. It's found in multiple places in my home and I think I might be addicted. So when I saw this Subway Art Halloween Mantel over at DigsDigs.com, I knew it would be love at first sight!
I love the country/rustic feel with this one, from the topiary, to the stacked block signs on the right of the mantel.
What a great homey feel!
It's going to be totally worth all of the effort you put into your Halloween Fireplace Mantel when it's finished and you get to see the look on everyone's faces!
Have a Happy Halloween!!
Don't miss these posts…
> 31 FREE Halloween Printables – Invitations, Signs, Banners, and More!
> 10 Frightfully Frugal Halloween Crafts for Kids