We earn money from clicks or purchases made via product links in this post.
Not sure how to live a healthy lifestyle, full of whole foods and natural products, on a budget? Here are a few healthy lifestyle tips to get you started.
I am always on the lookout for how to live a healthy lifestyle without disrupting how our family acutally lives.
For example, food that the nobody enjoys, methods that would add more chaos to our schedule than they are worth, or products that are too expensive to fit in our budget just won't work for us…or you for that matter.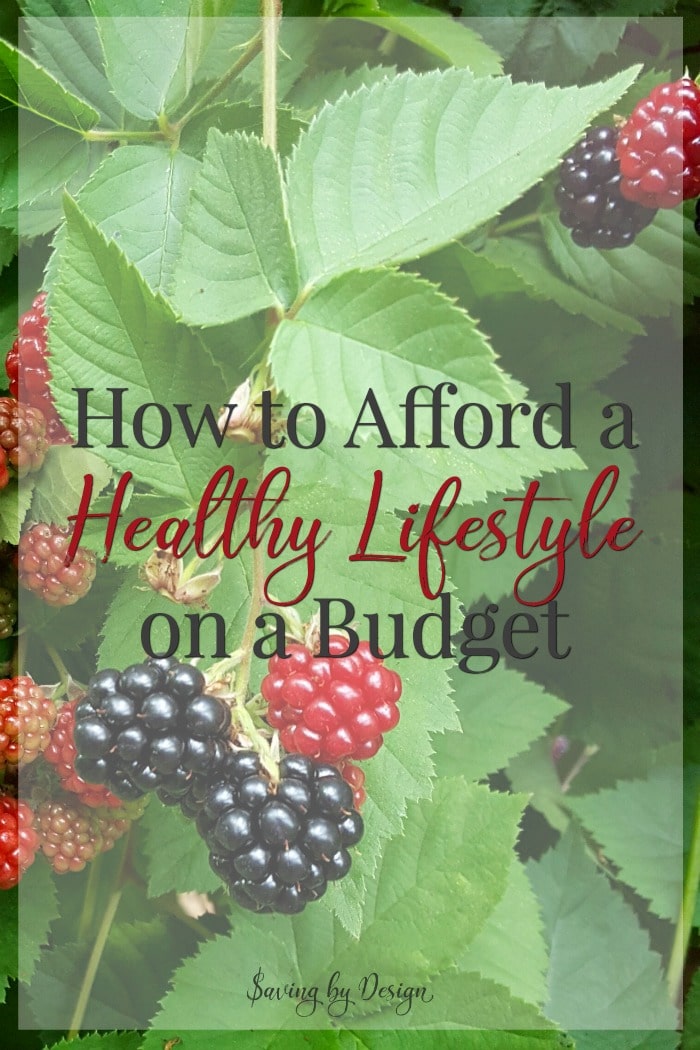 How to Live a Healthy Lifestyle on a Budget
However, it really is possible to get started living a healthy lifestyle on a budget. Here are a few tips 🙂
But natural and organic foods are so expensive!
Over the years the benefits of buying non-processed foods and organic items have become very clear. About 80% of the pesticides in our bodies are ingested from the foods we eat.
While buying everything organic can end up being pretty expensive, sticking to buying fresh foods organically can dramatically decrease the amount of pesticides you come in contact with. And there are ways to save of course!
Not all produce contains the same amount of pesticides
Did you know that not all produce contains the same amount of pesticides?
The first way to save is just to buy the things that you will benefit most from buying organically. If you can't afford to buy all organic produce, you might want to consider just purchasing organic fruits and vegetables from the "dirty dozen."
Apples, celery, tomatoes, cucumbers, grapes, sweet and hot peppers, nectarines, peaches, potatoes, spinach, and strawberries are all on the dirty dozen list. Those are the foods that have been found to contain the largest amounts of pesticides.
On the "clean 15" list you'll find asparagus, avocado, cabbage, corn, eggplant, cantaloupe, grapefruit, kiwi, mangos, mushrooms, onions, papaya, pineapple, sweet peas, and sweet potatoes. These are fruits and veggies that don't contain a lot of pesticides so you don't need to buy organic.
Look for ways to save on organic products
If you purchase natural and organic products, there are actually quite a few companies who regularly issue coupons.
Simply visit the manufacturer's website and see if any offers are available. Most have a mailing list that you can join to receive promotional offers in the mail too. Some manufacturers even have rewards programs where you can earn free products by cashing in points found on the product.
If you don't have a coupon for an organic item, try to at least buy when there is a sale. Always be on the lookout for markdowns too! Produce, dairy, meat, and more is often marked down when the "sell by" date is approaching.
Can't find a coupon or even sale for your organic products? Create your own sale!
Buy your organics using a catalina coupon that you get back at the register from buying other non-organic products. Catalina coupons are generated when you purchase select items in a promotion. You might see them advertised as "buy 5 of these items get $10 back at checkout" or "buy $25 of select items get $10 back at checkout." Don't forget that you can use manufacturer coupons with these promotions making your out-of-pocket cost less. Then use the catalina coupon at checkout to purchase your organic products.
Grow your own produce or buy locally from someone who does
Growing your own organic produce is another way to save on your healthy lifestyle. Try planting things found on the dirty dozen list first. That way you won't have to worry about buying those fruits and veggies in the grocery store.
If gardening isn't your friend, head to a local farm or farm stand to purchase local organically grown produce. You'll be helping your local farmers and find a better price too! Head to www.LocalHarvest.org to find an organic farm near you.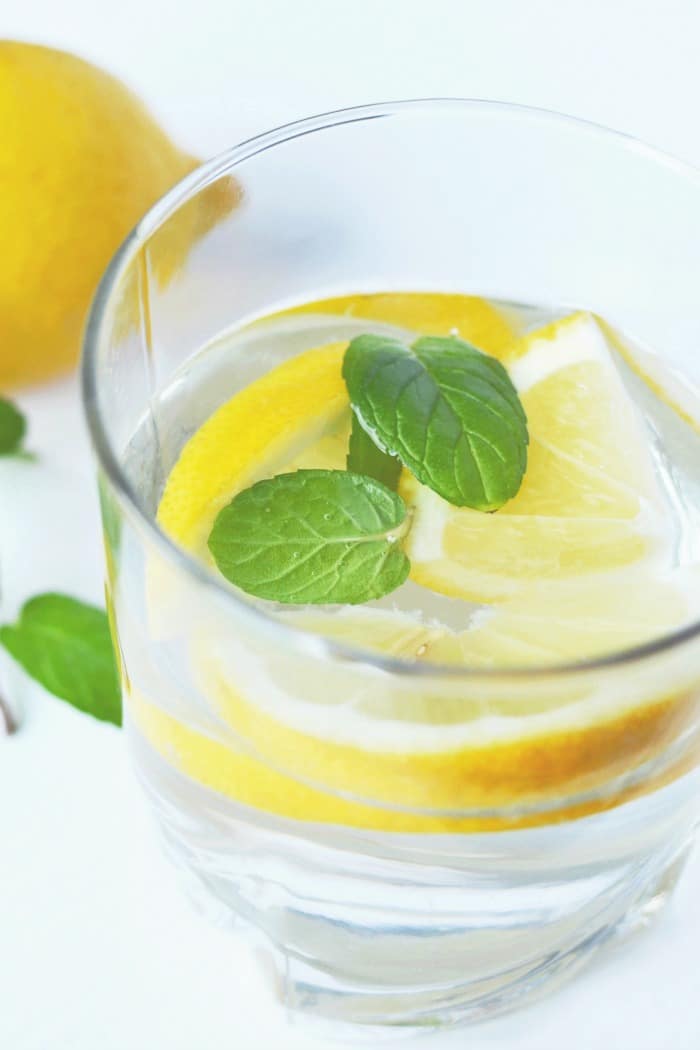 Get fit without busting your budget
There's no need to join the gym or buy the latest workout equipment to get in shape. There are many ways to improve your fitness for very little or even free.
Drink your water
The easiest thing you can do to kick start your fitness routine is to drink water. While water itself has no magical weight loss properties, there are many ways it can benefit you.
Drinking a glass of water before meals will help you eat less. You know how we're always telling the kids not to fill up on their drink before their meal? Well that's sort of true. And in your case, drinking water before your meal will help you achieve your goals.
By drinking water you'll also be ditching the high calorie, sugary drinks too. Don't forget the ice! An ice cold glass of water will burn calories since warming the water up requires a boost in your metabolism.
One extra thing I've been doing to my morning water is adding a teaspoon of apple cider vinegar. In case you haven't heard, apple cider vinegar is like nature's liquid gold for your body and has been shown to not only improve overall health, but also cure many ailments by balancing your body's pH to make it more alkaline. Just be sure you are choosing an organic raw and unfiltered cider so it has all the good stuff in it…Bragg's Apple Cider Vinegar is the best in my book.
Take accountability
Another easy way to get fit is to simply hold yourself accountable. Grab a journal or notebook and each day write down everything you eat, how many glasses of water you drink, what you did to exercise that day, and how much sleep you got.
You'll begin to notice what works for you by how you feel each day. Days that you fall off the wagon you won't enjoy writing down as much (and you probably won't feel as good those days either) as days you stick to your plan.
If you would rather a digital alternative to tracking your fitness progress there are many free smart phone apps available too.
Find your favorite way to exercise
There's always the traditional way to "exercise"…you'll find many free videos on YouTube with anything from quick stretches to intense hour-long workouts.
If structured exercise isn't your thing, do something that you like. Play a sport with the kids, take the dog for a walk, or go on a family bike ride. The important thing is that you do something each day…it doesn't have to be a formal exercise routine.
"Clean" cleaning and personal care products don't have to cost a fortune
There really isn't a reason to waste money on expensive harsh cleaners or possibly harmful personal products.
If you can't find natural cleaning products in the store at a good price with a coupon or sale, baking soda, vinegar, and lemon are pretty much all you need to tackle many household cleaning chores, and you'll be skipping the harmful chemicals in the process.
You can find all of my favorite homemade cleaner recipes along with some great cleaning tips here. I've also come across quite a few wonderful natural personal care products. You can see those in this post 🙂
A quick internet or Pinterest search will also provide you with tons of homemade personal care and beauty product recipes. You can see some of my favorite beauty recipes on this Pinterest board.
Where to buy natural products
If you are just trying to figure out how to live a healthy lifestyle, it may be overwhelming to read things like mixing up homemade cleaners and beauty products.
While making your own products may prove to be less expensive (and fulfilling) there is also an easy way to get started right now.
You need a backup…a place that sells fantastic, non-toxic products that smell amazing. Having a company you can trust on standby for when you have no time to mix up a new batch of cleaners due to a super busy family schedule is a must.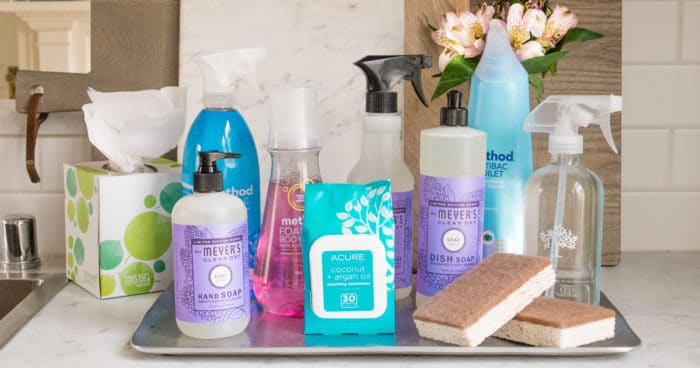 For me that place is Grove Collaborative! Grove is the easiest, most affordable way to create a healthy and beautiful home. They offer the best natural products (think Method, Mrs. Meyer's, Acure Organics, and dozens more) at a discounted price and deliver them quickly to your door, on your schedule.
If you are new to Grove, you can try it out with a great new customer offer:
When you sign up for Grove you'll get a $10 credit + free Mrs. Meyer's hand soap!
>> CLICK HERE TO TRY GROVE COLLABORATIVE <<
Whether your goal is to eat healthier, get in shape, ditch harmful chemicals, or a little of all three, surround yourself with what you would like to achieve. You'll be training your brain how to live a healthy lifestyle and that this is a goal you are going to accomplish…no buts about it!
Share your health and fitness goals with family and friends so they know to encourage you, read relevant books and magazines, and follow blogs that share healthy recipes and workout tips. Create a board on Pinterest and start pinning all the yummy (yet healthy) recipes you would like to try along with any fitness tips and workouts from across the web too.
It's easy to be motivated when you push your goals to the top of your priority list and think about them each day.
Here's to the start of living a healthy lifestyle!