We earn money from clicks or purchases made via product links in this post.
Having a spring or summer baby shower? These simple flower baby shower favors will serve as a sweet reminder of the beautiful baby on the way!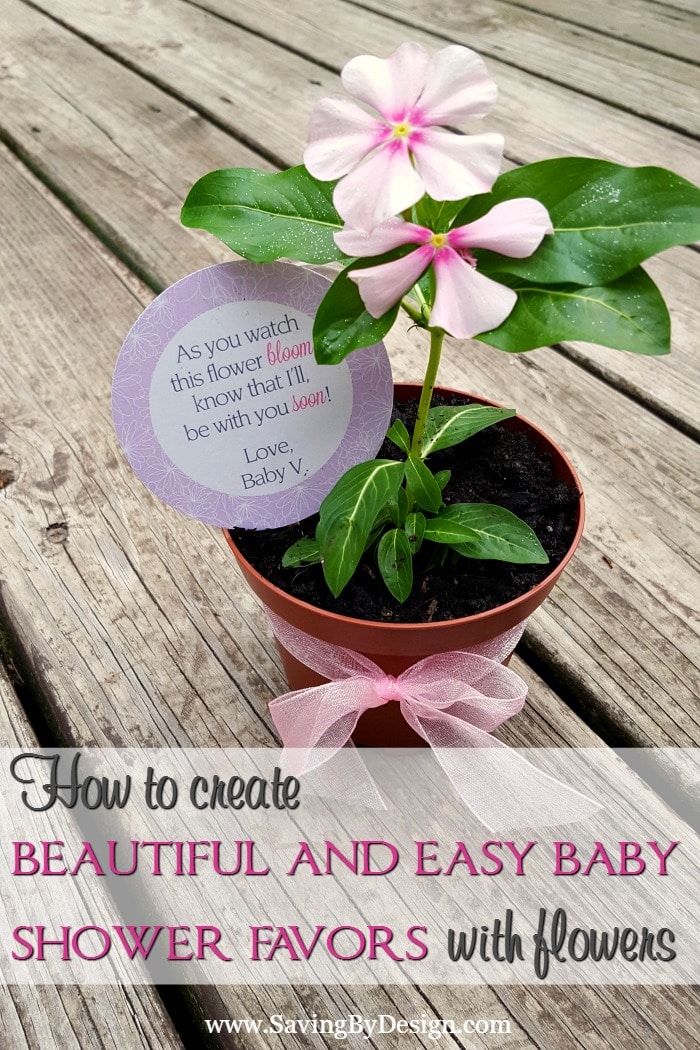 ---
SEE ALSO:
Baby's almost here and it's time to stock up! Don't miss these baby freebies 🙂
---
I love throwing a party! I might not be too fond of all the cleaning and prep work that comes with a party, but fun favors, creative decorating, and unique gifts…now they are right up my alley!
So as you can imagine, when it was time to plan my little sister's baby shower I was all in. Especially because it was going to be a virtual baby shower since she lived across the country on a naval base. How fun, right?
My plan was to Skype her in to the shower so our main priority was to find a venue with a nice reception room that had a good size tv that could be connected to my computer. Luckily we didn't have to look very far…one of our favorite local restaurants had everything we needed.
Since the shower was in spring, I wanted to do something spring-like for favors. Nothing says spring like flowers!
How to Create Beautiful and Easy Flower Baby Shower Favors
I thought it would be so cute to give simple flower baby shower favors. Since we knew our little angel was a girl, pink and purple flowers sounded like a plan.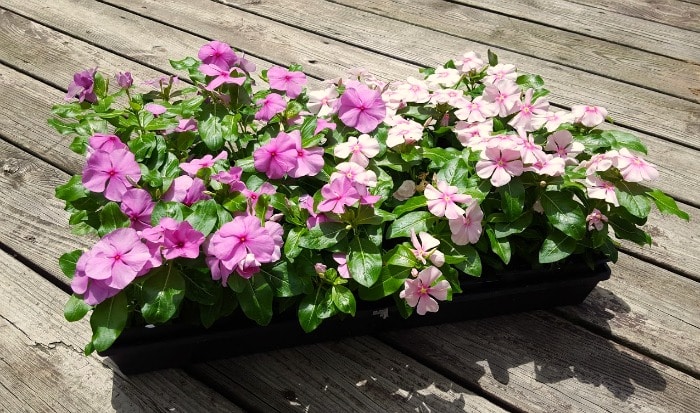 We ended up using vincas (you can use any type of flower in a color of your choice) in plastic terra cotta pots, which saved a significant amount of money but still gave the look we wanted.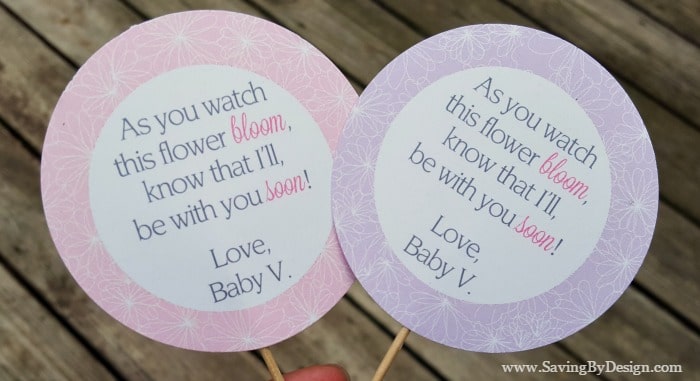 To tie it all together I just had to figure out the perfect poem. After brainstorming for a few days, here's what I came up with 🙂
Just as the poem says, the flower will serve as a sweet reminder of the beautiful baby on the way!
I printed the poem on cardstock in 2″ circles, with both a pink and lavender background, and then punched them out using a 2-1/2″ circle punch.
Here's the template for the poem 😉 – Pink Background | Lavender Background
I simply taped toothpicks to the back of the circles to use as stakes and placed a poem in each flower pot. I also tied a sheer ribbon around the top of the pot and gave the flowers a spritz of silver spray glitter for a delicate finishing touch.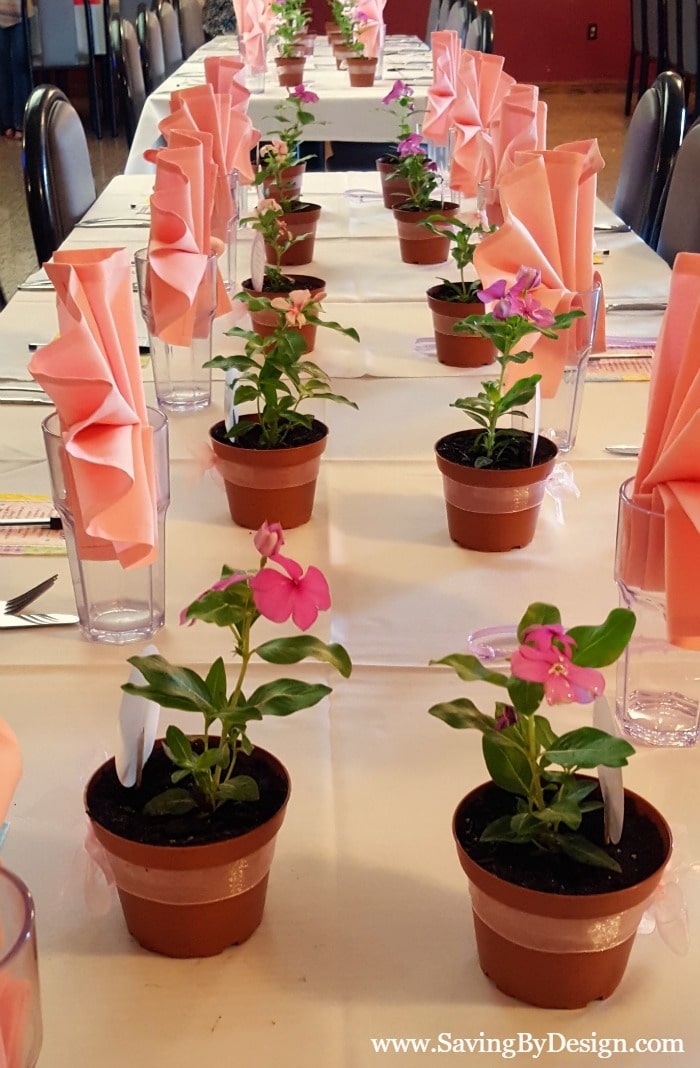 These favors worked perfect for the tables at our venue! They weren't the traditional round tables where a traditional centerpiece in the middle usually works, but rather long rectangular tables. So our adorable little flower favors also took the place of centerpieces, adding the perfect pop of color.
Here's what you'll need to create these flower baby shower favors…
Flowers of your choice (Vincas, Marigolds, Impatiens are all pretty and inexpensive)
Tape
Sheer ribbon
Spray glitter (optional)
Congratulations on the new little one joining your family! The guests at my sister's shower loved these favors and I'm sure they will be the perfect gift for guests celebrating your sweet baby too.
You may also enjoy…
> Breastfeeding on a Budget – These 11 Essentials are All You Need!
> Easter Basket Fillers for Baby's 1st Easter
> 6 Tips for Your Disney World Vacation with Baby