We earn money from clicks or purchases made via product links in this post.
These homemade cleaners make it easy to ditch the harsh chemicals and save money.
How many times has this happened to you?
You're at the store doing your grocery shopping when you pass the cleaning aisle and realize that you are completely out of your favorite non-toxic cleaner.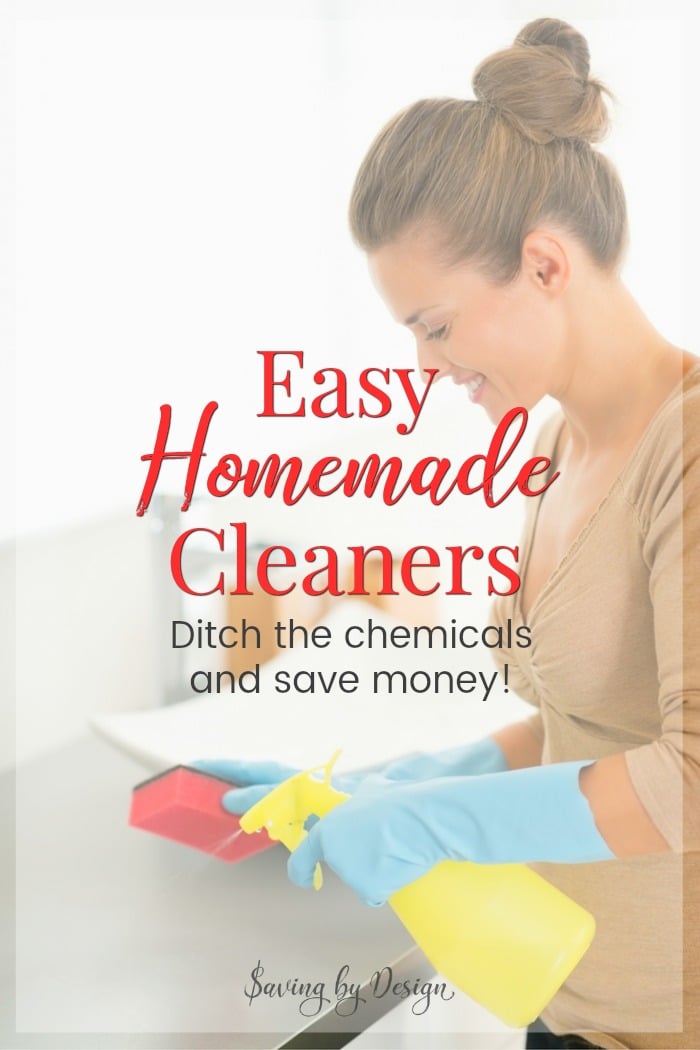 Now here's where the dilemma begins…
As you stroll down the aisle you already know they won't have your favorite cleaner since the store doesn't carry it, so all you can do is hope to find a similar cleaner at a fair price. But just as you expected there's only one cleaner on the shelf that's acceptable to you at an outrageous regular price.
Sure there are other cleaners on sale – the ones with all the harsh chemicals that you try so hard to avoid.
So what do you choose? Do you stray from your frugal ways and splurge on the non-toxic cleaner? Or do you throw everything you know about unnecessary harsh chemicals down the drain and go for what's on sale?
---
SEE ALSO:
I have been making my own laundry detergent for many years now. It works great, smells amazing, and is less expensive than any store-bought detergent. Here's my recipe for homemade laundry detergent
---
Frugal Homemade Cleaner Recipes
Luckily, there are a few super easy ways to never put yourself in this position again. These frugal homemade cleaner recipes make it easy to ditch the chemicals and save money.
Here are recipes for four commonly used household products so you can make them yourself 😉
Homemade Glass Cleaner
Let's start with a simple glass cleaner. Rinse out an empty glass cleaner bottle or grab one at the dollar store and combine these ingredients to make a cleaner that will work just as good as any that you can find in the store. You'll need…
1 cup of water
1/4 cup of white vinegar
2 to 3 drops dish soap.
Just combine those in your empty spray bottle and that's it…you have yourself some homemade glass cleaner!
Homemade All-Purpose Cleaner
Another one of my favorite homemade household products that is essential to your cleaning arsenal is all-purpose spray. For this one you'll just need…
2 cups of water
½ cup white vinegar
1 teaspoon dish soap
1 teaspoon baking soda
Just mix in a spray bottle and you're all set. Easy peasy, right?!
While the recipe above works great, you can see my favorite all-purpose cleaner recipe here.
Homemade Fabric Softener
Homemade fabric softener is so easy to make and can be made in just about any scent you desire! Best of all, once you see the simple list of ingredients below you'll know that what you are using is perfect for the whole family. Here's what you'll need…
1 gallon white vinegar
30 drops of essential oils of your choice (lemon, lavender, and/or peppermint, etc)
citrus peels (lemon, lime, and/or orange) optional
2 sprigs fresh herbs (peppermint, lavender, rosemary, etc) optional
You can simply mix all ingredients right in the gallon of vinegar and use from there or place in a pretty container if you'd like.
Homemade Rug Freshener
Sometimes you just need a little something extra for your vacuuming routine. This easy rug freshener can be mixed up in less than a minute and will leave your rugs (and home) with a subtle refreshing scent. To make your rug freshener you'll need…
1 cup baking soda
20 drops of lemon essential oil
2 sprigs of fresh lavender
Combine ingredients in a sugar shaker (you can find one in the dollar store or here). When ready to use, generously sprinkle on the rugs throughout your home and vacuum.
This recipe is for my favorite scent, but you can use any essential oils and herbs you would like.
>> You can find more of my favorite frugal homemade cleaner recipes here 😉

What if I just don't have time?
Let's be honest…even though you may love mixing up your own natural cleaners, sometimes it's just hard to find the time to get everything done that we want to do. That's why it's wonderful to have a backup…a place that sells fantastic, non-toxic products which smell amazing on standby for when you have no time to mix up a new batch of cleaners due to a super busy family schedule.
For me that place is Grove Collaborative! Grove is the easiest, most affordable way to create a healthy and beautiful home. They offer the best natural products (think Method, Mrs. Meyer's, Acure Organics, and dozens more) at a discounted price and deliver them quickly to your door, on your schedule.
If you are new to Grove, you can try it out with a great new customer offer:
When you sign up for Grove you'll get a $10 credit + free Mrs. Meyer's hand soap!
>> CLICK HERE TO TRY GROVE COLLABORATIVE <<
Hopefully these tips help you to always have the cleaners of your choice on hand at an affordable price.
You may also like…
> 10 Homemade Household Cleaners You Must Try
> The Best Indoor Houseplants to Improve Air Quality